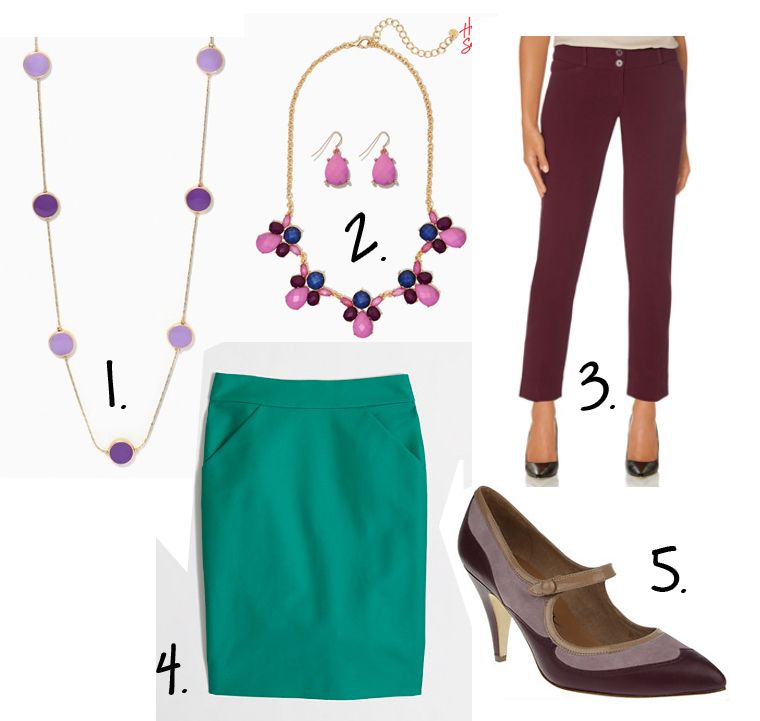 1. Charming Charlie Long Necklace: $15
2. Charming Charlie Necklace Set: $15
3. The Limited Pencil Pants: Originally $79.95 + 50% off = $40
4. J. Crew Factory Pencil Skirt: Originally $75, on sale for $41.25
5. Nina Shoes Heels: Originally $64.99 + 20% off =$51.99
August Budget= $163.24 $121.99
I'm linking up with Franish for Budgeting Bloggers today.
I've been bad this month. Very, very bad. I'm trying to stay within a $50 a paycheck, $100 a month budget. I completely blew my budget, and while I feel guilty for that, I have to confess I don't feel that guilty as I probably should since I'm really happy with my purchases.
It started out innocent, a few inexpensive necklaces at Charming Charlie. I bought the necklace set to complete an outfit for a wedding in Atlanta. I refashioned a summer shift dress from J. Crew Factory (blog post to come) and wanted a little sparkle to tie together a cerulean blue and navy dress with a light plum sweater. Did I need it? No, but I love the sparkly pop it added to my outfit and I know I'll get additional wear out of it. I hate buying something I know I'm only going to wear one time!
The long necklace from Charming Charlie was an impulse buy that I got while looking for something to wear with the dress for the wedding. I loved the extra long length and how it's dressy without being too dressy. I love my bling, but sometimes it's nice to go a little more classic and simple. Plus, I think that this necklace looks more expensive than it really is, which is always a nice bonus. I've already gotten a lot of wear of out it, and look forward to showing it off on the blog in the future.
Last season, I wore the heck out of my black Limited crop pants. The fit was great and it took the guess work out of are my pants too long, too short with heels, etc.? Since the university I work for school colors are garnet and gold, I'm always on the look out for something that has a little school spirit, while still being work wear appropriate. These pants definitely fit the bill. In fact, I'm pretty sure I'm going to wear them tomorrow for my first day back to work after maternity leave.
Last season I had a stretch pencil skirt in kelly green from Target that I love, love, loved. Sadly, I wore it so much that it piled and needed to be retired. I saw this skirt at J. Crew Factory and though it would be great upgrade replacement. I love the color of the skirt, but I'm not sure about the material, it's a thick cotton that hangs stiff and doesn't have as much drape/stretch as I thought it would, so I'm going to contemplate it, and may return it. *UPDATE: After trying the skirt on a few more times, I decided that I wasn't in love with it, and returned it.
After I had my daughter my feet grew a whole half size! I thought that whole foot growing thing was a myth, but it's no joke. Now at least a good 50% off my shoes no longer fit, which really sucks. I loved how these shoes have a cute retro look and a slightly thicker heel, which should make them comfier for all day walking and wear. I have a lot of purple in my closet, so they should coordinate with a lot of outfits, or provide a nice contrasting pop of color...maybe this my new green skirt?
So, not the greatest start to budgeting. Hopefully, next month things will go smoother. However, September is my birthday month, so there may have to be a birthday splurge (or two) mixed in there!
How did you do with your budget? Feel free to comment below.
*Please forgive any typos, I wrote this frantically while the baby was napping. :)