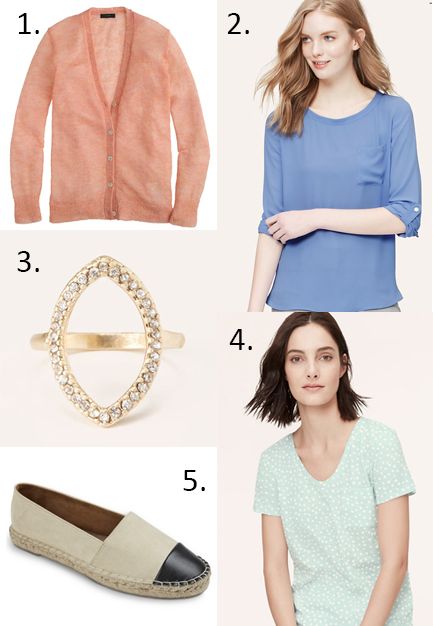 J. Crew Mohair Sweater
: Originally $89.50, on sale for $39.99 + an additional 30% off = $27.99
2.
Loft Pocket Blouse
: Originally $49.50, on sale for $39.50
3.
Loft Pave Ring
: $24.50, part of a $50 off $100 promotion = $12.30
4.
Loft Broken in Tee
: Originally $26.50, part of a $50 off $100 promotion = $13.30
5.
Target Espadrille Flats
: $24.99
March Budget = $118.08
(savings $96.91)
$18.08 over budget
Today I'm linking up with
Budgeting Bloggers
on
Franish
. It's been forever since I've done a budget post, but I'm glad to be getting back into the swing of things. It's so easy to just spend, spend, spend and not think about how all the purchases are adding up. Something I know I've been way guilty of, it's so hard to not buy all the pretties!
I went a little overboard this month. I got the
cardigan
when J. Crew was having a 30% off all sale items and just fell in love with the rich,blush color. I took a risk since it was final sale, and overall I'm happy-ish with it. The color is amazing, but it's a little big and on the itchy side. I'm looking forward to playing around with it to see if it will work in my closet. If not, there's always ebay. (You can see how I styled it
here)
. The Loft
blouse
is just so, so pretty in real life. The color is a perfect cornflower blue. The sleeves can be a bit tricky to roll up, they slip-slide all over the place, but the manager at Loft showed me a trick using rubber bands to hold the sleeves up. I tried to find a tutorial online with no success, so I may have to do a post on it. I recently put in an order to the Loft, and in order to receive $50 off of $100, I threw this
ring
into the mix. Also, as part of the order, I snagged this
tee
- it can be dressed up or down, and I'm looking forward to styling it for weekend and work wear! I actually ordered the
espadrille flats
to wear to a work golf tournament and I LOVE them. I took a risk because they've gotten horrible reviews online, but so far I've worn my three times and they've held up beautifully.
Going forward I want to be a smarter about my purchases versus just buying anything that catches my eye. I know for work I need a good pair of black dress pants, so I'll be keeping an eye out for that. I also mentioned in a previous post that it's time to replace my cognac flats. I did order this gorgeous
ikat dress
, but my size is back ordered until April 7, so if it works out, I'll include it in next month's budget. I also need to get back into selling some stuff on ebay.
Do you keep a clothing budget? If so, I'd love to hear how you did in the comments below.