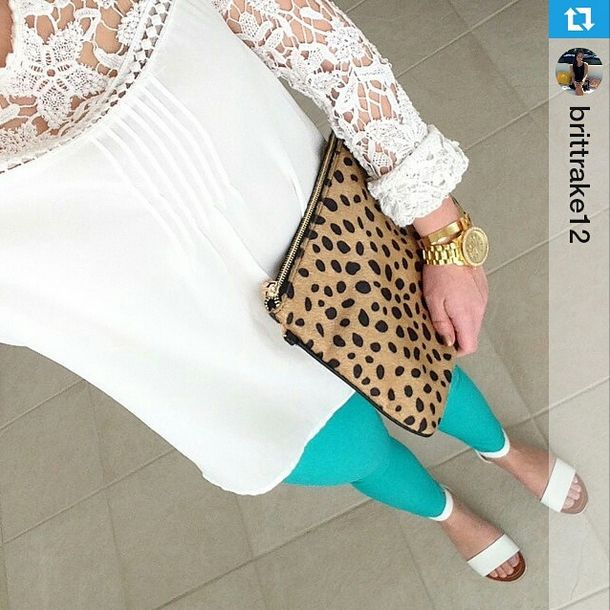 I saw this picture on Instagram (featuring Brittany from
The Brunette Bargainista
) and was immediately all like, I NEED THIS BAG, STAT. So cute and just funky enough to add some interest to any outfit.
I've been in a serious bag rut. I really only use two bags - the dreaded diaper bag or my trusty
Coach Madison Phoebe
bag. I love my Coach purse. It's roomy enough for everything and a lovely cognac color that goes with everything, but lately I've been thinking it might be fun to have something new to add to the rotation.
Sadly, the
clutch
in the picture is sold out, but the website says it should be available in mid-March (which it's definitely after mid-March, so I'm wondering if went in stock and back out again). I'll be keeping my eye out for when it *fingers crossed* hopefully comes back in stock.
In the mean time, here are some really cute options, from most expensive to least, all under $100: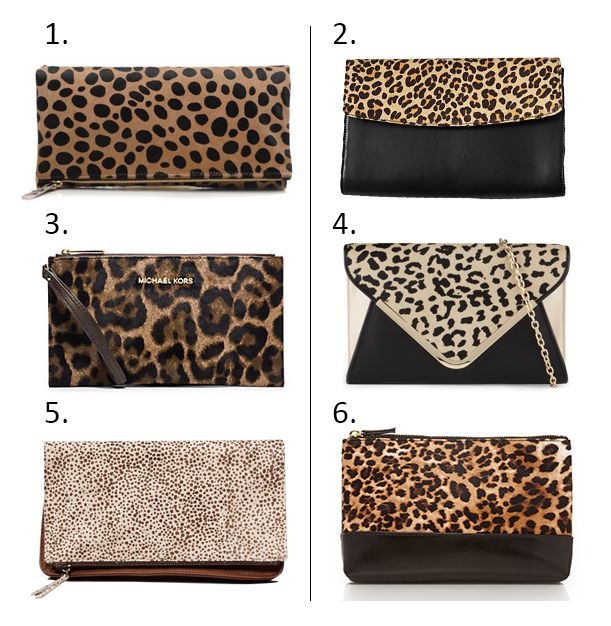 Option 1:
Malory Foldover Leopard Leather Clutch Handbag
| $98
Soooo pretty. Soft calf hair, lovely folder over design, love, love, love. The bag is 10" wide, 10" tall and looks almost identical to the popular Clare V. clutch at half the price. This version has calf hair on one side, black leather on the other. There is an option with allover leopard print on both sides for $149. If I had $98 spare dollars, it would be mine, right now, right this instant.
Option 2:
Lands' End Landmark Calf Hair Holiday Clutch
| $79.97
This clutch seems like the most practical of the group. Made of real leather, it has a snap closure, plenty of pockets and a pretty gold detachable chain. It' measures 9.5" long, 6.5" tall. Plus, it comes with a dust bag for storage. Originally $158, on sale for $79.97, this bag is a great deal for the price.
Option 3:
Michael Kors Bedford Leopard Hair Calf Clutch
| $69
Zipper and lined, this bag is made of 100% leather and has a zippered interior pocket. This bag is the smallest of the lot at 9.75" wide, 5.5" tall and has a wristlet strap for carrying ease.
Option 4:
Aldo Longton
| $60
I really like how this bag feature a pop of leopard and has a gold chain strap. The envelope design is super cute as well. It's 10.3" wide, 7.1" tall.
Option 5:
Abercombie & Fitch Calf Hair Foldover Clutch
| $58
Okay, so this clutch isn't leopard, but it is a fun, funky animal print. Plus is has an interior zipper pocket, which would be perfect for keys (I'm always losing my keys in the black hole that is my purse, or maybe that's just me?) This bag is 11.25" long, 4.5" tall, and if animal print isn't your thing, there's a really cute
metallic silver version
for $38.
Option 6:
Forever 21 Faux Leather-Paneled Clutch
| $5.90
I can't get over how cheap this bag is. $5, for a bag? Crazy. It's probably the most simple option, with no interior pockets or extra storage. It's sleek and simple, and did I mention, cheap? The bag measures 9.5" wide, 6.5" tall, which makes it comparable to the Michael Kor clutch in size, at about 1/10 the price.