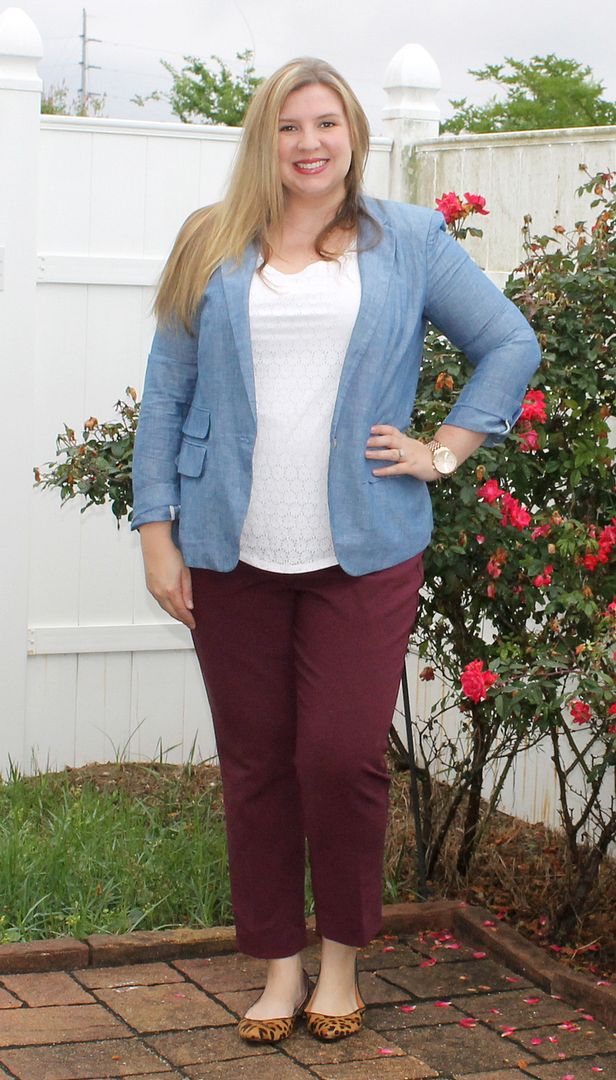 I'm on the fence about this Loft blazer. I loove the color and the length, but it's a bit small in the waist/arms. I don't button my blazers, so not a huge deal, but I'm afraid I look a little sausaged. Online reviews I read said this blazer ran way too big, so I decided to order a 14. For reference, I'm usually a 16/18 in Loft clothing. It did stretch a bit during the day (I took these photos first thing in the morning), but I'm thinking I should really go up a size. However, a size 16 is no longer available on the website. I can think of so many ways to wear it, it will look great with dresses, skirts or pants. So, do I keep it and hope I lose a little more post-baby fat (I'm working on it) or return it and hope something better is possibly out there?
So, should it stay or should it go?
Pants: The Limited
Necklace
: Shop Something Blue (
exact
)
I can't believe it's already the last day for the
Sarah's Real Life
#Top10Remix
! Many thanks to Sarah for hosting such a fun challenge. I plan on doing a recap in the next day or two, so stay tuned!
Budgeting note: This blazer didn't arrive until after I had done this month's budget, so if I keep it, it's going in next month's budget. :)