Raise your hands if you're a self proclaimed Pinterest addict! Ooo, me, me!! I love trolling through the site, looking at all the impossibly cute outfits, plotting my next Pin-tastic meal and getting craft ideas. However, Pinterest can be a bit of a slippery slope for me when it comes to outfit inspiration and body image. I see these amazing outfits on Pinterest, and immediately think, nope that won't work for me, I'm just too big. It's easy to get into a cycle where I compare myself to other women and become envious of their slim physiques and their ability to wear anything. But, then, usually, sanity returns and I work to remember all the great things about my shape. Tatas? Heck, yeah, I gots those. Curves, you bet ya. Instead of thinking of all the cannots, I thought, why not look at what I can do and make work. Surely to be fashionable doesn't mean that you have to be a size 2, but can apply to anyone no matter what their size. To that end, I've decided to try something different on the blog. On Mondays I want to find an obtainable fashion pin and recreate it, but it a way that works for a curvier body shape. Say hello to "Make it Work Mondays."
I decided to start out easy with a pin from
J's Everyday Fashion
. I just love her style, and the fact that she also recreates outfits from pins and magazines. I found this pin is from women-outfits.com and, sadly, couldn't find her original post.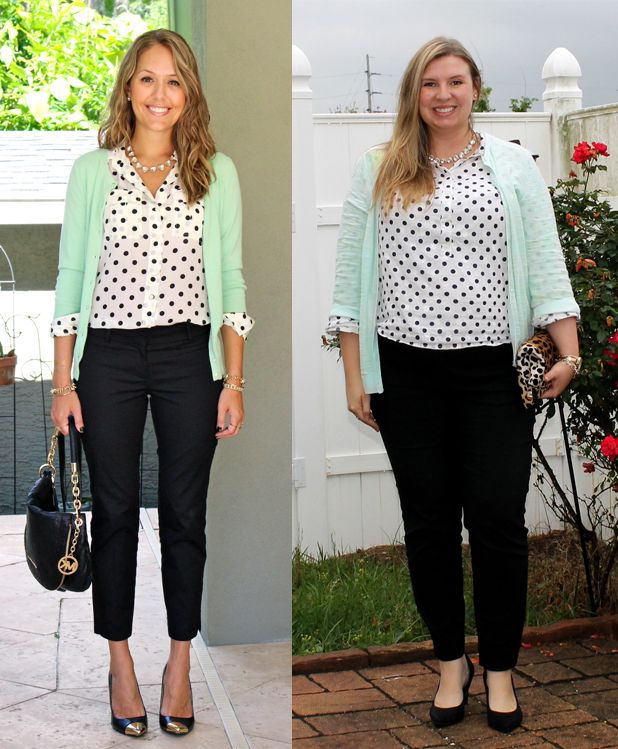 One of the main things I had to change for me was the tucked-in blouse. I love the look of blouses tucked into pants on other people, but post-baby, that look just doesn't work for me. Ugh, the curse of the lower belly. Or just the belly in general. #thestruggleisreal However, now that I'm looking at this top in pictures, it's a little too short in the torso for me, which is definitely one of the problems I have with J. Crew blouses. I think I either need to tuck it into a skirt, or retire it. Hmmm...
I love bracelets, but it's not realistic to me to wear them on both wrists, so I limited the jewelry to just one. I don't have gold-toe shoes, but after seeing this pin, can I tell you how much I want them? Seriously, so cute. I'm thinking I could easily DIY a pair, or maybe stay on the lookout for an affordable dupe. Also, I've mentioned before that I don't own a lot of handbags, so I carried my new favorite leopard print clutch instead of her larger Michael Kors bag.
So over all, I like today's outfit. I look at the two pictures, and obviously, we look nothing alike, but it was a fun exercise to see if I could take the look and make it work for me. I'm already looking forward to next week's attempt.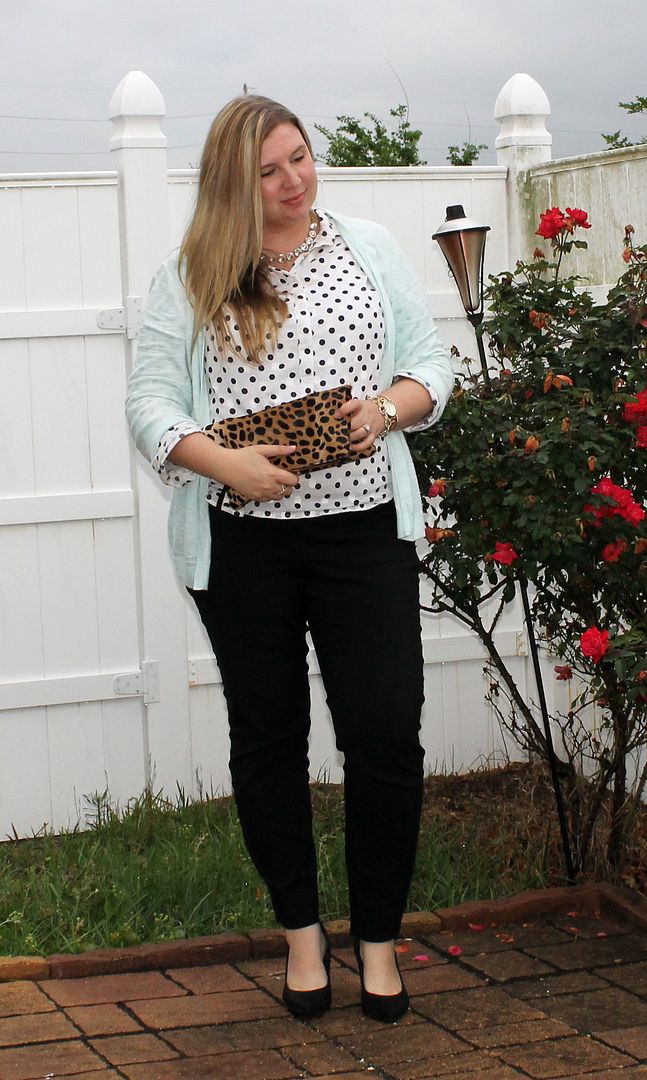 Popover: J. Crew Factory
Pants
: The Limited (
exact
)
Shoes: Old Navy
Earrings
: J. Crew Factory (
exact
)
Necklace
: J. Crew Factory (
exact
)
Bracelets
: Baublebar and J. Crew Factory (
exact
)
Purse
: Clare V.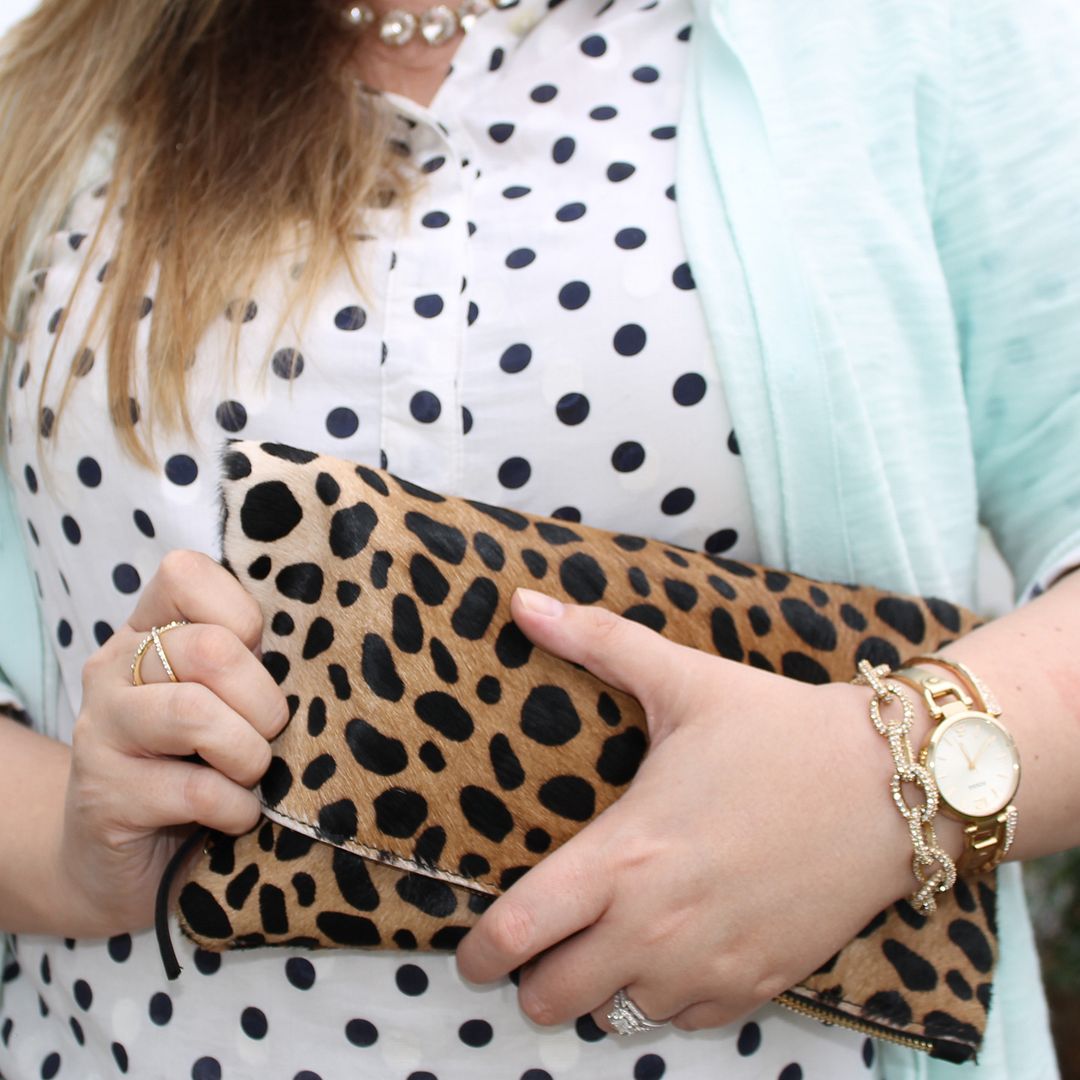 Oh, and if you're following along with the
#Top10Remix
, I'm rocking the pants from the Challenge.