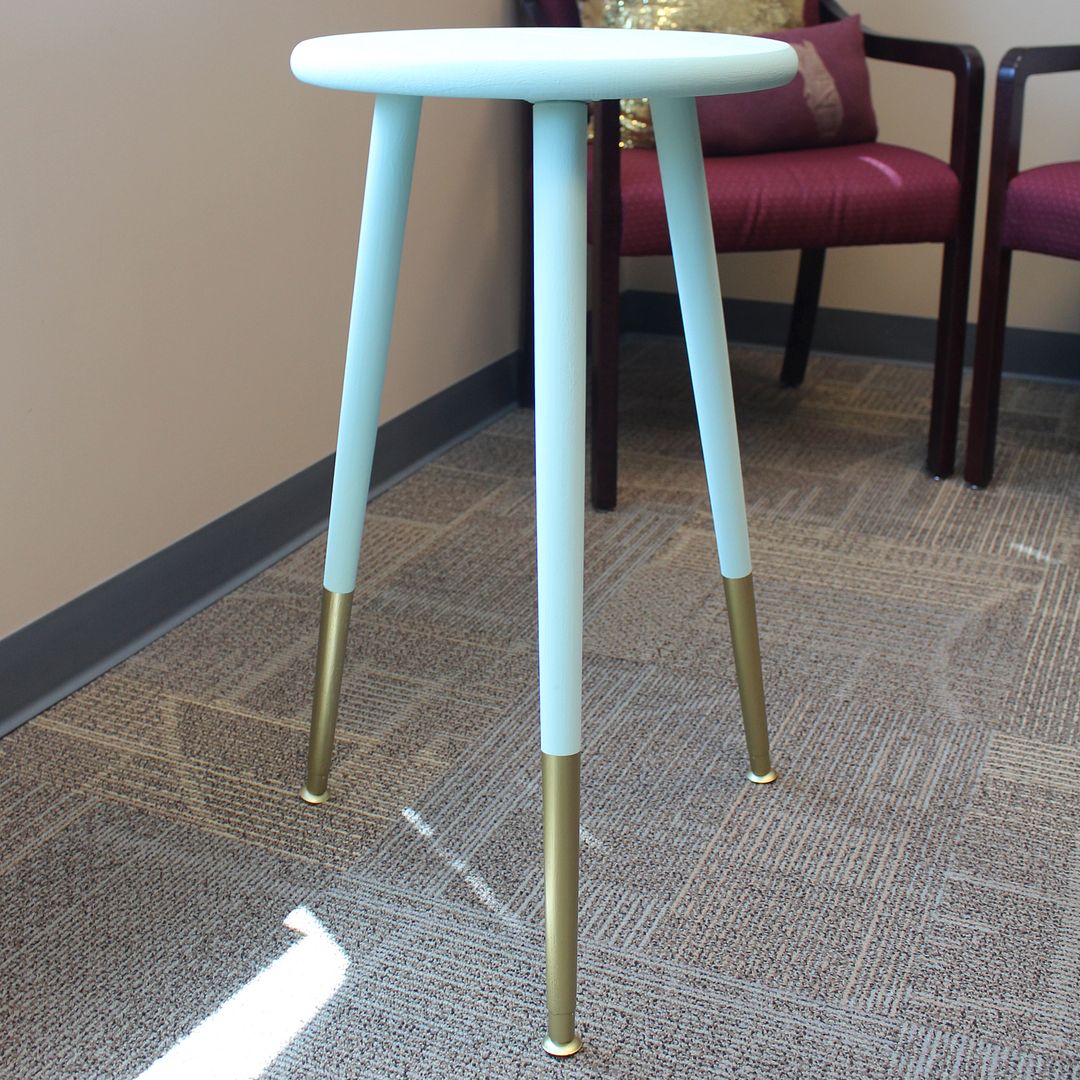 I decided to take a break from outfit posts today and try something new with a little DIY action. A couple of weeks ago my hubby and I made this gorgeous little mint and gold side table. It was so, so simple to put together, and at around $50 to make, much less expensive than buying it's inspiration from
West Elm
. Plus it's all real wood, super sturdy, and did I mention easy to make? Even easier when your husband does all the labor and all you have to do is take pictures!
Here's what you'll need:
Total project cost: $49.05
//3 legs @ $5.98 = $17.94, 3 angle table brackets @ $2.98 = $8.94, Wooden table top $12.57, Americana DECOR Chalky finish paint $8.99 (I had a 40% off coupon) = $5.40, Krylon Premium Metallic Finish spray paint (I had a 40% off coupon) $6.99 = $4.20, (already had painter's tape, paint brush, sandpaper, hammer, screwdriver and free manual labor :)
//
TABLE CONSTRUCTION
Step 1:
Measure, and mark, the BACKSIDE your tabletop to determine the center of the table.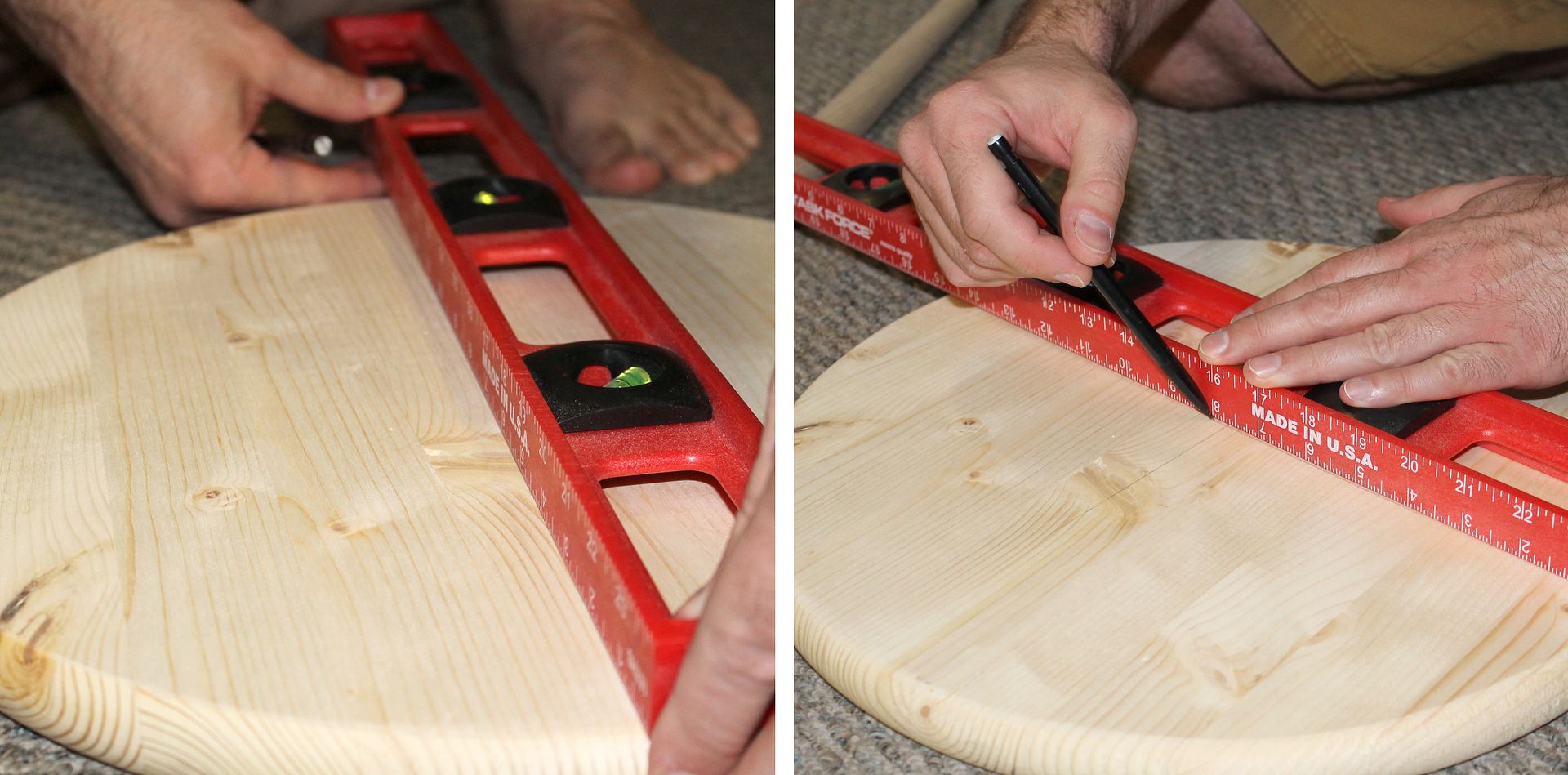 Step 2:
Once you have determined the center of you tabletop, you'll need to decide how far in your want your legs to sit. We decided on about 2" from the outside, so my husband
jimmy rigged
crafted this "compass" by shallowly nailing a nail into the back, center of the table and, using a stripe of metal with holes, used the last hole to trace the circle. A good study piece of string would work instead of metal, or you could be fancy and use a real compass. :)
Step 3:
Place all three brackets just inside your circle. At this point we measured a little bit, but mostly eyeballed placement to make sure they were an equal distance apart. Math isn't my (or my husband's) thing.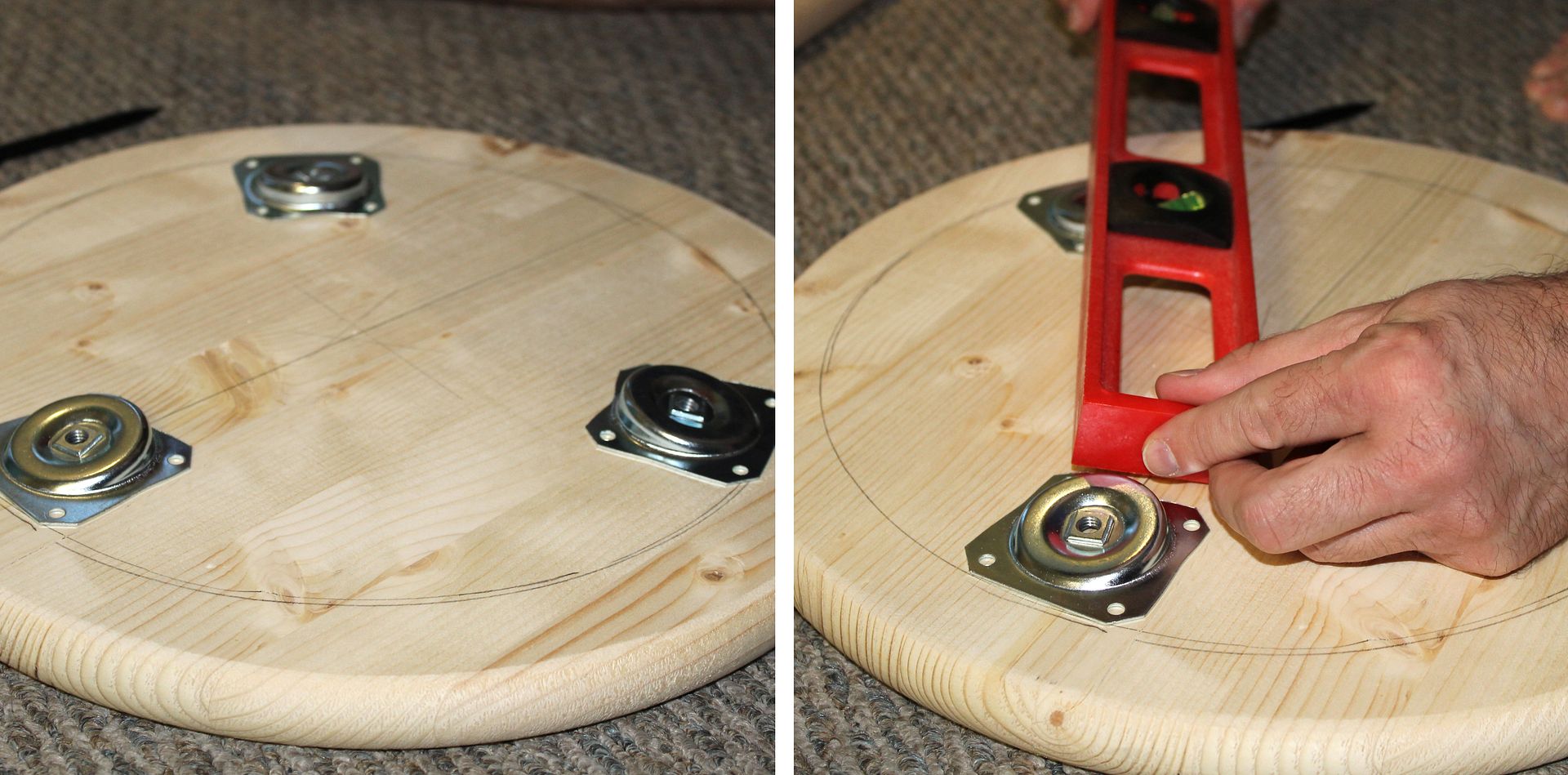 Step 4:
Mark bracket placement and location of screw holes with a pencil.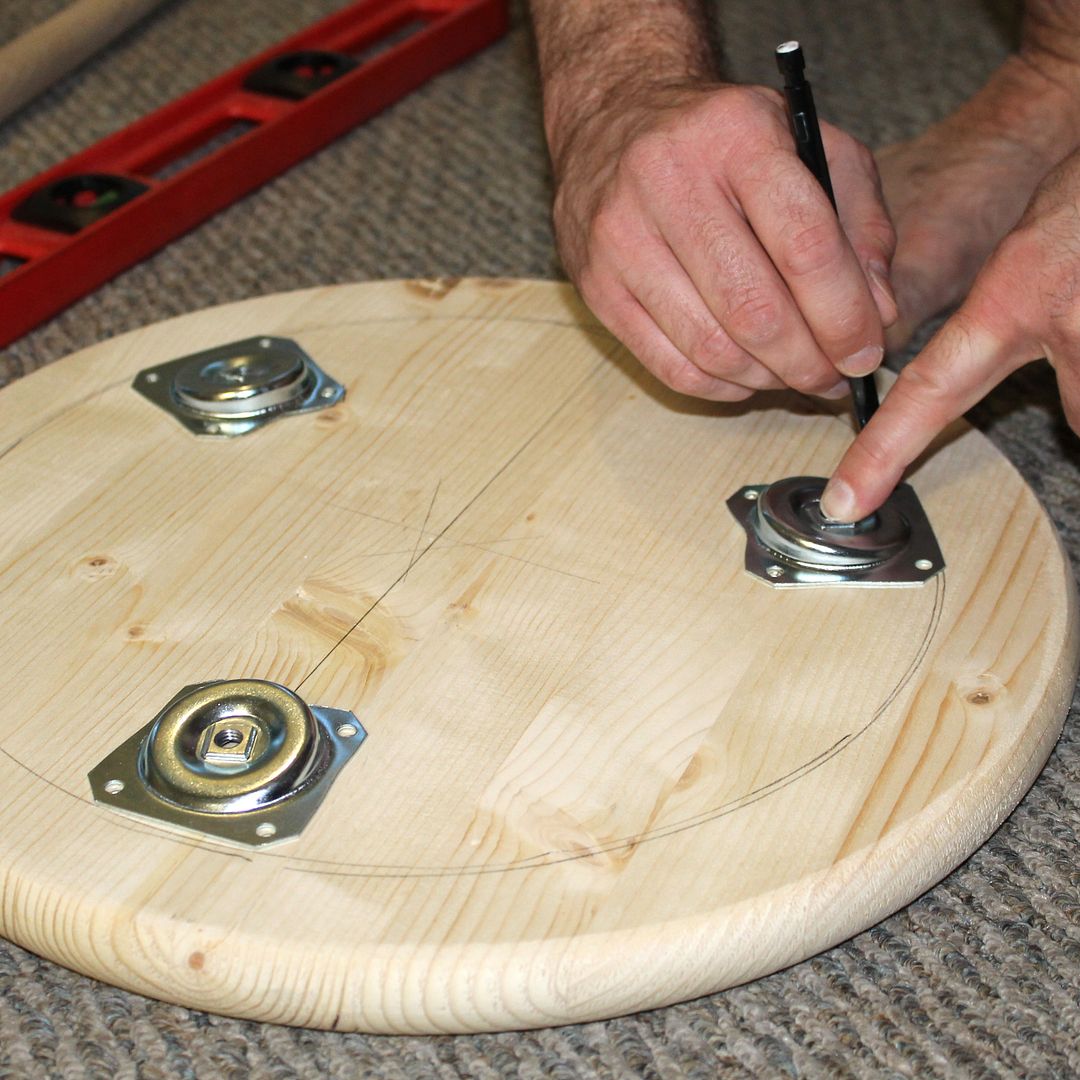 Step 5:
Using a screwdriver, make a shallow hole at the screw hole marks, it'll make it easier to get the screws in once the bracket is in place.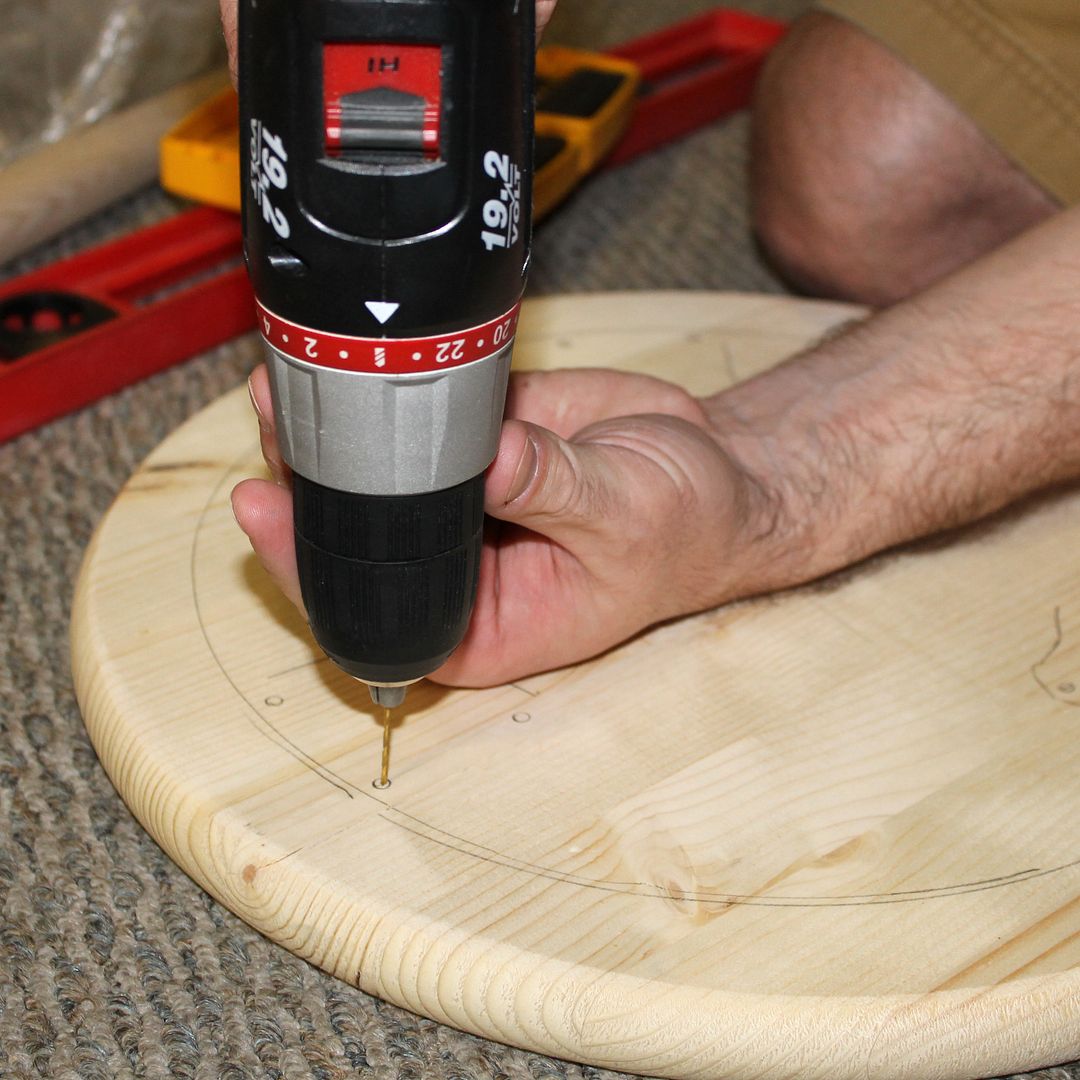 Step 6:
Using the pencil marks and holes as a guide, put the table brackets back in place, and using the screw driver, firmly screw in all four screws. Repeat for other two brackets.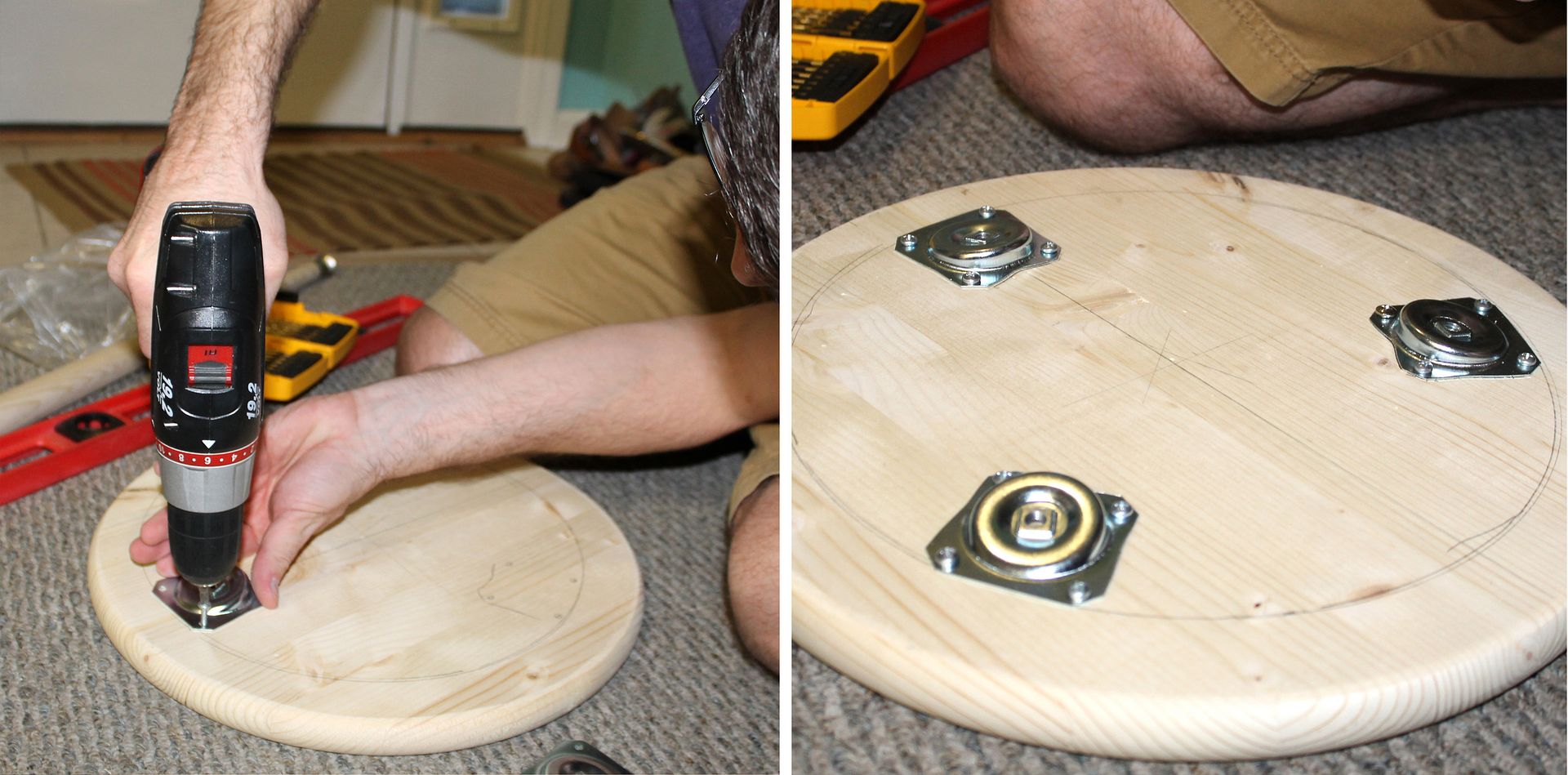 Step 7:
Screw legs into brackets. Seriously, the easiest part!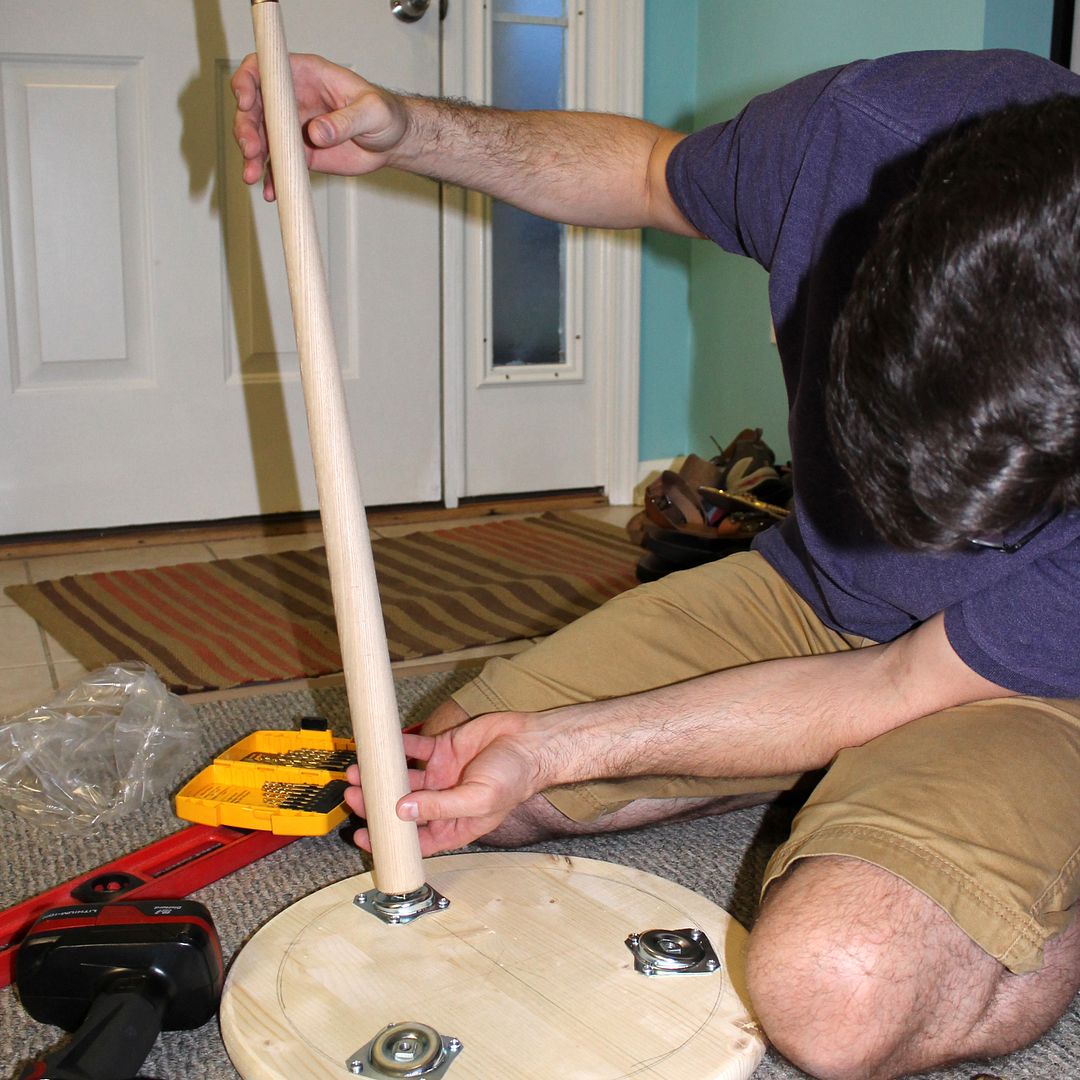 Construction is done! So easy, and I swear it took less than 30 minutes.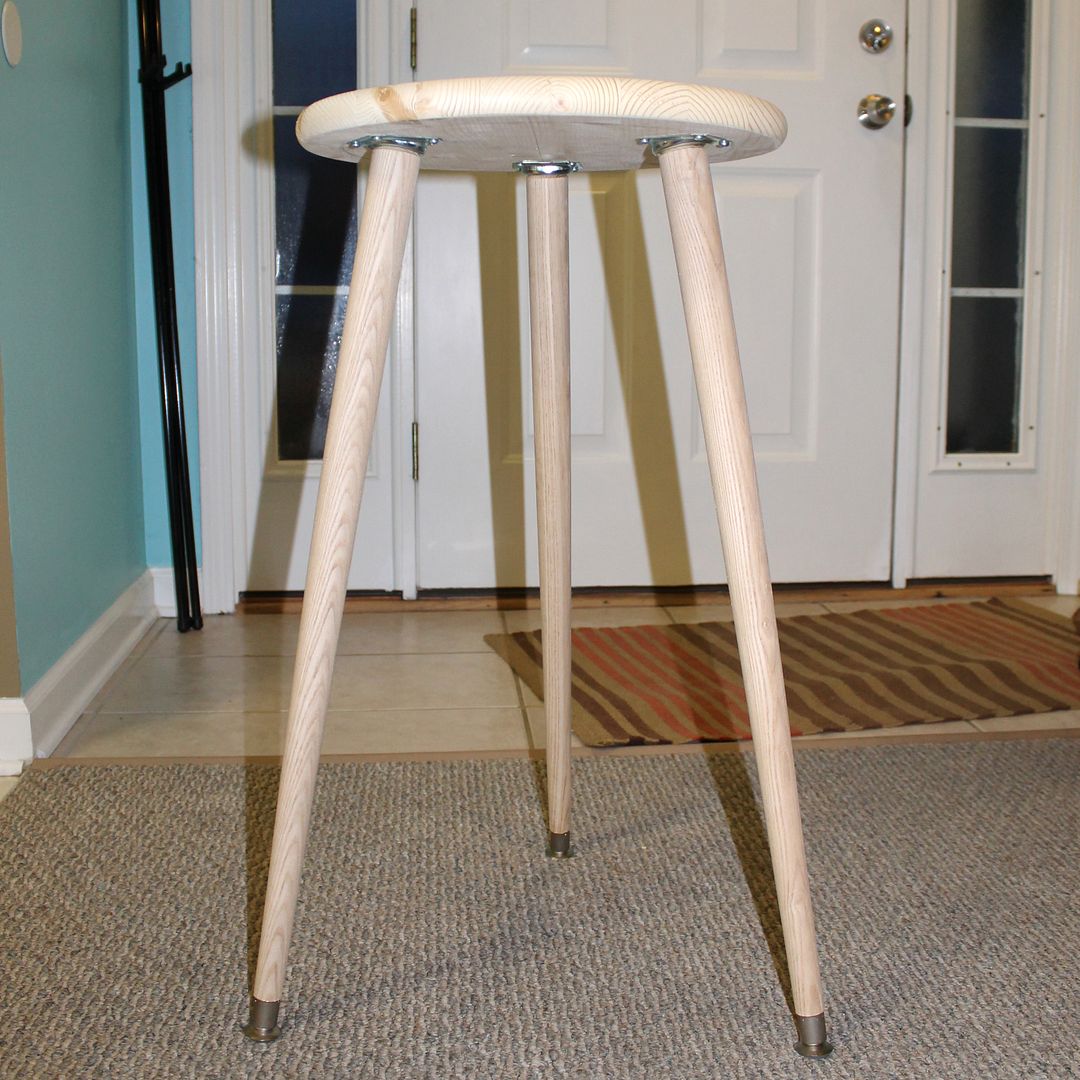 PAINT
Step: 1:
Sand table and legs (not pictured)
Step 2:
Using Americana DECOR Chalky Finish paint (or paint of your choice, just make sure it works for wood) paint table. No primer needed with this paint. We did about three coats and waited maybe 30 minutes between coats, this paint dries super fast! You'll want to use a soft bristle brush to reduce brush stokes in the paint. You can lightly sand between coats to help reduce the appearance of brush strokes.
Baby really wanted to help!
Step 3:
Determine where you want your gold paint to start. I knew I wanted mine about a third of the way up the leg, so we measured about 9" up from the bottom of each leg, marked and then taped off with painter's tape. (To reduce the possible of over spray, using painter's tape, we taped sheets of plain printer paper above the area to the spay painted.)
Step 4:
Time to spray paint! We did two coats, allowing them to dry completely between coats. And, of course, go outside or to a well-ventilated area. :) I wanted a uniform look, so we painted the metal "feet" of the legs as well.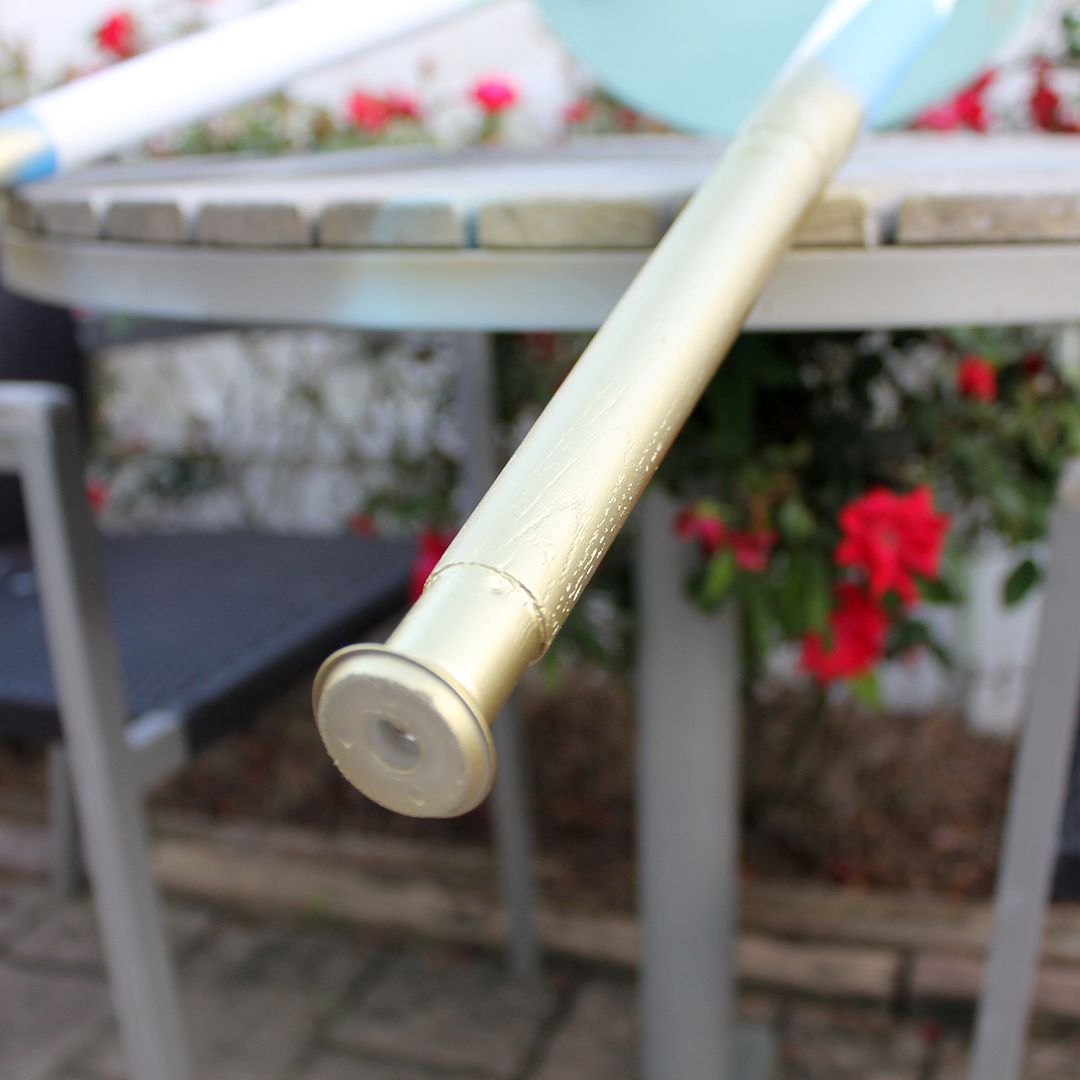 Step 5:
Remove tape, and
voilà
!, one beautiful mint and gold side table!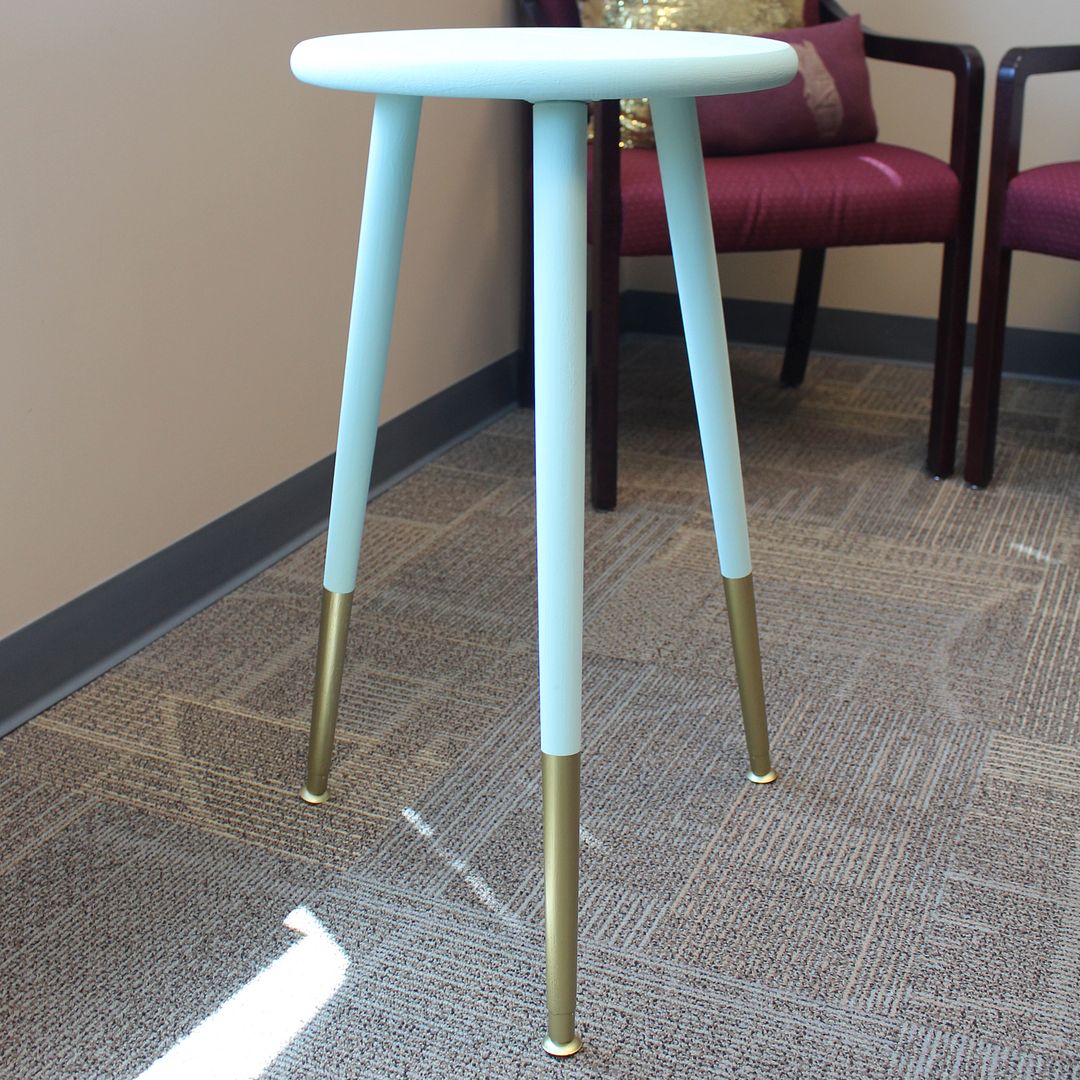 Optional:
If you want, you could add a sealant to protect the able. I knew that this table wasn't going to see any water or be in a high-traffic area, so I chose to skip this step.
I absolutely love the way this table turned out! The flat mint paint makes such a nice contrast from the shiny metallic gold. It's now happily living in my office, nestled between two work chairs.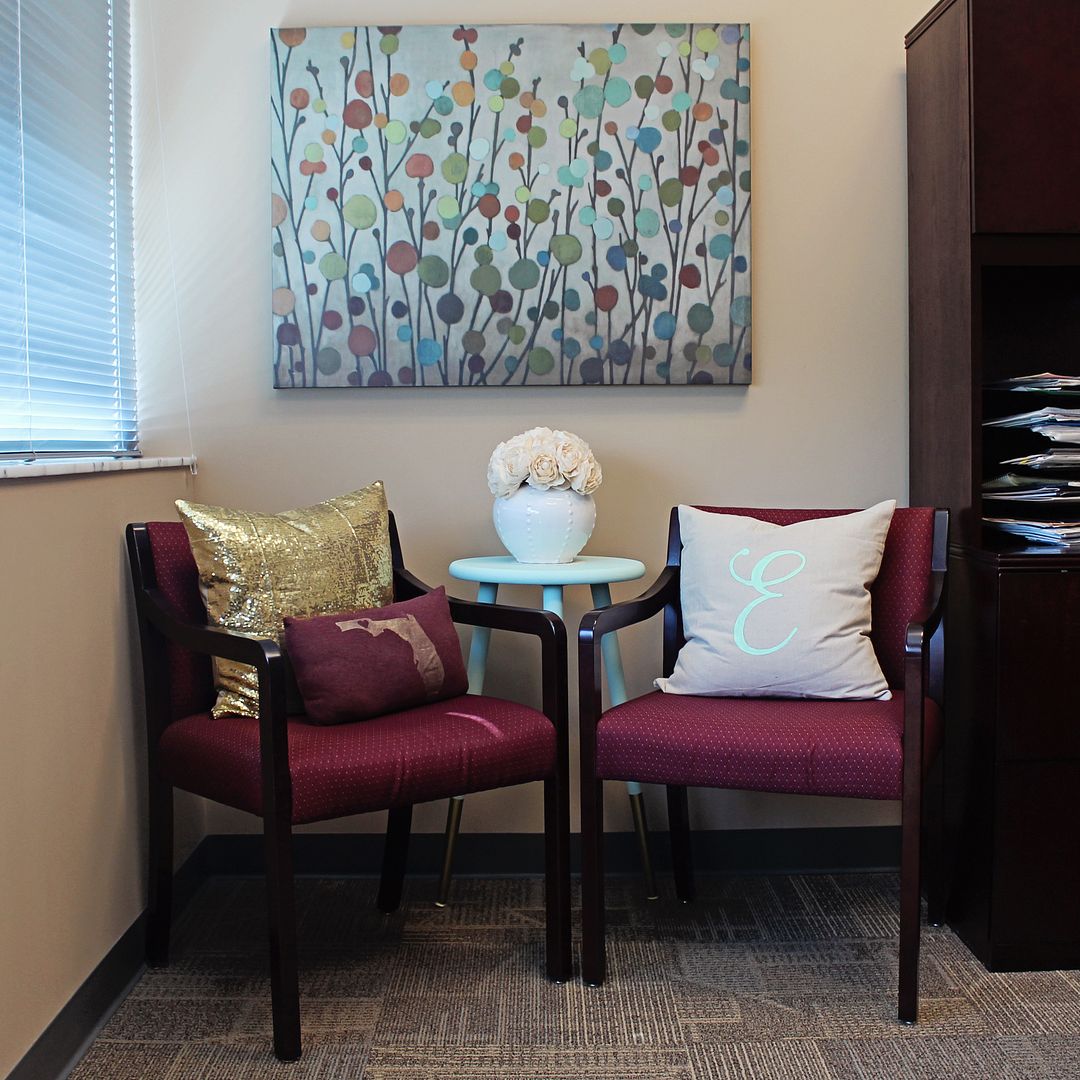 Shop the look: