I lost my shopping mind this month.
So much so that I'm embarrassed to post my budget, but I'm hoping by being transparent about my spending, it'll keep me in check in upcoming monthly budgets.
In an effort at full disclosure, here's what I got: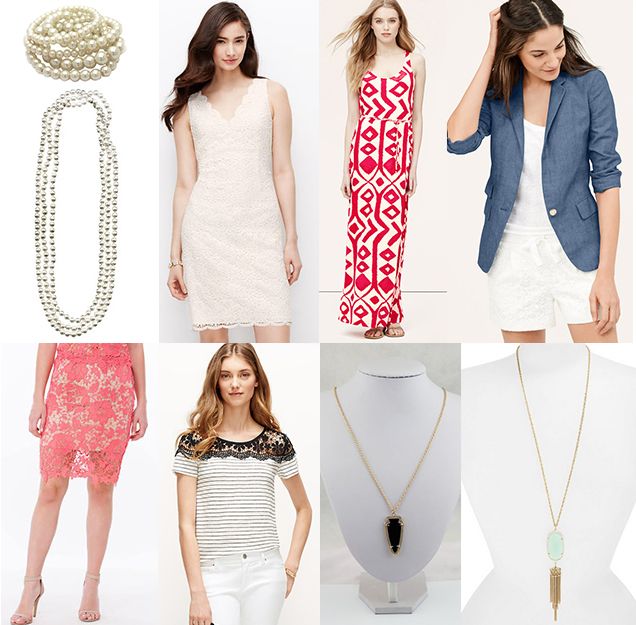 Loft Chambray Blazer
: originally $128.00, marked down to $99.99, 40% off at $59.99
Loft Diamond Print Maxi Dress
: originally $79.50, 50% off at $39.75
Ann Taylor Scalloped Lace Dress
: $179.00, 50% off at $89.50 + $20 reward = $69.50
Loft Outlet Long Pearl Stand Necklace: $7.99
Loft Outlet Multi-strand pearl bracelet: $6.99
Loft Outlet Coral Crochet Pencil Skirt: $41.99
Ann Taylor Striped Lace Yoke Tee
: $54.00, 40% off at $34.02
Aneya Boutique Designer Inspired Arrow Necklace
via GroopDealz: $6.99
Loft Outlet Cream Lace Top: $32.99 (not pictured)
Loft Outlet Raspberry Stripe Dress: $35.99 (not pictured)
Kendra Scott Rayne Tassel Necklace
(gift)
May budget $150 - $336.20 = $186.20 over budget
Looking back, what killed my budget was the Loft Outlet and the
Ann Taylor lace dress
. I still would have been over, but the damage wouldn't have been nearly as bad. The dress was an end of the month purchase I felt it was just too good of a deal to pass up, and thankfully (for my wallet), I do not go to the outlets often, so hopefully I can write this whole thing off as a one off. If I go nuts again next month, you have my permission to virtually smack me upside the head!
Here's my review on all the goodies, brace yourself, it's a long one. :)
Loft Chambray Blazer
(see how I wore it
here
,
here
and
here
)
I actually bought this blazer in April, but it didn't arrive until after my budget post. All the reviews online said to order down two sizes, so I originally ordered in a 14, but it was sooo tight in the arms and shoulders. The size 16 was completely sold out, but luckily it briefly popped back up and I was able to pick it up in the larger size. My only gripe is that the one button is really low and in an odd location, but I don't button my blazers and love the color and lightness (desperately needed in spring/summer in Florida). I think adding a button/button hole would completely solve the problem. I may attempt it myself, or just leave it to the professionals/tailor.
Loft Diamond Print Maxi Dress
(see how I wore it
here
)
When I was pregnant with my daughter I pretty much lived in maxi dresses. After having her, I felt so self-conscious about my new shape that I felt like I couldn't wear a maxi dress because of belly bulge. But oh how I've missed the comfort of my beloved maxi dresses as the days have gotten hotter and hotter. I decided to give this dress a try, fully anticipating trying it on, hating it, and returning. Instead, I LOVE it. So comfy, so soft and with some good shapewear and paired with a blazer or cardigan, perfect. Belly bulge be darned, sometimes you just got rock a maxi. For reference, I ordered in an XL and it's a bit roomy, but a L would have been too tight.
Ann Taylor Scalloped Lace Dress
I've been on the lookout for a cream lace dress for about a year now, and when I saw one at Ann Taylor, it was instant love. When it went 50% off AND I had a $20 reward card, I knew I had to snag it and at least try it, especially since the larger sizes at Loft and Ann Taylor send to sell out quickly. It arrived yesterday, so I haven't had a chance to play with it much, but I'm hoping to wear it to Little Bit's first birthday party this Saturday. I just can't believe my baby is going to be one!
Loft Outlet Pearl Necklace and Bracelets
(see how I wore them
here
and
here
)
These were complete impulse purchases. I saw them as I was checking out - marked way, way down - knew didn't have anything quite like them, and they filled a hole in my wardrobe. As a plus, I like how they're more of a deep cream than white.
Loft Outlet Coral Crochet Skirt
(see how I wore it
here
)
I'm on the fence about keeping this skirt. I adore the crochet, it's so, so pretty, but I'm a little self-conscious about how it fits in abdomen and I can only think of a few ways to style it. I'm worried it won't be worn very often. The hubby really likes it (probably because it shows some leg) so I'm going to play around with it some more before I make a final decision. I got this in a 16, and it's actually a little lose in the waist, but going down a size would have made the aforementioned abdomen bulge worse.
Ann Taylor Striped Lace Yoke Tee
(see how I wore it
here
)
Plus-size or not, I love a good stripe tee, and the lace detailing on this top *swoon.* I got it in an XL, and material is soft and lightweight, which will be perfect in the upcoming summer months.
Designer Inspired Arrow Necklace
(see how I wore it
here
and
here
)
I so wish this necklace as still for sale so everyone could buy it. Though, it's probably I good thing it isn't, because I'd be tempted to buy it in more colors. The quality isn't the best, but I love the simplicity and it looks good by itself or layered. I love finding pieces that have a nod to my school, but aren't in your face collegiate attire. And for $6.99, it's a fun way to play around with a new look without having to commit a lot of money. Though one day I'd love to get the real deal from
Kendra Scott
.
Loft Outlet Cream Lace Top
(see how I wore it
here
and
here
)
I do not care for the sleeveless look on me. I'm always wearing cardigans or a blazer to cover up my arms, and that just doesn't fly in Florida in the summer. I love that I was able to find a lace top with sleeves! This shirt is not lined, so I do have to wear a tank top underneath, but I wear a cami with pretty much everything, whether it's lined or not, so not a big deal. I got this in an XL, and it's just a smidgen short in the length. I like my tops longer, but it's perfect tucked into a skirt.
Loft Outlet Raspberry Stripe Dress
(see how I wore it
here
)
I. Love. This. Dress. It's hands down one of my absolute favorite things I've worn on the blog. I feel like I look thinner in it, and it's light weight, which is a must in Florida summers. I got it in a 14, though I probably would have gone up a size if it had been available. It's just the tiniest bit tight when I sit down (which I didn't realize when I tried it on in the dressing room).
Received Kendra Scott necklace as a Mother's Day present
(see how I wore it
here
,
here
and
here
)
I adore this necklace. It's the perfect length, in my favorite shade of mint, the tassel on the end adds a little bit of interest, and best of all, it was a gift! My husband got my heavy hints and got this for me for Mother's Day. Good man!
Whew, so there is it. I've been a bad, bad girl and my wallet does not thank me. I'd say as penance I would refrain from not buying anything in June, but I'm learning towards keeping the black Kendra Scott necklace I got from Rocksbox and I recently ordered this
black and white chevron dress
(with short-sleeves added) from eShatki. I've heard such good things about the brand and I got an AMAZING deal on it. I've also got my eye on this
navy and cream stripe skirt midi
. I love the length, bold stripe and pockets! I've been wanting a bold stripe skirt for awhile now. It's practically exploded on the blogsphere and more than anything I want to prove that us curvy ladies can totally rock this look as well.
In conclusion: I guess sometimes it's good to be bad? For my closet at least, that is...
Be sure to head over to Franish and check out the other Budgeting Bloggers!