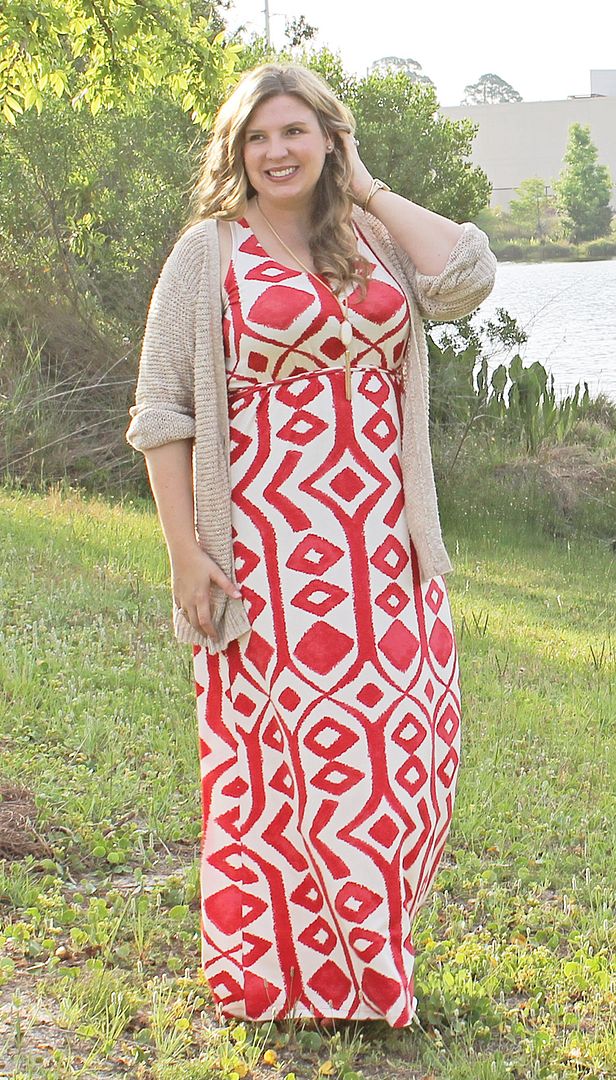 -week-to-week bump pictures.
But after having my daughter, I was too self-conscious about my new shape, which now includes a flabbier belly, to even attempt the maxi dress. But as it's gotten warmer, I knew I needed to find a new approach to summer-wear other than pants. When I saw this diamond print dress online at the Loft, I decided to give it a try, fully anticipating to hate it and return immediately.
But I love it! I'm majorly crushing on the poppy, red diamond pattern. The material is soft, and thankfully shapewear and some smart layering can cover a multitude of flaws. I also think belting it helps pull in the waist and give the dress more shape. I just used the belt it came with, but I also think it would look great with a skinny belt, or maybe a larger leather braided belt. For reference, I got it in an XL, but I probably could have gotten away with a L, it runs a little big and long.
I'm so pleased to be returning to my old love of maxi's with my new friend - this beautiful dress. Since buying, and wearing, this dress I've been rocking maxis like crazy. (See how I've worn as a
dress
and
skirt
.)
Cardigan
: Old Navy (
exact
)
Necklace
: CherisDesigns via Etsy (
exact
)
Earrings
: J. Crew Factory (
exact
)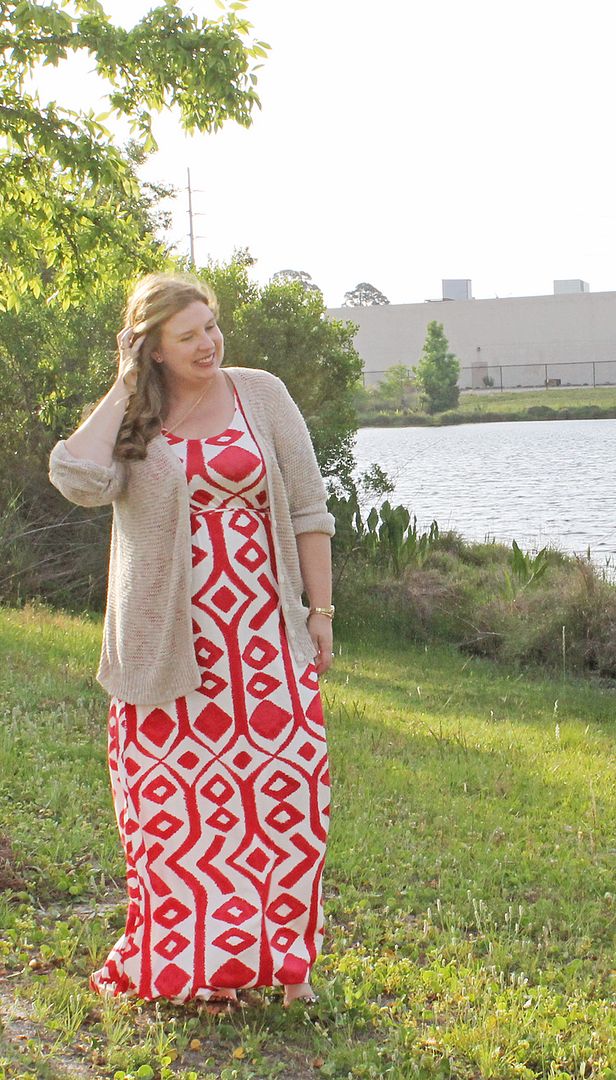 I also played around with this dress paired with my chambray blazer. I'm really liking the versatility of this jacket! I just don't see myself jumping on the jean jacket bandwagon (love it on others, but it just reminds me too much of middle school) so this blazer is a nice alternative. I know it has gotten some negative reviews online, but I definitely suggest going down a size, which helped solve some of my problems.
I actually wore this dress for the first time last Saturday when we got together my mom and mother-in-law for Mother's Day dinner. I didn't get great pictures, so I had a great excuse to wear it again today. (I did capture one pic of me and my little unwilling
twinsie
.)