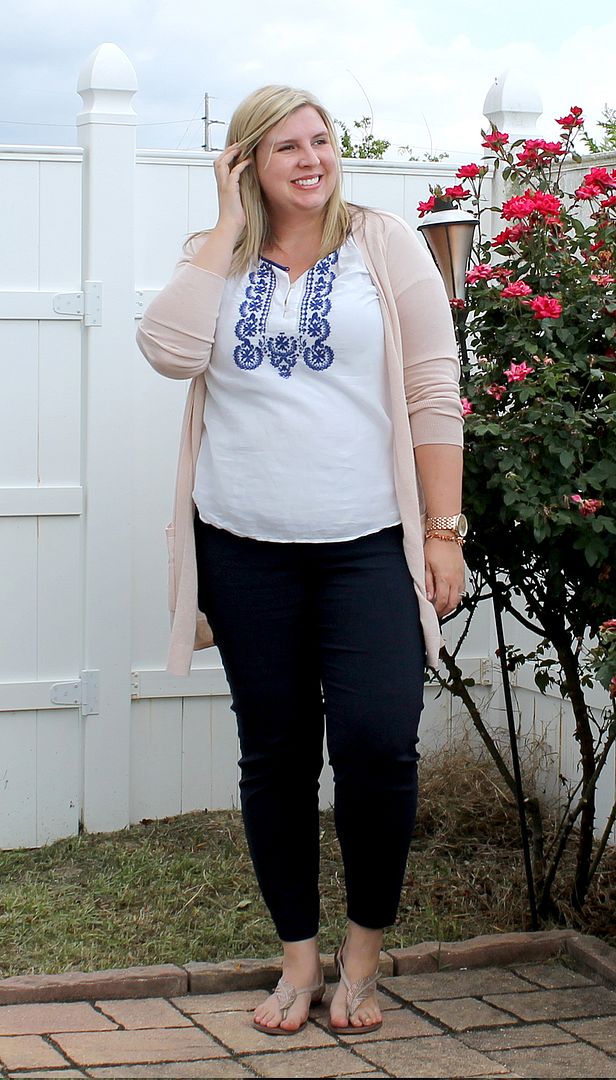 I love when the seasons change and you get to pull out all the clothes you haven't worn in a year - it's like getting a whole new closet without the expense of shopping.
For example, these feather sandals and boho top. Two of my favorites from last summer, but I kind of forgot all about them until I started going through my closet a week ago. Out of sight, out of mind, I suppose.
I got this top last year on clearance from the Loft, and I immediately fell in love with the embroidery and lightweight fabric. I wore it like crazy during maternity leave, usually paired with shorts. Since the top has a lot of interest, you don't really have to think about jewelry (perfect for those summer days when you want the least amount of stuff on as possible).
Since I'm once again a working gal, I wanted to find a way to wear it in a way that was still (somewhat) work appropriate. Thank goodness for relaxed summer dress code! The cardigan helps make the top more covered up (plus is always freezing in my office) and the navy pencil pants help to dress up the look.
I'm thinking this top would also look cute with my
J. Crew Factory mini skirt
or my
Limited cropped jean
s...oh, the possibilities! I love finding new ways to wear old(er) pieces.
Sandals: Carlos by Carlos Santana (
exact
)
Bracelet: SageKandCo (
exact
)