Happy Monday friends! Hope everyone had a lovely weekend celebrating all the dads out there. :)
It's time for another edition of Make it Work Monday: where I find outfit inspiration on Pinterest and make it work for the curvier lady.
Today's inspiration is from
Robyn Vilates
. Can we talk for just a second about how much I LOVE this outfit on her? The stripe blazer, the blue skirt and funky tee = perfection. Not to mention she's 22 weeks pregnant in this picture and looks freaking amazing. I was quite large at
22 weeks
, so I might just be the tiniest bit jealous. :)
As much as I love this outfit on Robyn, I soooo don't like it on me. I thought I would, but it's just not right. I may have a relaxed work dress code, but I don't think I can get away with a graphic tee so I changed it out for a polka dot one, and I think the outfit lost all it's fun.The blazer is longer, the skirt isn't long enough, something just isn't quite right. That being said, I don't think it's a terrible outfit, but it's not a great one either. It might be worth revisiting to see if I can get it to work better, because I love the inspiration so much.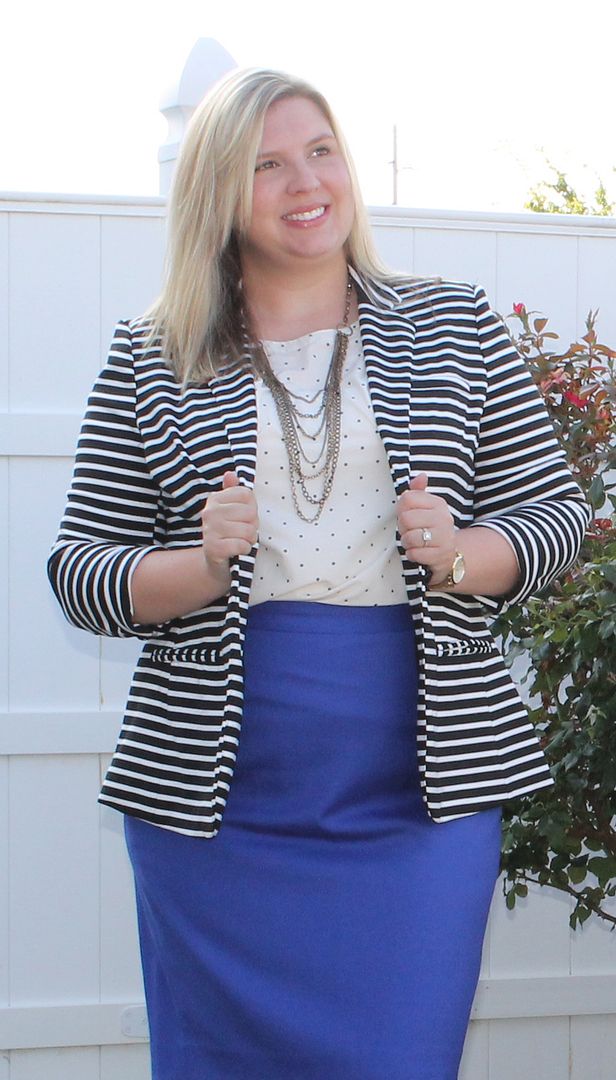 Cardigan
(in photos below): (
similar
)
Bracelet
: Gojgana Twist Cuff via Rocksbox (
exact
)
It's a million degree and super humid in Florida. It took about two minutes into taking pictures this morning to realize there's no way was the blazer going to last through the day, so I switched it out for a tan cardigan and liked the outfit a lot better.