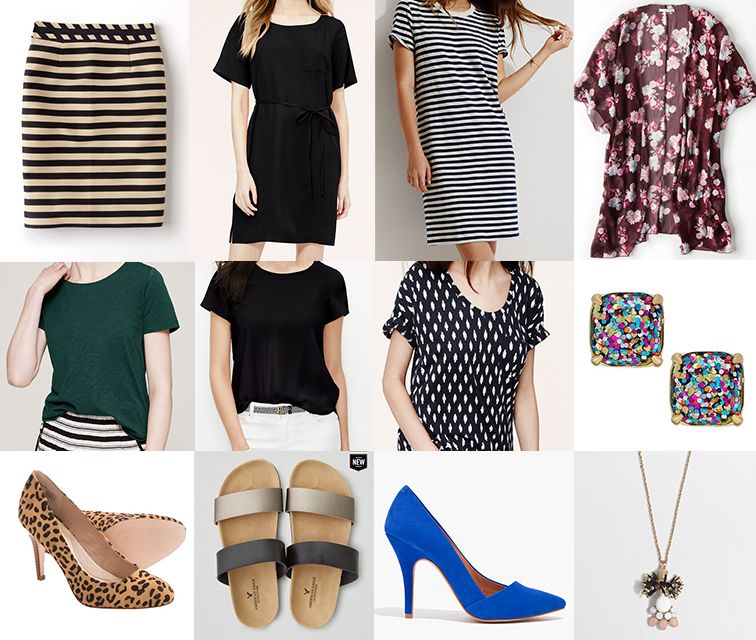 $306.14 - $100 side work income = $206.14
$56.14 over budget
($509.71 in savings)
So, I was spendy this month. Thank goodness I had a little photography side work money I could throw toward my budget, or I would have been way, way over. I also just sent some clothes to ThredUp to sell, so hopefully that will help for next month. Because...
Going forward, I'm going to roll my balance into the next month. Right now there's no consequences if I don't make budget. With no incentive to stay at or under budget, I've been operating under a use it or lose it mentality. I'm hoping that by building up my credit, I can buy some more expensive
holes in my closet
items. So next month, I'll start out down $56.14, but hopefully I'll make some clothing sales to compensate!
Now, on to the clothing reviews, the real reason I know you're all here: :)
Boden Wow Pencil Skirt
(see how I wore it
here
)
I've had my eye on this skirt for over a year, but wasn't willing to pay $100+ for a skirt, no matter how well-made. Back in
June
I did post wearing it's sister skirt and realized that the stripe it was soon to be gone forever and that my size was one of the very last in stock. I still held out a bit longer, but finally decided to pull the trigger. I'm so glad I did! It's a nice, thick material, which means the stripes don't stretch out all wonky (something I have to be oh so careful about post baby). For reference, I got this in a 16R.
Loft Tee Dress
(see how I wore it
here
)
Simple black dress with sleeves? I'm all over that. I'm not a huge fan of how my upper arms look, so I'm always covering up with a sweater. It was great to find a dress that can been worn by itself, no covering up needed. For reference, I got this in an XL.
Lou & Gray Striped Tee Dress
(see how I wore it
here
)
I got this dress because I wanted another short-sleeve dress to add to the mix. I love how this dress can be worn casually or dressed up with a blazer. For reference, I got this in an XL. It was part of a $60 of of $100 promotion, plus I had a rewards card, so it basically cost me a whole whopping $0.80. Crazy, right?
American Eagle Floral Kimono
(see how I wore it
here
)
I pretty much live in cardigans, but in summer, in Florida, sometimes you just need something light and airy that still provides a little coverage. This kimono is so much prettier in person than it is online, and it was free with a gift card, so a win-win. It does run really large, for reference, mine is a M.
Loft Piped Tee (
see sneak peak of how I wore it
here
)
I got this pretty little tee during the aforementioned $60 off $100 promotion. I love, love, love the deep green color and I've worn it a couple times during the weekend, but not yet on the blog. I got an XL. It also comes in pretty pink, cream and black.
Ann Taylor Dressy Tee
(see how I wore it
here
)
Sadly, I no longer fit into my absolute favorite dressy black tee, but this is a good replacement! It's lightweight and feels good against the skin. It's the perfect length to leave untucked, but I also think it'll look good tucked into skirt. I'm looking forward to playing with it more. I got this in an XL.
Loft Ikat Tee
(see how I wore it
here
)
Navy + ikat = perfection. This shirt is made from super soft cotton, and it looks good dressed up with a pencil skirt as well as casual. It's got a nice length to it, not too short, which is a problem I have with a lot of shirts. I've been wearing it non-stop on the weekends with shorts, plus it washes well. It's survived two round of baby puke and still looks great. :)
Kate Spade Glitter Stud Earrings
(see how I wore them
here
)
I wasn't going to shop the Nordstrom Anniversary Sale, but these earrings proved to be too much temptation to resist. They're big, funky, and I love them.
Lands End Leopard Pumps
(see how I wore them
here
)
You guys, I got these amazing leopard heels of only $17! That's about 85% off retail. Insane. I originally ordered them at $31.17, but two days later they went on further sale and Sierra Trading Post was kind enough to refund me the difference AND my shipping! I just feel like I need to give them a shout out since they were so helpful! I know they mostly sell outdoor stuff, but every once and awhile, there's a gem like these heels.
American Eagle Colorblock Sandals
I realized that I only own one pair of slightly ratty black flip flops, so these sandals fill a black casual sandal hole in my closet. They're reminiscent of Birkenstocks, but I think the simple double strap and pop of silver helps make them a little more fun and they're at a much lower price point than Birks. Don't get me wrong, I love a good pair of Birks and I wore the heck out of them in high school, but I'm not yet ready to invest in a new pair. Too bad I didn't keep my high school originals (I had brown, tan AND mules), I could have been trendy all over again. :)
Madewell Mira Heels
(see how I wore them
here
)
Seriously, how amazing are these shoes? I posted about wanting them
earlier this month
, but at the time they were bit too expensive. About a week after that, Madewell held an amazing sale on their clearance items, and I was able to pick them up on major sale. They tipped my budget over, but I think it was worth it. I've only wore them once, but they were pretty comfortable, as much as heels can be comfortable. I love the leather lining, no blisters and no gross sweaty feet!
J. Crew Factory Fringe Pendant Necklace
(see how I wore it
here
)
I've really been into long pendant necklaces lately, and when I saw this one on
Merrick
, I knew I had to have it. Then again, I'd love to have just about everything in her closet. :)
What didn't work: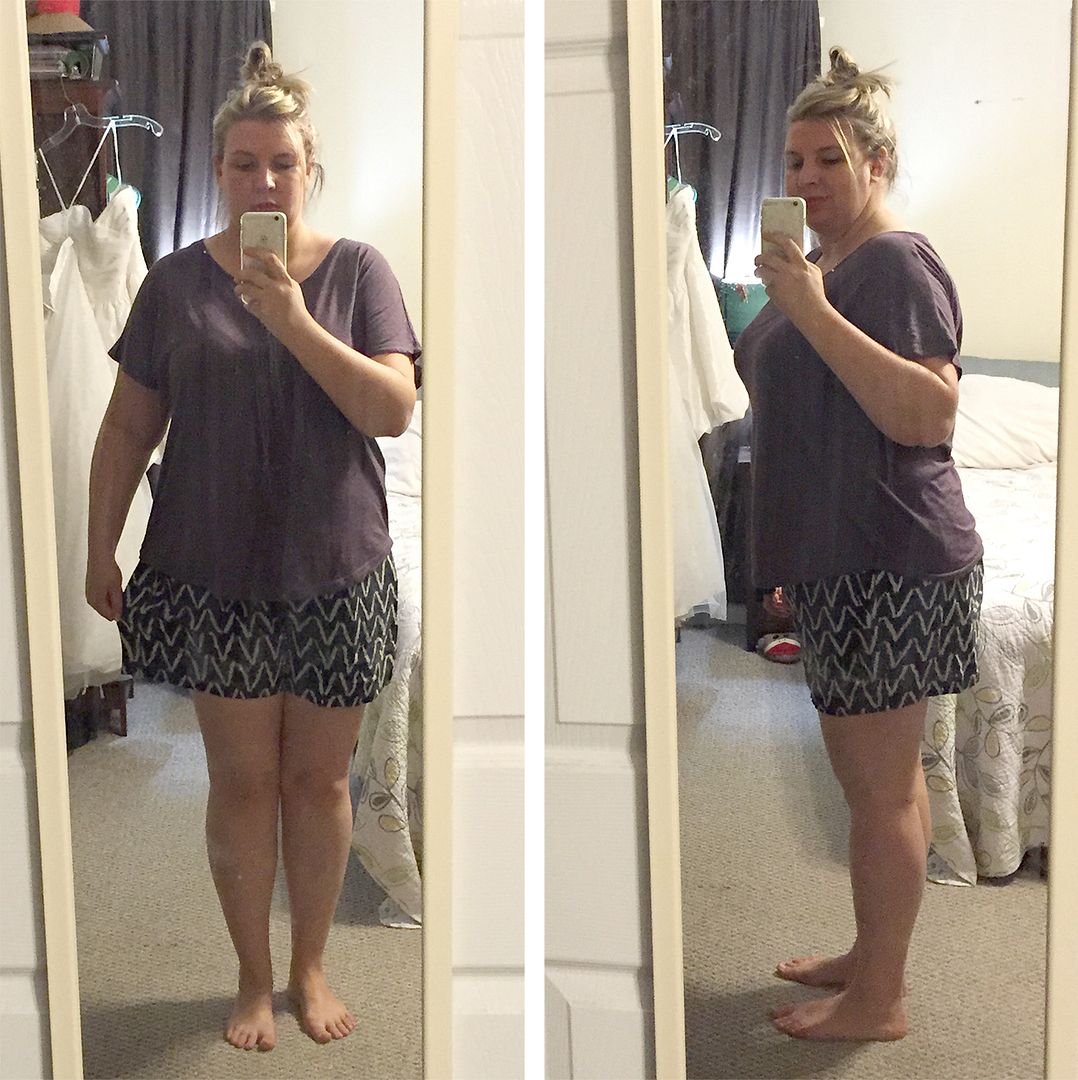 Loft Ikat Printed Shorts
Ikat shirts are great, these shorts are...not...I wanted to love them, but there were too baggy, too short, just bleh. Honestly, they felt like pajamas with a weirdly long crotch. So, back they went. For reference, I ordered them in an XL.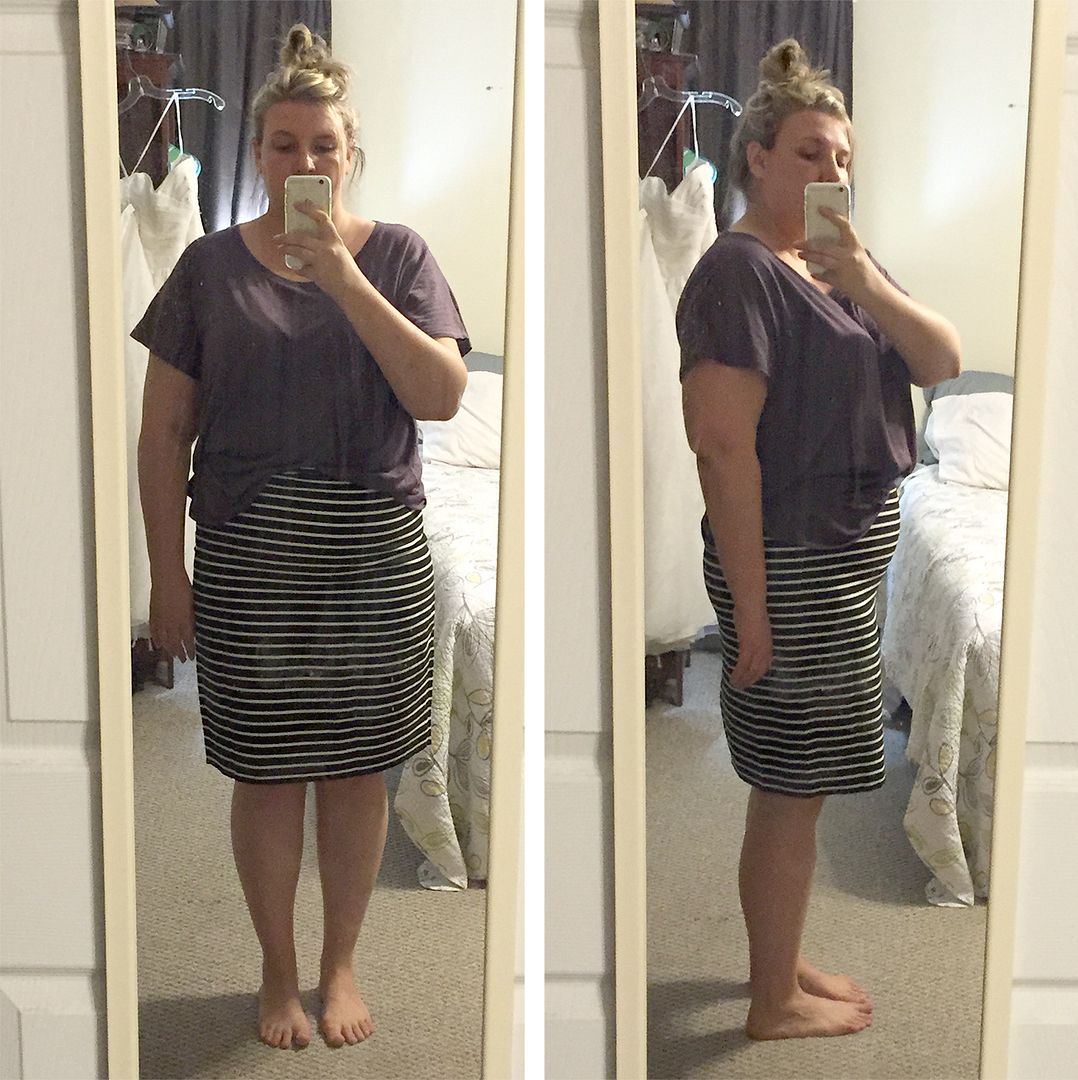 J. Crew Factory Stripe Pencil Skirt
Remember all the things I said above about the importance to a stripe pencil skirt fitting just right around the abdomen...well, here's the perfect example of a skirt that zipped up and "fit" but looks like a train wreck on. Too, too tight and does absolutely nothing for my figure. I might have tried going up a size, but it was only offered up to size 16, which is what I got, but overall is was really easy to say no to.
J. Crew Factory Distressed Skinny Jeans
My quest for the perfect distressed skinny jean continues. I just felt like everything was too tight, and you can't see well in the photos, but there was an odd almost patch look on one of the legs that I just wasn't crazy about. For reference, I ordered these in a size 33. My search continues...
Moving forward, I want to concentrate more on the holes in my closet, though I did break down and order the rose gold/navy Kendra Scott tassel necklace during the Nordstrom Anniversary Sale. It should (fingers crossed) arrive tomorrow. I've been wanting a long rose gold necklace for a while, so maybe it'll help fulfill one of my closet "holes." It's not frivolous then, right? I also have my eye on this pair of
distressed jeans
from the Loft. I've also got this gorgeous
embroidered tunic
coming my way and I'm trying really, really hard to resist these
poppy red perforated flats
. I've got a coupon that makes them half off, but I'm trying to decide if I really need another pair of red flats in my closet.