My process for cleaning out my closet is to take out everything I haven't worn, no longer like, or doesn't fit and put them in a separate place. Six months or so do the road, whatever it still in the pile I sell/donate. Very rarely I rescue something, but this sweater was the exception. I've always liked it, but the neon orange can be a little hard to work with and it's on the shorter side, so it doesn't play nice with pants.
However, I think it works will with a pencil skirt and I like the neon orange, tan and black color combo. My one hesitation was that the black and orange would read Halloween, but now that I see it in pictures, I think I'm safe. And if you're going to go crazy with neon, might as well wear it with all the patterns as well.
Also: I.LOVE.THIS.SKIRT. I've been on the lookout for a good stripe pencil skirt and I think the trick to making it work for a curvier body is structure. The skirt is a heavier weight and doesn't have a lot of stretch which keeps the stripes in place. After having a baby, I have to be careful about how clothes fit in the lower abdomen and stripes tend to stretch all crazy around the bulges. Not a flattering look. This skirt has enough structure that it hangs straight, no lumps or bumps. Sadly, this skirt is no longer available, but Boden does have a summer pencil skirt that comes in some absolutely beautiful patterns. I'm all heart eyes for the
aqua burst pattern
and it's on sale for $55.20 (originally $138), which is a great price for Boden. For reference, both my Boden pencil skirts are a 16 regular.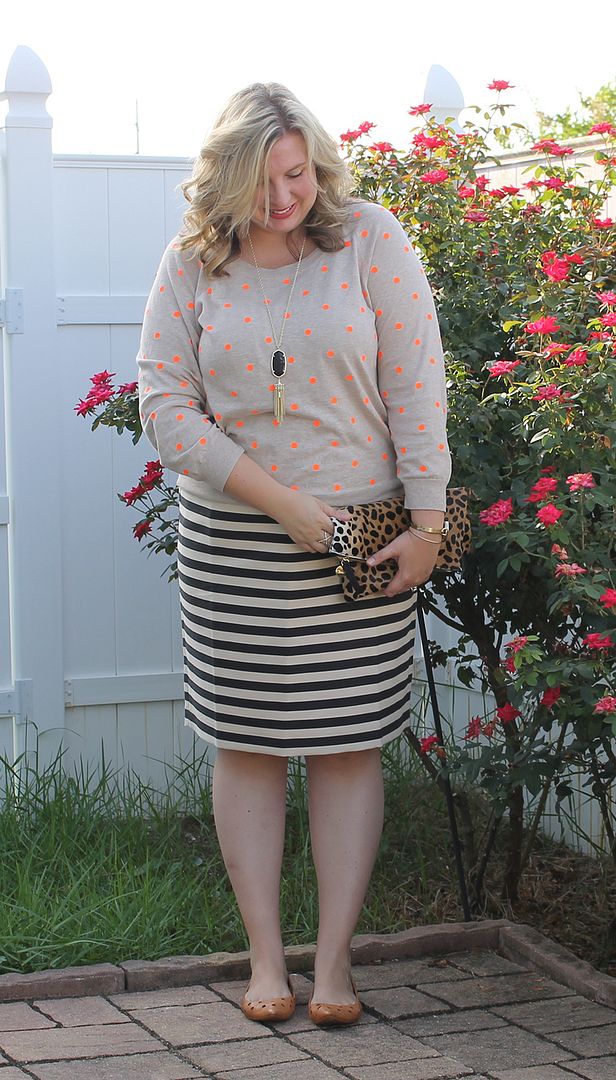 Necklace
: Kendra Scott (
exact
)
Earrings
: J. Crew Factory (
exact
)