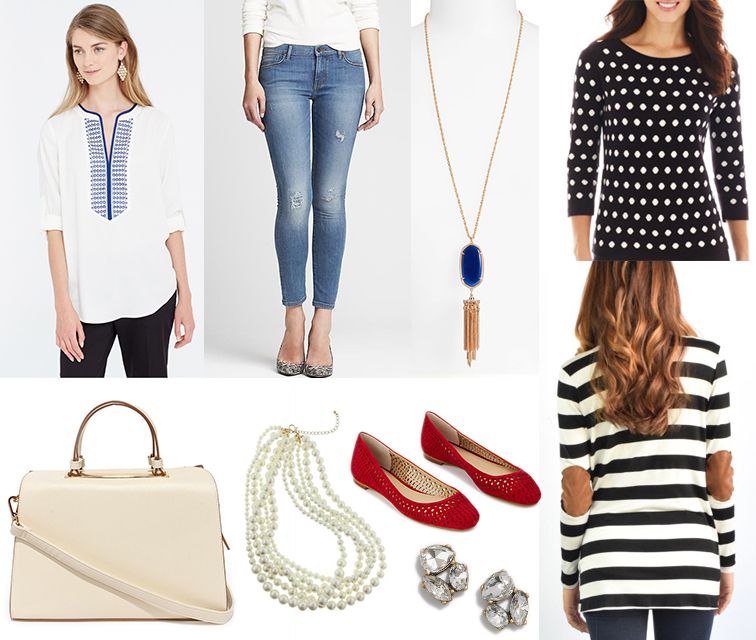 $150 budget - $56.14 over in July = $93.94 starting budget
+ $37.14 Thredup
+ $110 clothing sales
+ $50 side work
= $291.08 Total Budget for August
- $254.77 August purchases
$36.61 under budget
($288.52 in savings)
I spent a lot this month, but I also sold some clothes and did side work that more than made up for it! Have any of you read the
Shopaholic
series? In it the heroine's dad says there are two ways to save money: 1. Spend Less 2. Make More (Or something to that effect anyway.)
Well, spend less hasn't been working for me, but I'm rocking the make more. Then again, maybe I shouldn't be taking financial advice from a work of fiction. :)
Anyway, on to the reviews!
Ann Taylor Split Neck Tunic
(see how I wore it
here
)
I decided to give this pretty top a try after seeing it on
Franish
. I love that it has a longer hemline and the embroidery on it is so pretty. It looks nice with black pants, but I can easily see it tucked into a pencil skirt and layered under a jacket or blazer this fall. For reference, I ordered this in an XL.
Banana Republic Distressed Skinny Ankle Jeans
(see how I wore it
here
)
I have been on the lookout for the perfect pair of distressed skinny jeans for a couple of months now, and these come pretty darn close. They are soft and comfy, but don't stretch out during the day and I love the lighter wash. I've washed and dried them a couple of times and they fit as great right out of the dryer as they do at the end of the day. I got them in a 16 Tall so I could cuff the bottom and, when unrolled, they hit right at my ankles. I can't wait to wear them tucked into my favorite riding boots this winter.
Kendra Scott 'Rayne' Stone Tassel Necklace in Rose Gold/Navy
(see how I wore it
here
and
here
)
I was going to be good and resist the Nordstrom Anniversary Sale, but I couldn't resist this beauty! The rose gold makes it unique and I like that it gives me a little something different in the accessories department. I'm so sad that it's sold out, but hopefully, maybe, it'll come in stock again soon.
J.C. Penny Black and White Polka Dot Sweater
I got this sweater in anticipation of our family Gatlinburg trip in late October, but I can think of tons of ways to style it in the fall/winter. After reading reviews, I ordered it in a XXL Tall, and I'm so glad I did! It's just long enough that it hits at the hip and it's nicely fitted. I am not a tall person by any means (I'm only 5'5'') but this sweater would have been way too short in the regular length.
Lulu*s Doctor Up Cream Tote
(see how I wore it
here
)
I'm not a huge purse person, for the past two years I carried nothing but my
Coach Phoebe bag
or my diaper bag. A couple of months ago, I added the
Clare V. leopard print clutch
to my collection (swoon) but I wanted something more structured, in a neutral color, and work appropriate. I love that this bag fits all my requirements, and at a much lower price point. It still looks expensive and the vegan leather doesn't have the plastic fake look.The sides have a pretty linen look and the gold hardware looks classy.
Target pearl necklace
(see how I wore it
here
and
here
)
I loved the J. Crew Factory version of this necklace and had major
fomo
that I didn't snag it before it went out of stock online. Sadness. So, when I found this dupe at a much lower price, I snatched it up. Though, get this, I went to my local J. Crew Factory outlet last week and there were TONS of those gorgeous pearl necklaces for sale. I almost bought one just because it was the one I originally wanted, but I couldn't justify the $40 price tag.
Ann Taylor red cutout flats
(see how I wore them
here
)
I did a
mini review
on these flats last week. The shortened version: ordered flats, loved the style, but wasn't sure about the fit. Was too lazy to return. Wore them anyway and it all worked out. But, seriously, don't pay full price for them, so not worth $98.
J. Crew Factory Crystal Trio Earrings
(see how I wore them
here
)
My earrings stay hidden since 99% of the time I wear my hair down. I wanted a statement pair that wasn't dangly that would look good when I did wear my hair up, and hopefully peek through when I had my hair down. I'm not a big fan of large earrings anymore, and I tend to stick to statement necklaces, so these earrings had just the right amount of bling without being overwhelming.
Eloges Elbow Patch Cardigan via Groopdealz
(sneak peek of it
here
)
I'll admit it, this was a complete impulse purchase. I saw stripes and elbow patches and was all, gimme gimme! When I ordered it, I actually thought it was a sweater, but it's made from T-shirt material, which I think I like every better. It's cozy and has plenty of stretch. And elbow patches, did I mention elbow patches? For reference, I got this in a XL.
What I received as a gift:
I received a lot of lovely gifties this month from family. Hooray for early birthday presents! (Which isn't until late September, but it's never too early to celebrate.:))
J. Crew Factory Gray Rugby Sweater
This was another anticipation of Gatlinburg trip purchase. It's soft and has a tight weave and definitely has a preppy vibe to it. I can't wait to style it this winter. For reference, I ordered an XXL and it's just the slightest bit snug.
J. Crew Factory Herringbone Vest
(sneak peek of it
here
)
I'm a blogger cliche and I don't care who knows it! I love this vest. I know it's gotten some bad reviews online, but I really like the gray color and it's nice and warm. I listened to the reviews online and ordered this a size down in an XL, and it fits, but it's just a touch snug. I'm debating if I want to exchange it for an XXL, but I'm afraid it'll be ginormous. Living in Florida, I won't be wearing thick layers under it, so the snugness probably isn't a big deal. Wouldn't be nice if you could just diet for a day or two and magically lose 10 lbs.? #wishfulthinking
Old Navy Boyfriend Plaid Popover
I really like that this shirt looks like a cozy flannel skirt, but it's actually made from a thin, light material which is PERFECT for Florida falls. I got it in a L since it runs quite large.
Target Polka Dot Cardigan
(see how I wore it
here
)
You know me, if it's polka dotted, I'm all over it. I got it in an XXL, and I find it runs a little small.