Today is the start of our mini vacation to Gatlinburg! We're driving to my parent's home in Chattanooga this afternoon/evening to take advantage of the kiddo's sleep time (because no way do I want to drive eight hours with a crying toddler) and then making the last leg of the journey to G-burg tomorrow morning. For those of you who have read my blog recently, you'll know I'm beyond excited about this trip. It may not be elaborate, but I'm looking forward to spending time with family, relaxing and seeing some fall color. I'm so grateful to my sweet parents for renting the cabin and making this trip happen.
I've been a little stumped on how to pack for this trip since the weather is going to be in the 70s during the day, but only in the low 50s and 40s at night. Layers are the way to go! My goal was to get everything to fit into a
weekender bag
since most of the car is going to be crammed full of baby-gear. Who knew a 17-month-old needed so much stuff!?
The Pieces:
(5) Tops:
J. Crew Factory pink and blue plaid (
similar
)
Boden Breton stripe tee (
exact
)
J. Crew Factory red stripe shirt (
exact
)
Old Navy purple plaid button down (
cute alternative
)
Loft gray long-sleeve tee (
similar
)
(1) Sweater:
J.C. Penny black and white polka dot sweater (
similar
)
(2) Bottoms:
Banana Republic distressed skinny jeans (
similar
)
Loft black skinny jeans (
similar
)
(2) Outerwear:
J. Crew Factory herringbone puffer vest (
exact
)
J. Crew Factory field jacket (
J. Crew version
,
Factory hooded version
)
(2) Shoes:
FRYE red boat shoes (
similar
)
Target cap-toe espadrille (
similar
)
(5) Accessories:
Banana Republic black and white scarf (
similar
)
Plaid scarf (
very similar
)
Sole Society purse (
exact
)
J. Crew Factory crystal trio earrings (
exact
)
Target rose gold watch (
similar
)
Since we're not sure if we're coming back Monday or Tuesday, I went ahead and made a sixth look. You could easily make a bunch more outfit combos...I'm seeing either of the plaid shirts layered over the grey tee or one of the stripe tees. The polka dot sweater would look darling with either of the striped shirts as well. I love being able to mix and match!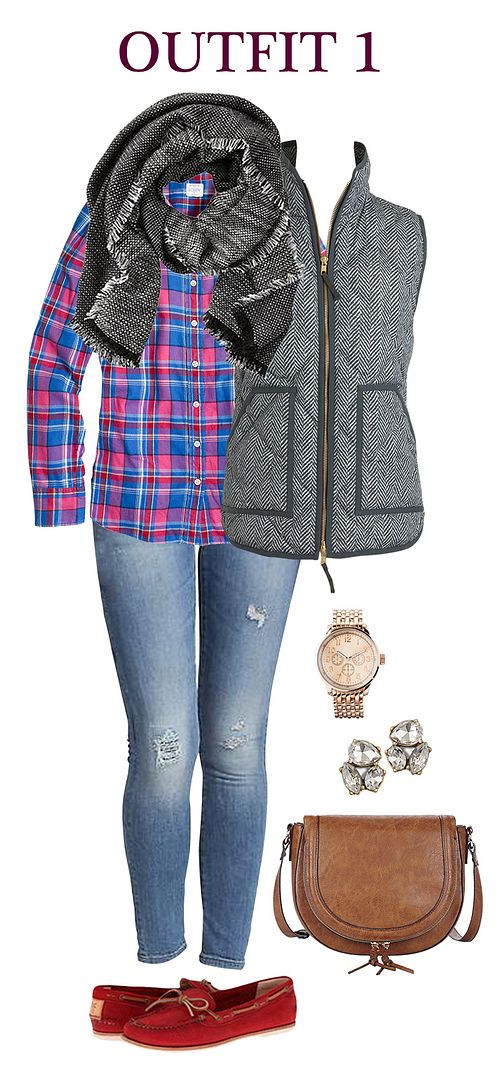 shirt
: J. Crew Factory (
similar
) //
jeans
: Banana Republic (
similar
) //
vest
: J. Crew Factory (
exact
) // s
hoes
: Frye (
similar
) // s
carf
: Banana Republic (
similar
) // b
ag
: Society (
exact
) //
earrings
: J. Crew Factory (
exact
) //
watch
: Target (
similar
)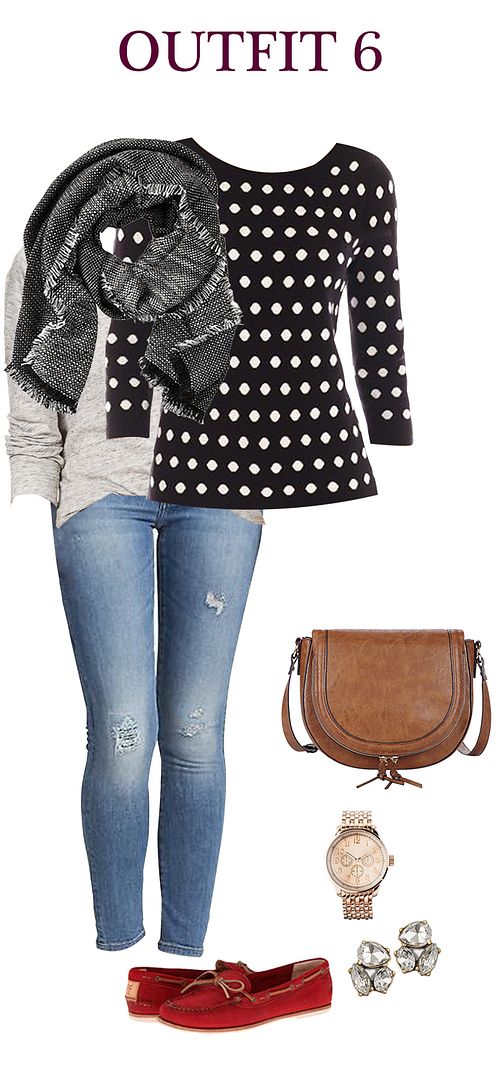 I usually just throw things into a bag and hope it all works out, so it feels nice to have a plan in place, even though I'll probably end up switching it up anyway. :)
shop the post: