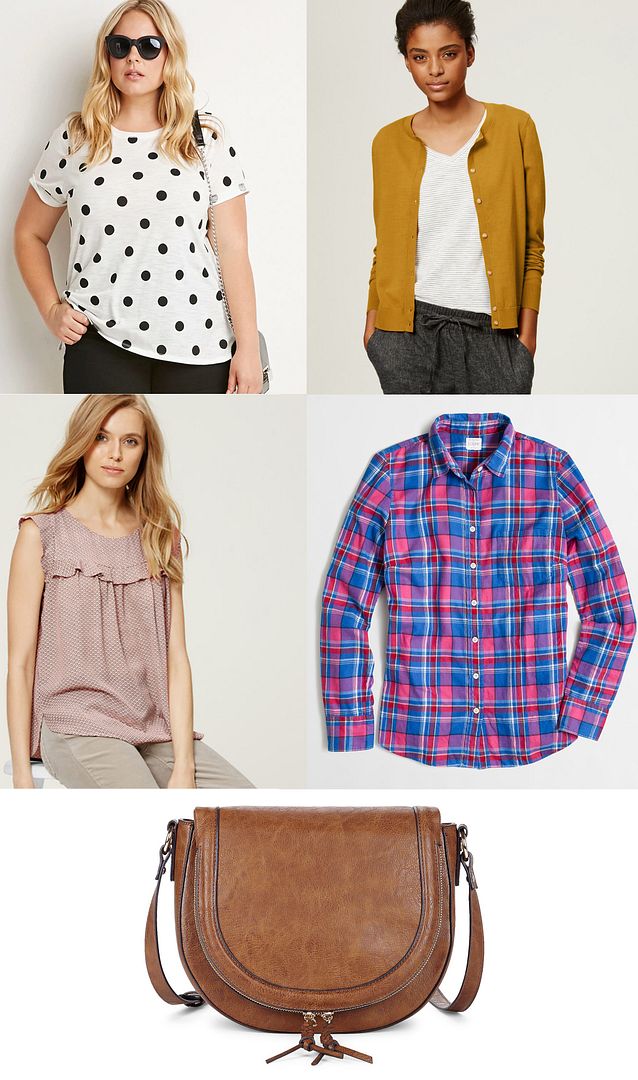 October budget: $150
$11.87 left from September - $167.58 purchased = $5.71 over budget
I'm feeling pretty good about this month's budget. I'm over, but just every so slightly! Victory! I feel like I was incredibly spendy in
August
and
September
, so it feels good to be more on track this month. Overall, I'm pretty happy with my purchases and looking forward to styling them.
Forever21 Polka Dot Tee
(see how I wore it
here
)
After seeing this tee on
Girl with Curves
, it was an immediate, oh.my.gosh.got.to.have.it moment. I wasn't sure what size to buy, so I got a 2XL, which turns out was a bit too big. It works tucked into a skirt, but I've tried wearing it a couple of times with just pants or jeans and haven't liked it. I might try slimming the sides to make it fit better. Not the shirt's fault, I should have ordered a smaller size and didn't want to bother with exchanging.
Loft Mustard Cardigan
(see a sneak peek of it
here
)
I've been wanting a good mustard cardigan to replace my ill-fitting ones from Target and Walmart of all places. This one feels great, has a nice shape and should last for seasons to come. For reference, I got this in an XL.
Loft Dotted Ruffle Shell
(see how I wore it
here
)
I knew I had to try this lovely top on after seeing it paired with the above mustard cardigan. It looked so cute in the store and I loved the way it looked in the dressing room. So I bought it. I got it in an XL and it's actually a little big. I tried the L, but it was too short in length. Since it's sleeveless, I don't plan on wearing this top on it's own, and I'd rather have a little extra bulk to get the extra length.
J. Crew Flannel Button Down
(see how I wore it
here
and
here
)
I love the bright, cheery colors of this shirt, and even though it's flannel, it's on the thin side, which makes it perfect for Florida fall. I got it in an XXL and the fit is perfect in the chest and waist, though the arms are rather wide and long. That's a common problem for me with J. Crew, I guess in their mind if someone's my size they most be a giantess! Nope, just short and round, that's me. :) I usually wear these kinds of shirts cuffed, so it isn't a deal breaker, but worth noting all the same.
Sole Society Purse
(see how I wore it
here
and
here
)
I wanted a crossbody bag to take to Gatlinburg and decided to try this bag after seeing it on
Franish
. I'm so sad it's out of stock, because it's been the perfect day-to-day bag. I loved carrying it in Gatlinburg and I've found myself reaching for it more often than my Coach purse and
Lulu*s bag
. I did find a similar option
here
.
Old Navy Blue Plaid Shirt
(see a sneak peek of it
here
)
Months ago, when we decided to take a fall Gatlinburg trip, I had a very different packing list in mind. Thick scarves, comfy sweaters, cute jackets, etc. I held out hope until the end that we would have my dream weather, but instead it was cool before our vacation and cool again after, but unseasonably warm the week we where there. Go figure. A few days before our trip, I knew I needed to find another transitional shirt to pack. I like that this one is flannel, but not thick, and it was perfect to wear during the warmer day, and look cute layered under a scarf and sweater at night. Up close it's blue, white and red, but from a distance it's definitely looks lavender. I got it in an XL and found it runs true to size.
What I Got As a Gift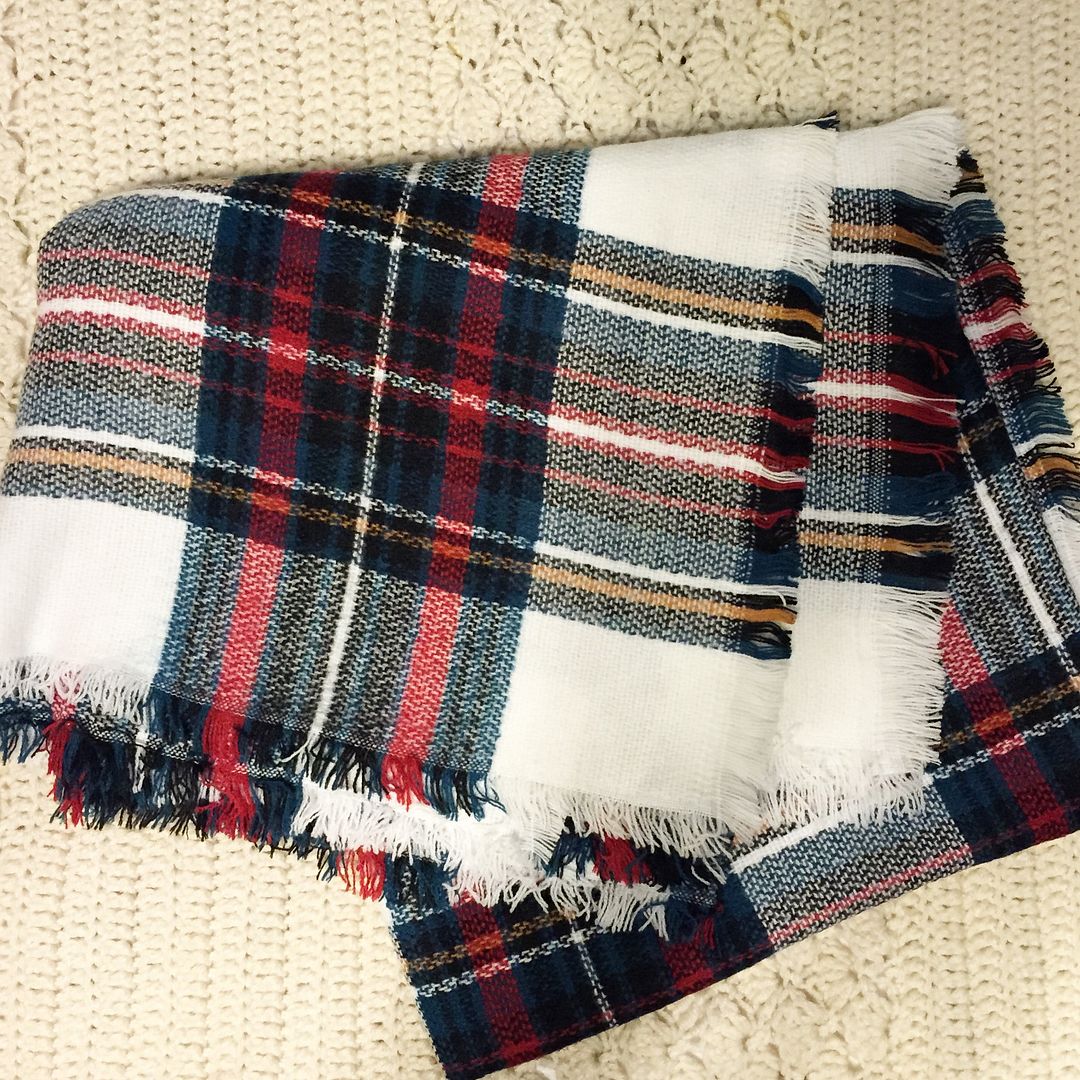 Plaid Blanket Scarf
(see a sneak peek of it
here
)
My sweet stepmom bought me this lovely scarf while we were in Gatlinburg. It's from The Boutique in the Island, which sadly doesn't have a website, only an
Instagram
. I'm already having fomo that I didn't pick up some of the other colors. Oranges, greens, deep reds, they were lovely and weren't nearly as bulky as my other blanket scarves. After literally trying on every blanket scarf in the store, I decided on this one mainly because I wanted something that would match both my red pea coat and my olive field jacket. J. Crew Factory has a
similar scarf
if you're interested.
Looking forward
I don't have any definite plans for shopping next month. I'm still wanting some booties similar to the
Vince Camuto booties in wild mushroom
from Nordstrom. I've been hesitant to pay $160 for a shoe, but I've got a little blogging income coming my way and I haven't been able to find something comparable at a lower price point, so I may pull the trigger. Maybe. I'm feeling pretty good about what I have in my closet at this point, and since I've been trying to lose a little weight (doctor's orders) I don't want to go crazy buying clothes that may not fit next season. But on the bright side, less clothing purchases means more money for shoes and accessories! I keep eyeing all these lovely blanket scarves, but I keep reminding myself I live in Florida, so it's impractical to own any, much less keep adding to my every growing collection...and I kinda want to buy the white pearl Kendra Scott necklace from my latest Rocksbox set, but I already own three (in black, rose gold/navy and
chalcedony) so adding a fourth seems excessive...#firstworldpromblems iamiright?