I swear it rained the day I wore these boots. It poured in the morning, but anything liquid dries up fast in Florida, so I made my poor long-suffering husband drive around until we found a spot with a big puddle. We took photos, then about an hour later, it poured for the rest of the day. I thought about reshooting, but eh, these are good enough. You get the idea, right?
After looking for months, I finally decided to get a pair of
Hunter rain boots
as a birthday present to myself. I tried the original ones in store, but sadly my calves were just a bit to wide to comfortably fit. Thankfully the adjustable back boots fit perfectly with plenty of room to spare. I have 17" calves and Nordstrom's website says these extend out to 17", but they definitely will go wider. If you're looking for a wide-calf rain boot, I highly recommend these. The soles are surprisingly comfortable and I love the gloss finish. I had originally planned on getting the matte until one of my friends talked me into the gloss, and she's right, in the darker colors, the gloss adds a little something extra to the boots. The only problem I've had is getting the buckles in the back right, I might have to see if there's a video or something about how to adjust them and get them to stay. User-error I'm sure.
Rain Boots
: Hunter (
exact
)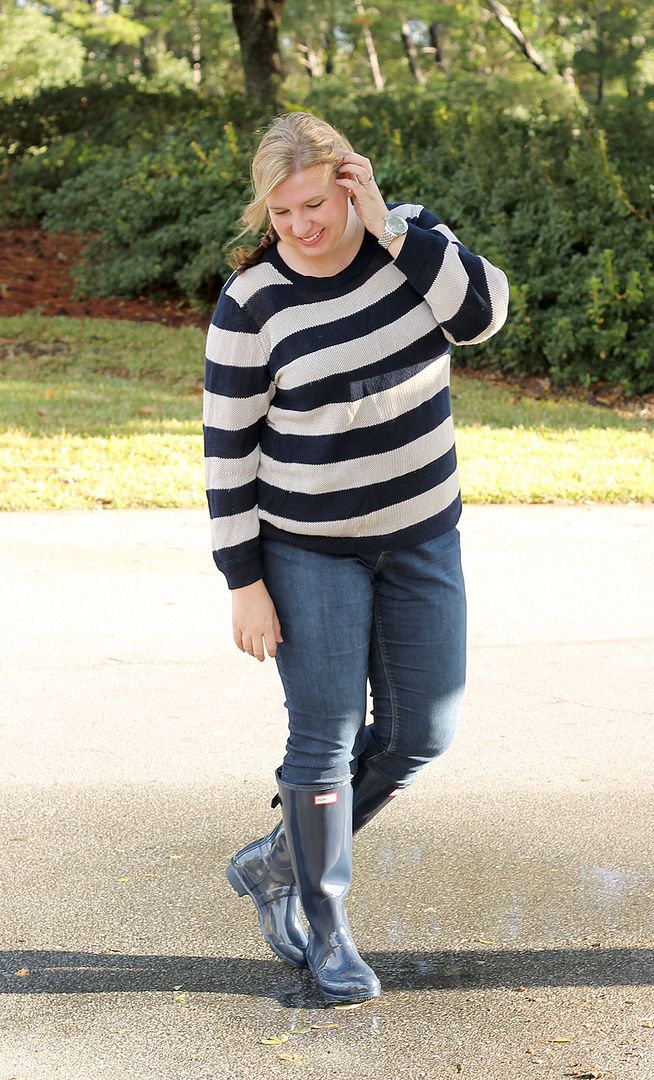 For reference, in these photos, the boots are coming out a dusty blue, but in real life they're a pretty, dark gloss navy.
Do you have Halloween plans? My husband and I are pretty much big kids and love any excuse to dress up. This year we're taking the kiddo trick-or-treating in our neighborhood and are dressing up as a lion tamer (husband), lion (the small one) and the lion tamer's assistant (that would be me). We alternate on who gets to pick the costume, and it was the hubs turn. Per the husband's request, my outfit involves fishnet and short-shorts, so this costume is going to be quite interesting...though I'm trying it keep it as un-slutty as possible. Probably an oxymoron with fishnet anything...I'll be sure to post a pic or two on Instagram!
// Today I'm linking up with A Pocketful of Polka Dots for Fabulous Friday! //