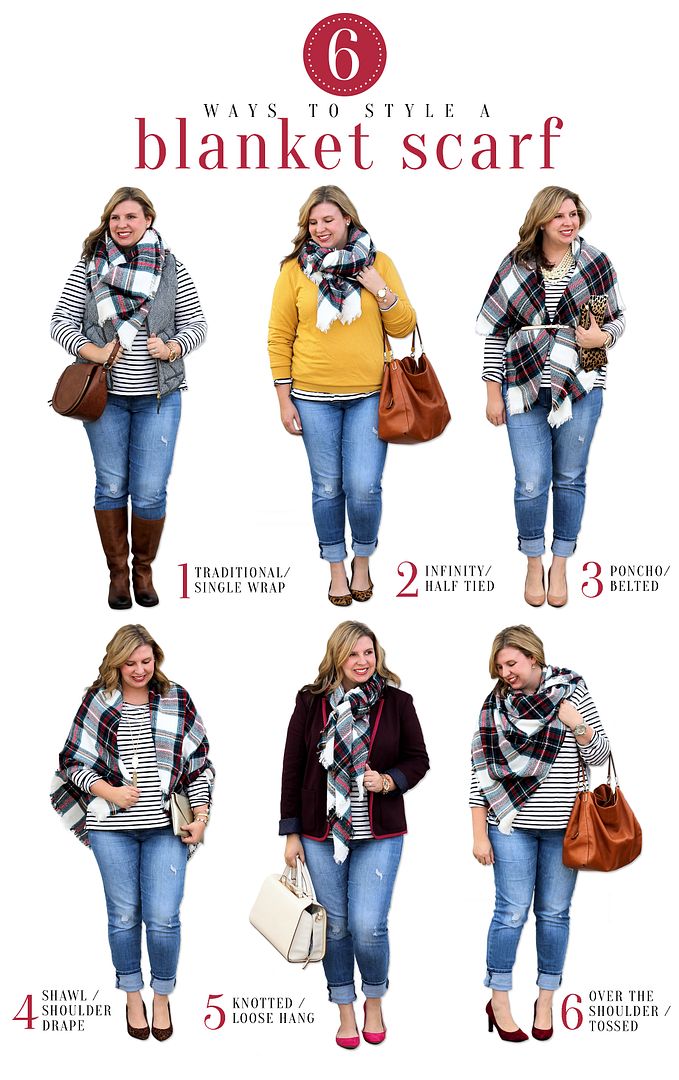 This (now) Florida girl has been majorly jonesing for fall. For those of you who have been reading for awhile, this comes as no surprise and, very likely, sounds like a broken record. When Brianna from
Work Clothes, I Suppose
announced Blanket Scarves as the theme for
Third Thursday Threads
, my first thought was sadness that it wasn't cold enough here to participate. But then I decided there's nothing wrong with a little pre-outfit planning, so I came up with six different ways to wear my new favorite blanket scarf once it cools off.
I decided to stick with the same stripe shirt and pants to show how a few different accessories and wearing a scarf different ways can create a completely different look. I got this lovely blanket scarf at a boutique in Pigeon Forge, but I did find a
similar option for under $10 on Etsy
.


1: TRADITIONAL / SINGLE WRAP
Until this post, the only way I had worn my scarf was the "traditional" way in a single wrap around my neck. Effective, but a bit boring. Then again, there's nothing wrong with tried and true. I decided to embrace my most basic self and wear it with a puffer vest and riding boots.
2: INFINITY / HALF TIED
I like this outfit is casual, but the scarf adds a little something extra. I love a good infinity scarf, and achieved this look by twisting the blanket into a long rope or sorts, looping it around my neck and tying the ends to make it all stay in place. It was mostly trial and error until I got something I liked.
3: PONCHO / BELTED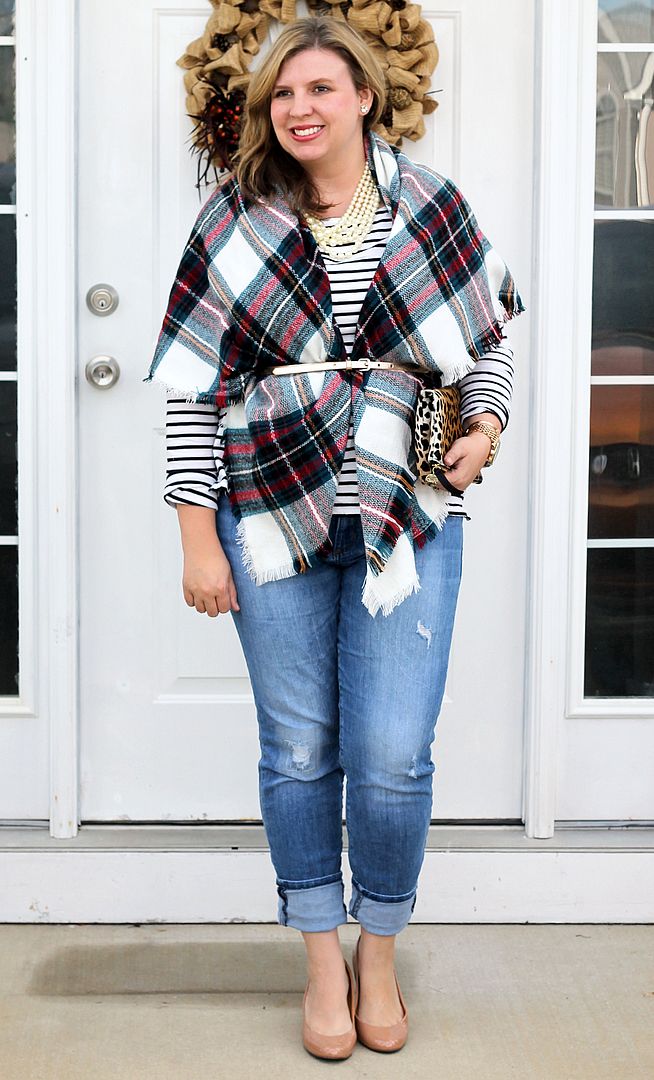 The belted poncho was the look I was by far the most intimidated by. Being plus-sized, I worried that it would look stupid, or too small, but it ended up being my favorite look! When I got this scarf, the sales clerk told me the belting secret: only belt the front, but the leave the back free. She's right, it looks slim without adding a bunch of bulk around the middle. While looking for Pinspiration, I found a gorgeous look with a
belted blanket scarf over a black maxi dress
. I can't wait to try that in the near future.
4: SHAWL / SHOULDER DRAPE
scarf

: The Boutique in the Island (

nearly identical

) |

shirt

: Boden (

exact

) |

jeans

: Banana Republic (

similar

) |

shoes: Old Navy (similar) | clutch: J. Crew Factory (similar) | necklace: Kendra Scott (exact) | earrings

: J. Crew Factory
(
exact
) |
watch
: Fossil (
similar
) |
bracelets
: Moorea Seal (
similar pearl cuff
) Loft (
similar square crystal
)
You can't get much simpler than wearing your scarf like a shawl, but funnily enough, this was the look I had the most trouble with. I just couldn't get everything to lay right - it was too short in the front, or looked off in the back. But, with some finagling, I think it turned out alright. For me, the trick was not to fold it completely in half, but instead fold over just a bit at the top to make a longer triangle.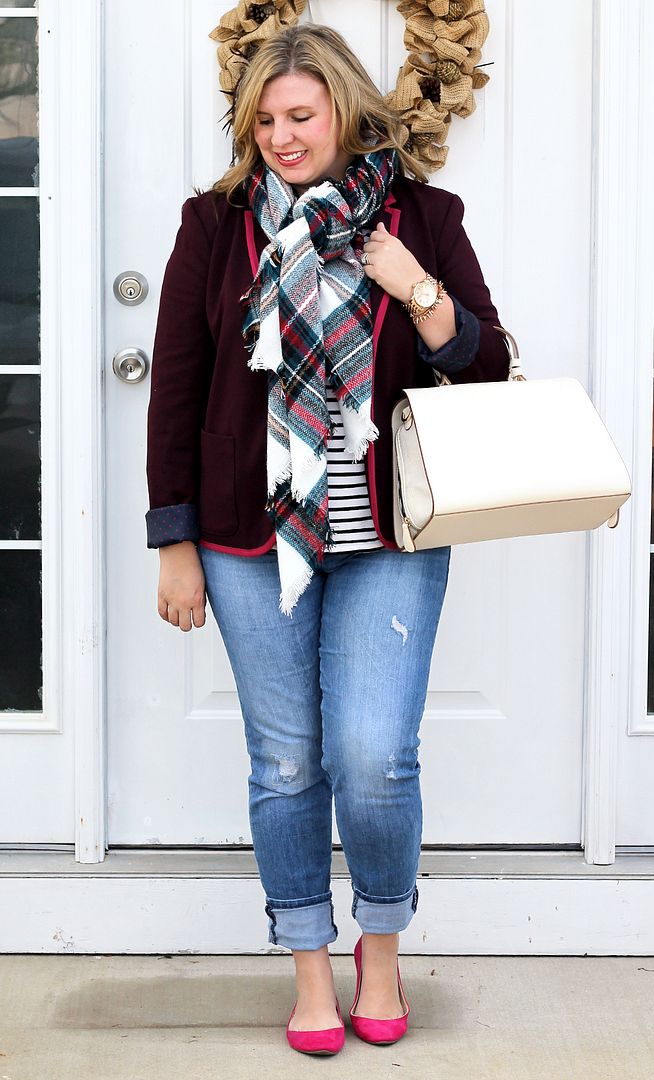 I really like how this option provides a little more coverage in the front (perfect for food babies). The knotted style works well with a blazer because it doesn't add a bunch of bulk at the neck and lays nicely on top of the collar. I made sure not to try the knot too close to my neck because I'm weird and hate anything too close - I feel like I'm suffocating! So no turtlenecks or choker necklaces for me. Plus, anything too close is like a big red arrow pointed out my double chin. No thank you.
6: OVER THE SHOULDER / TOSSED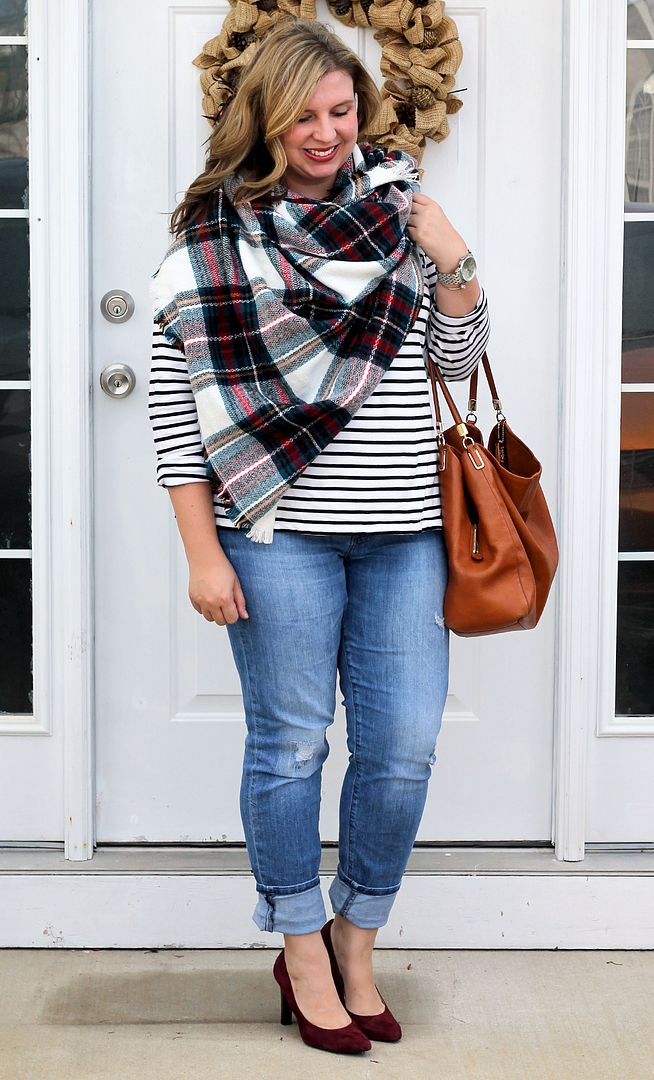 I love how carefree and easy this look is. Make a triangle by folding the scarf in half, sling it over you shoulder and fluff. Easy, peasy.
And that's wrap! I'm so glad I figured out a few new ways to wear my blanket scarves, even if it meant sweating in the 70 degree heat. But, it's supposed to cool off next week, so I'll be prepared. Hurry up fall!