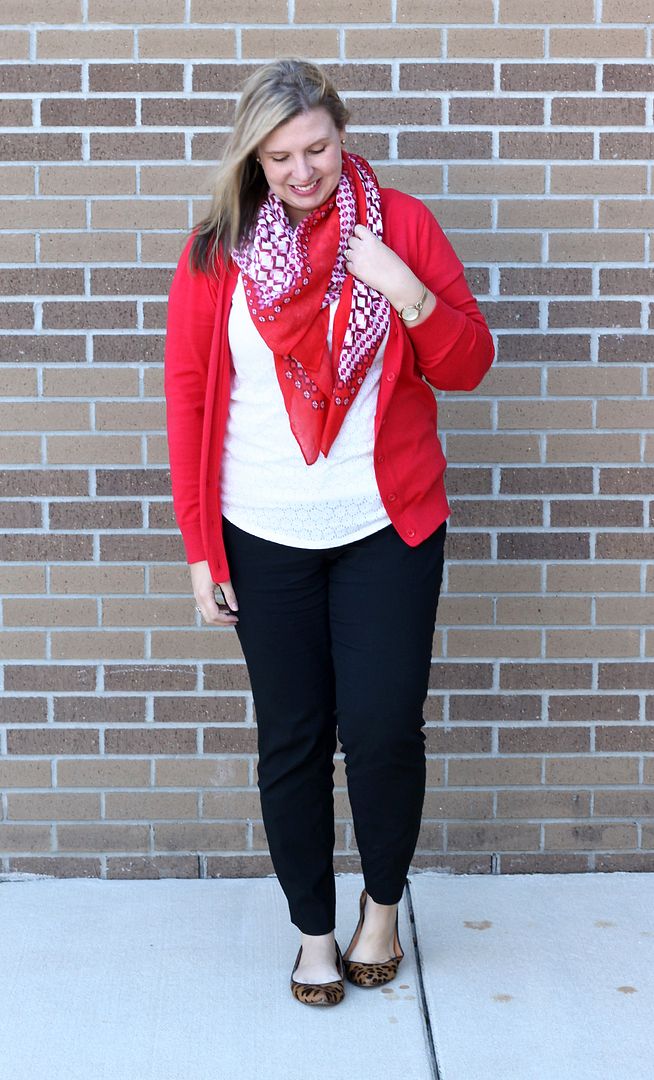 So today's outfit was a bit of a fail. Don't get me wrong, it turned out all right, but today was one of the few truly cold days we have in Florida. Lows in the 30s, highs in the 50s...definite cozy sweater, scarves and boots weather.
I had my outfit all planned out, and it was good. Chambray, long thick black and white patterned cardigan, garnet scarf...I was so excited to wear it. Then I went to iron my freshly washed shirt and noticed it had light brown spots all over the front. :( What the heck? They weren't there before I washed it and have no idea where they came from. So sad. So then I tried a couple of other shirts with the sweater, but it just wasn't what I envisioned.
In an outfit panic, I decided to start all over and threw on this light scarf and cardigan. And froze my tail off this morning while taking pictures. (Don't laugh, we Floridians are thin blooded. Anything below 70 is freezing!) In retrospect, I could have thrown a sweater and puffer vest over the chambray and no one would have ever seen the spots, but I wasn't thinking. I was in outfit panic mode. So, I feel like I wasted an opportunity to wear my warm layers. I know, a silly thing to get upset about. But at least my outfit is cheery and bright and tomorrow's supposed to still be on the cool side, so I get a do-over.
Earrings
: J. Crew Factory (
exact
)