Confession: My stepmom bought me this shirt over a year ago, which I then promptly forgot all about and found hanging in my closet last week...with the tags still on it. The positive: it was like getting a whole new shirt without having the spend the money! The negative: I obviously need to go through my closet and figure out what I have, what I need to get rid of and what holes I need to fill.
While I think it's good to have wardrobe staples, I'm getting tired of seeing my same black pants, leopard flats, watch and tassel necklace over and over and over again. If I'm tired of it, it's probably safe to assume that you are as well. The easy solution would be to buy new clothes. But I don't have an unlimited budget and, though I haven't talked a lot about it, my doctor recently told me I need to lose weight to address some health concerns. I don't want to buy a bunch of new stuff that may or may not fit in a few months. I'm down 12 pounds, and while I don't look all that different, I am noticing a difference in how my clothes fit. So instead of buying new stuff (though I've caved a time or two this month), for now I need to focus on how to remix what I have in new and interesting ways...Pinterest here I come!
So while several of the same key pieces may be on repeat, at least I found a fun new background! I love how fall-like this outfit looks next to an orange wall, which is actually the side of my husband's and my favorite lunchtime haunt. Delicious Mexican food and a great background for photos...a double win!
Necklace
: Kendra Scott (
exact
)
Earrings
: J. Crew Factory (
exact
)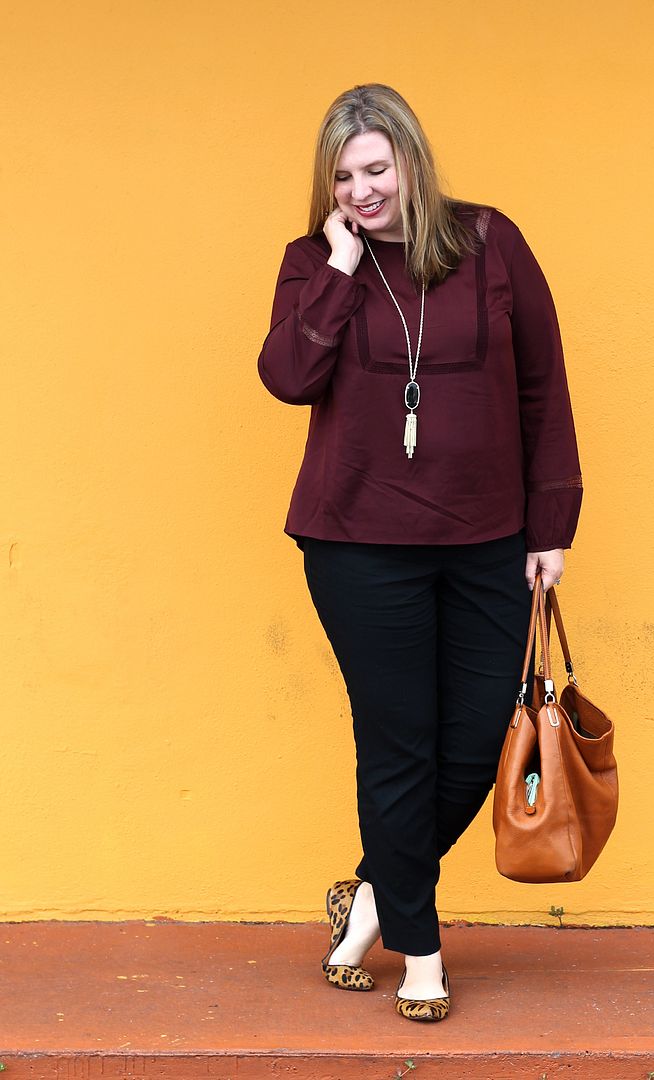 // Today I'm linking up with the Pleated Poppy for What I Wore. //