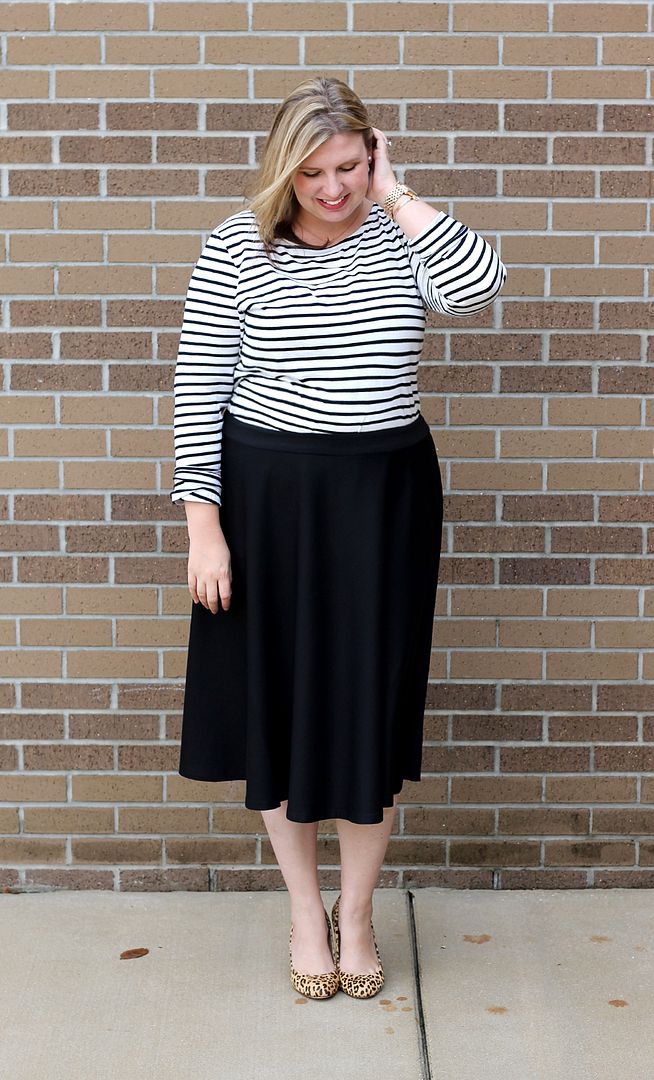 Happy Monday! I hope you had a good weekend. Mine was quiet since we had a sick kiddo, but thankfully she's doing a lot better, so today it's back to our regularly scheduled activities (like work).
I could lie and say that I was sidetracked this weekend and didn't have time to plan today's outfit, but the truth is in real-life I very, very rarely pre-plan. Unless you count thinking about what to wear in the shower as outfit planning. I throw something together that's clean and (hopefully) not too wrinkly and pray that it all works out. My usual shower planning failed me this morning, but Pinterest came to the rescue with some great black midi skirt inspiration! So I threw on my (slightly wrinkled) skirt, leopard heels and striped shirt. Overall, I'm pleased with how it turned out, but it would have been a lot more fun with a bright bag and statement necklace. (I'm just going to droll over this
gorgeous red bag
and this
pearl bib
). See, that's why you should plan ahead of time...
Don't forget, next Monday (November 16) is the
The Make it Work Monday
linkup!
Simply link an outfit that is inspired by a Pinterest pin, a fellow blogger, magazine or other muse. I can't wait to see what everyone comes up with!
Shoes
: Lands End via Sierra Trading Post (
exact
)