Rain boots are not something I would normally consider to be work appropriate, but thankfully my employer is pretty laid back, so as long as I'm not running around naked, I'm doing alight. Okay, okay it's not that relaxed, but jeans are often fine and no one wears a suit. I often dress up more than I really need to, but it's what I'm used to. My husband and I work at the same place, and he wears jeans everyday. But he's crawling around in ceilings and pulling computers apart, so jeans make sense. I sit at a my desk all day and design stuff, so I wear skirts and cute shoes.
It was supposed to rain all day, but by 10 yesterday morning we hadn't seen a single drop and I was feeling a little silly in my wellies. I decided to go ahead and take photos...and get this...not five minutes later it poured. During a break in the weather I went back out to take more photos, because, ya know, rain boots make a lot more sense when you're standing in a big puddle. :)
Rain boots
: Hunter (
exact
)
Necklace
: Kendra Scott (
exact
in other colors)
Bracelet
: Sage K. and Co (
exac
t for $8!)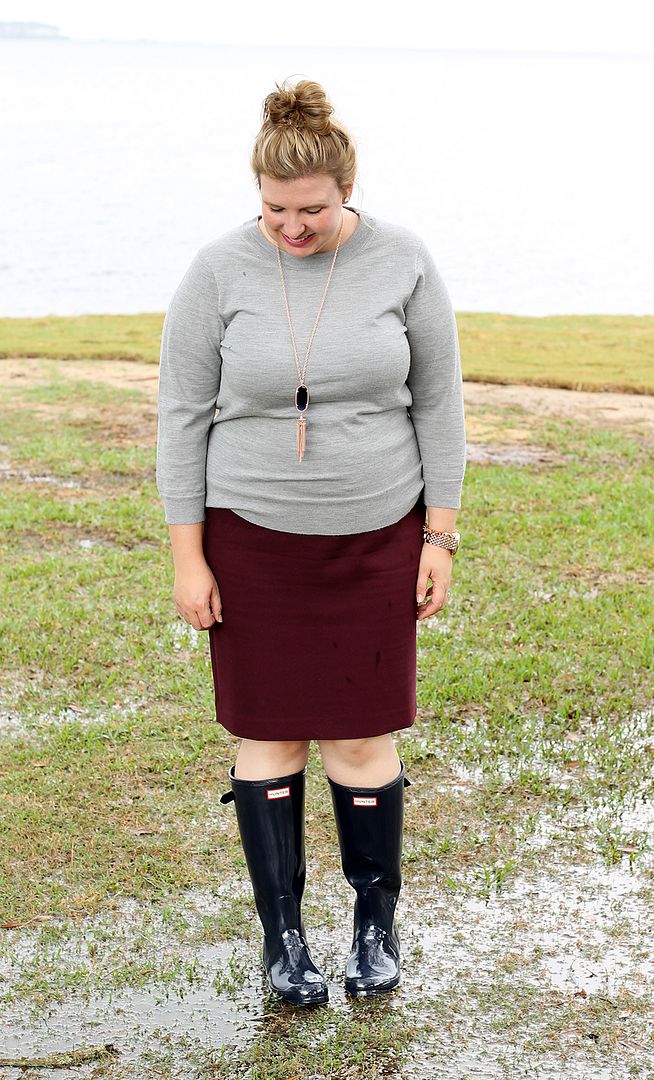 Random side note: I love the big bun, but my husband hates it. He thinks it looks frumpy, but when it's 100% humidity and raining, long and straight hair just isn't happening. I was particularly proud of this one. It's high and mighty and fabulous. It seemed worthy of mentioning anyway...