2015 has been a year of growth as a blogger: in types of posts, quality of photos and learning more about dressing for my shape. When I made the decision to return to blogging in March (after honestly, barely even starting), I wasn't sure how long I would be able keep it up. But, as I've become immersed in this community - and the fantastic women in it - I have truly grown to love this little space and I thank each and everyone of you who chooses to stop by, leave sweet comments and your continued support. I can't wait to see what 2016 brings!
favorite outfits
I'm not sure if any of these outfits have a common look/theme, other than these outfits have a bit more structure and a more neutral pallet. For my body-type, I definitely prefer a cinched in waist and light layers to slim. Out of all the looks, I think the poncho and maxi dress is my absolute favorite. It was so far out of my comfort-zone, but I loved the way I felt in it, the bold print with a more subdued color pallet and the booties with the dress. It wasn't the most slimming, but it might have been the most fun!
least favorite outfits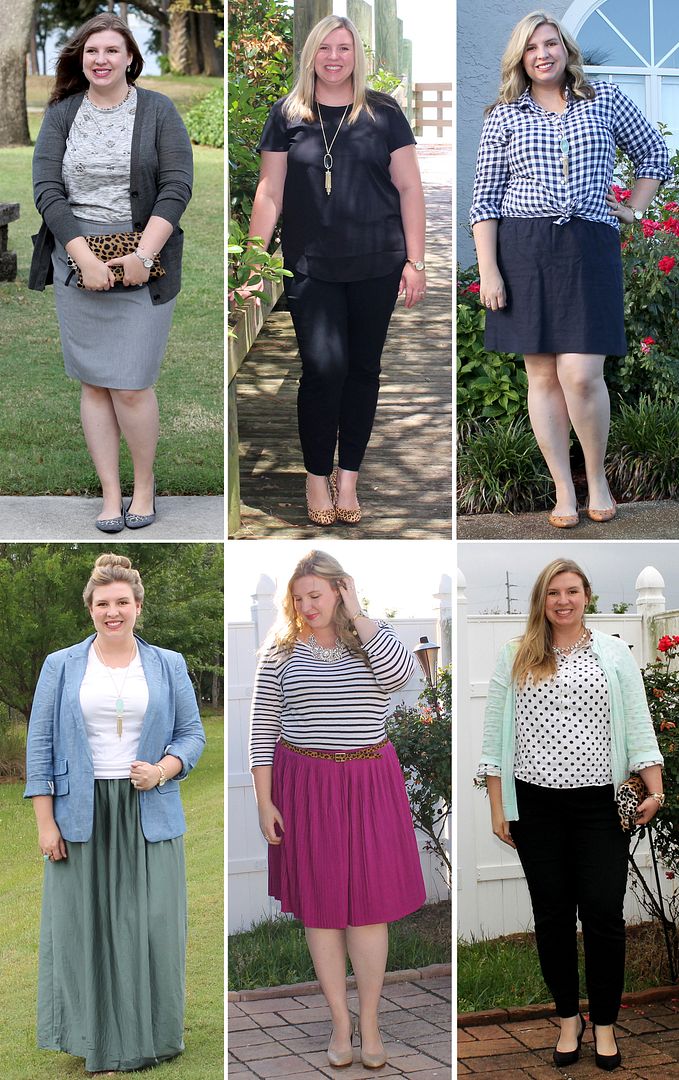 Do these outfits even really need an explanation? Either the fit is completely off (outfits
three
,
five
and
six
), I look like one of those extreme religious folks that refuse to cut their hair or show their ankles (
four
), am channeling Sandy from Grease and not in a good way (
two
) or look completely washed out in a sea of grey (
one
). Yuck.
favorite purchases

Vince Camuto booties
: These boots have proven to be perfect for fall/winter in Florida. I get to feel like I'm wearing winter stuff without sweating to death. I was so worried that they would look silly on me, but I think the trick was finding a shoe that worked for me (neutral color, dip in the front).
Hunter Adjustable Back Gloss rain boot
: These adorable boots fell into the category of love, but couldn't justify spending our household income on expensive wellies. I'm so thankful for everyone who clicks through an affiliate link, because not only does it help me understand what you like (based on number of clicks), it also helps justify the occasional splurge. Now that I have them, I love them, they're just so much fun!
Kendra Scott necklaces
: I probably own too many of these now (in black, mother of pearl, rose gold/navy and
chalcedony) but they're really become my grab and go necklace. If I had to choose, the chalcedony and mother of pearl are probably my favorites. The first because it was a Mother's Day present and in one of my favorite shades and the second because of it's versatility.
regret purchases

J. Crew Factory eyelet shirt
: This shirt is a regret purchase only because I "hulked" out on it after only two wears. The seam along the shoulder ripped so badly it couldn't be repaired. Cute shirt, but kind of a waste of money for only two uses.
Loft striped cardigan
: I love everything about this sweater: the weight, the pattern, everything except for the fact that after a few wears it's starting to pill horribly. I hadn't even had a chance to show it to you guys on the blog! I wore it to the hospital and it looks a mess. I'm hoping a sweater shaver (if I can find the darn thing) can salvage this purchase.
Baublebar Crystal Mason Ring
:
This ring just makes me sad. The design is so cute, but the darn thing kept loosing stones. The first time I contacted customer service (who were super helpful, so points for that) and they sent me a replacement, only for the exact same thing to happen to the replacement ring. I decided to live with the missing stone only for the ring to turn green. Every time I wore it, I'd have a green "x" on my finger afterwards. I finally had to accept it wasn't going to work out and trashed it. :( Anyone know where I can get one that doesn't lose stones or turn green, because I really do love the design.
It's rewarding that some of the posts that were more time consuming to put together actually ended up being the most viewed! The
Five Day Getaway Packing List
was perfect in Gatlinburg. I wore all my pre-planned outfits and it made packing (and getting ready every morning so much easier. The
12 Outfits for Christmas
post was probably the most crazy to put together, mainly because I decided to do it last minute (it's always so much better to have a plan). My poor husband shot three-four outfits everyday for three days straight on our lunch break. I was editing and throwing everything together at the very last second. I'm still glad I did it since I was in the hospital the week leading up to Christmas (and didn't come home until Christmas Day) I missed out getting to wear these outfits in real-life. At least I got to wear them for the blog. Of all three posts,
Six Ways to Tie a Blanket Scarf
was probably the easiest. I just kept the same basic top and pants on and changed out accessories. One Saturday afternoon we shot photos in front of our front door. I'd have a look, we'd shoot a few photos I'd go back in and figure out how to style the scarf next, we'd go back out and take a few more.
Favorite Instagram photos
I love how on my blog Instagram I can put things like
my shoes by a stream
or
pretty flowers
and it's totally and completely normal. Just an "oh what a pretty picture" moment. Now on my personal account my friends and family would be all like, "um, no, who do you think you are, Ansel Adams or something? Now, where are the pictures of the baby?" Speaking of the kiddo, you guys,
this photo
cracks me up every time I look at it. I went to the bedroom for maybe an hour to work on something and left daddy in charge and this is what I came back to: the room in shambles, kiddo running around squealing in delight and her destructiveness and husband blissfully sleeping through it all. Seriously, how can guys do that?
What I've learned
It's okay to start (and stay) small. I don't want this space to ever become all about page views and money, but about connecting with people and sharing something I really enjoy and hope you do too. I'm not saying the page views and a little additional shopping income aren't nice, because they are, I just don't ever want them to become the driving force. For those of you who have read awhile know, you know I work full time and I have a toddler, so blogging is a definitely a hobby and that's okay. I see all these great blogs with amazing content and photos, and I want that for this space, but I also have to remind myself to take a deep breath, remember that I can't do it all, and above all else, this is suppose to be fun! I hope you enjoy it too. :)
Future posts
While I love sharing my day-to-day outfits, I have been missing getting my
DIY/craft
jam on. I definitely plan on having more crafting posts as well as
dressing room reviews
and "
adventure
" posts. I've starting linking up with Anne from
In Residence
on her
Currently series
, so that will also become a monthly feature as well.
Make it Work Monday
isn't gone, I'm still posting everything third Monday, but have suspended the monthly linkup. Are there any posts in particular you would like to see? Please let me know in the comments below!
I hope you all have an amazing New Year! Our big plans are to have a lazy pajama morning and watch Elf (because I missed out on all the Christmas movies in the hospital - unless you count Halmark, my roommate and I binged on Hallmark holiday movies), take the kiddo out to see Nana and Papa this afternoon, then it's a early night for this girl (and I can't even blame it on recovering, I'm just getting too old for late nights). :)