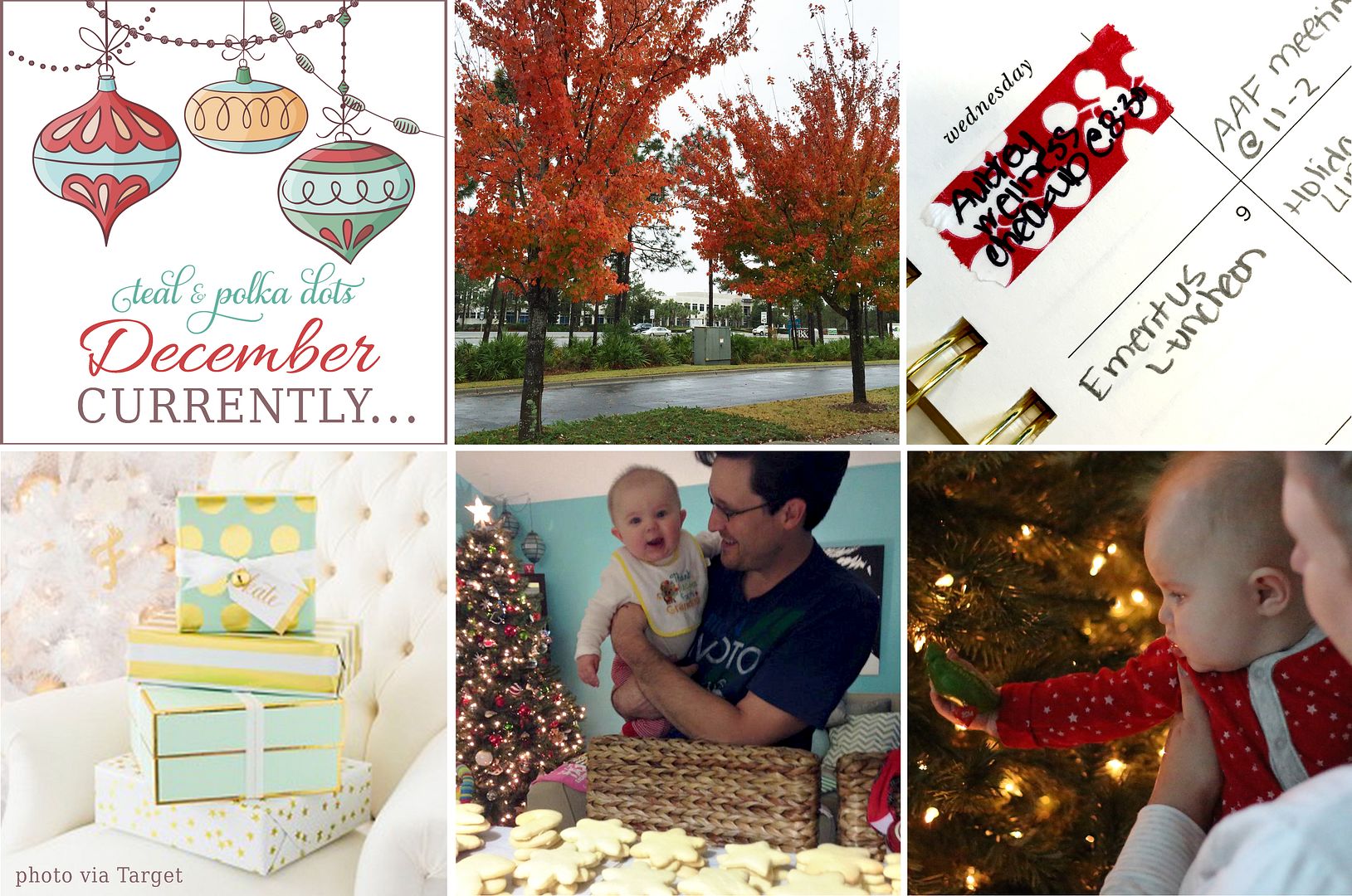 Fall in Florida | Appointments | Gift wrapping inspiration via Target |
Currently I am...
wishing:
For cooler weather. Is it ever going to be fall in Florida? It may still be warm, but at least I did find two gorgeous fall trees.
remembering:
To write down doctor's appointments in my calendar. I thought my kiddo's 18-month-check-up was Tuesday, so we drove 30 minutes into town, only to be told that the appointment was for the following day, then 40 minutes to daycare and 15 minutes back to work. Opps.
wrapping:
Nothing at the moment. However,

I'm obsessed with Target's gold and mint

Sugar Paper collection

. The

gold trimmed boxes

are so pretty and there's coordinating

mint with gold polka dot paper as well as a variety of coordinating ribbon, gift tags and tissue paper. If mint's not for you, there's red, black, coral and white (in store only).
baking:
One of my favorite Christmas traditions is making butter cookies. When I was little, my grandma and I made them together, and now I made them for my family and put them in pretty tins for small gifts. We roll them out and cut them into shapes just like sugar cookies, but all the sweet is in the icing and the cookies themselves are delightful buttery goodness! My grandma's recipe is very, very similar to Betty Crocker's butter cookie recipe and I use this eggless recipe for royal icing.
decorating:
The "toddler" tree. It's a special tree that only has ornaments from the middle up, keeping decorations fall away from little fingers. Currently little one's favorite thing to do is to hide under the Christmas tree. It's pretty cute.
I'm excited to link up with
Anne
and
Jenna
for December Currently. For those unfamiliar, every month Anne and Jenna present a series of prompts which you can interpret anyway you wish. Be sure to head over to their pages and check out all the linkups!