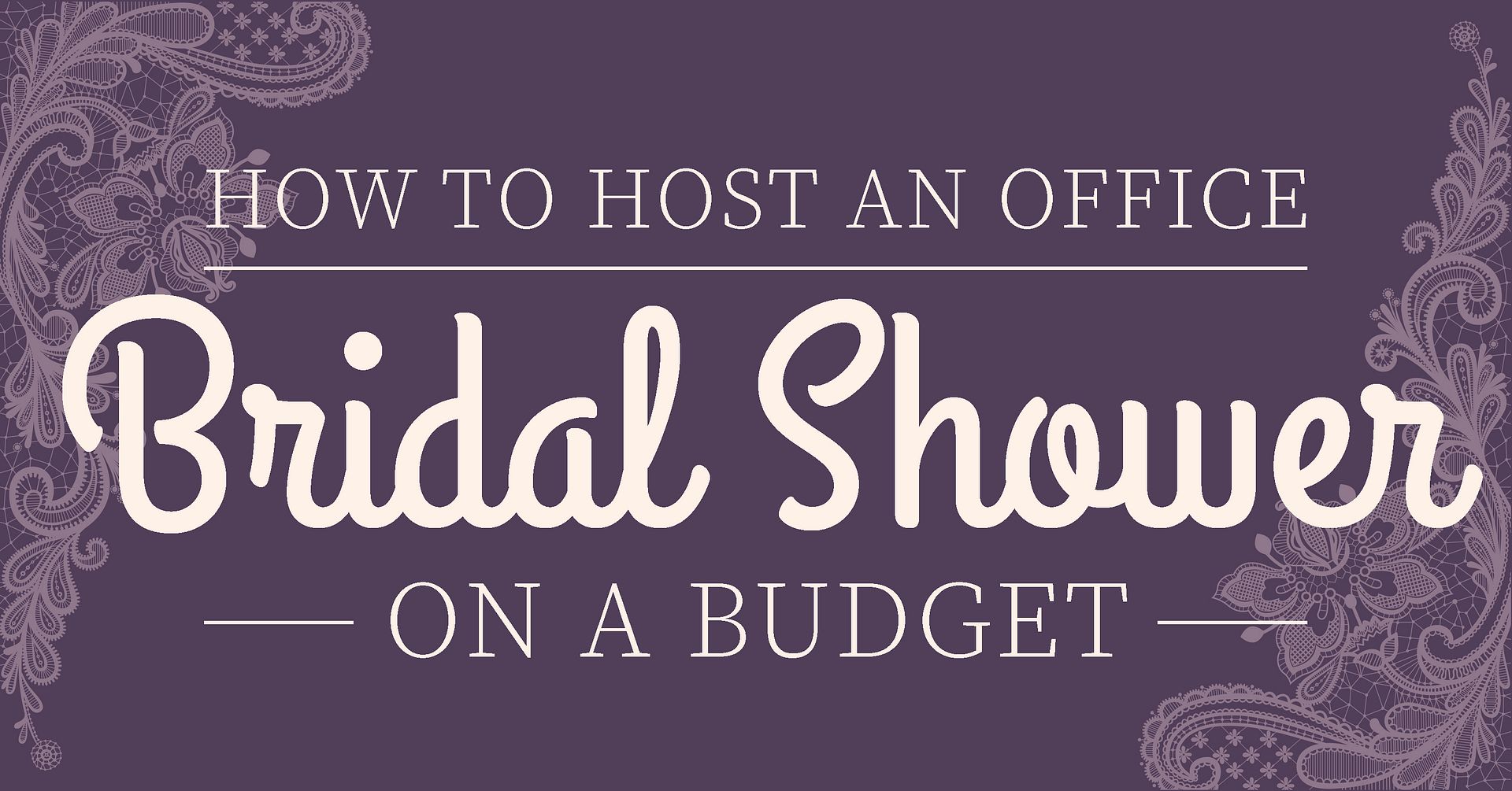 One of my good friends and co-workers recently married and as an office, we wanted to throw her a bridal shower before her big day. My boss and I co-hosted, I planned the event, and the entire office contributed to the potluck and shower gift.
I know this is a bit different than my usual fashion posts, but I thought it would be fun to share with you some of tips I picked up while planning the shower that will hopefully help you stay on budget with your next event.
(Warning: this is a long post, but at the end I have included a recipe for the easiest Blueberry Lemonade Punch!)
1. Make a budget
I'll admit, this was the hardest part for me. I want to buy all the pretty things, but that's a quick way to go broke! The goal was to stick to a $100 budget, but in full transparency, I went over by $12. I was fortunate that we already had several of the items we needed for the shower and didn't have to purchase them. Since we decided to do a potluck, I decided not to include food, with the exception of the cupcakes, in the budget. I also didn't include the hand lettered chalkboard sign since my boss purchased it as a gift for the bride.
Here's a breakdown on what and how much was spent:
Looking back, what got me was the shower prizes and
favors
. I wanted something cute, but not too expensive, but even with a small guest list, they added up quickly! I'm still happy with how it all turned out, so I can't say I really regret going over, but I easily could have skipped the favors and been under budget. Or I could have used a less expensive nail polish, though $3.99 for Essie Nail Polish at Marshall's is a steal! Thoughts for next time...
2. Pick a Theme
Since we knew the bride was has having a rustic wedding and incorporating purple, we decided to include some of same elements in the shower. We stuck to a purple color-theme and used mason jars, fresh flowers, string lights and burlap for decor. When I was out shopping for day-to-day stuff, having a theme in mind really helped so could I keep an eye out for good deals.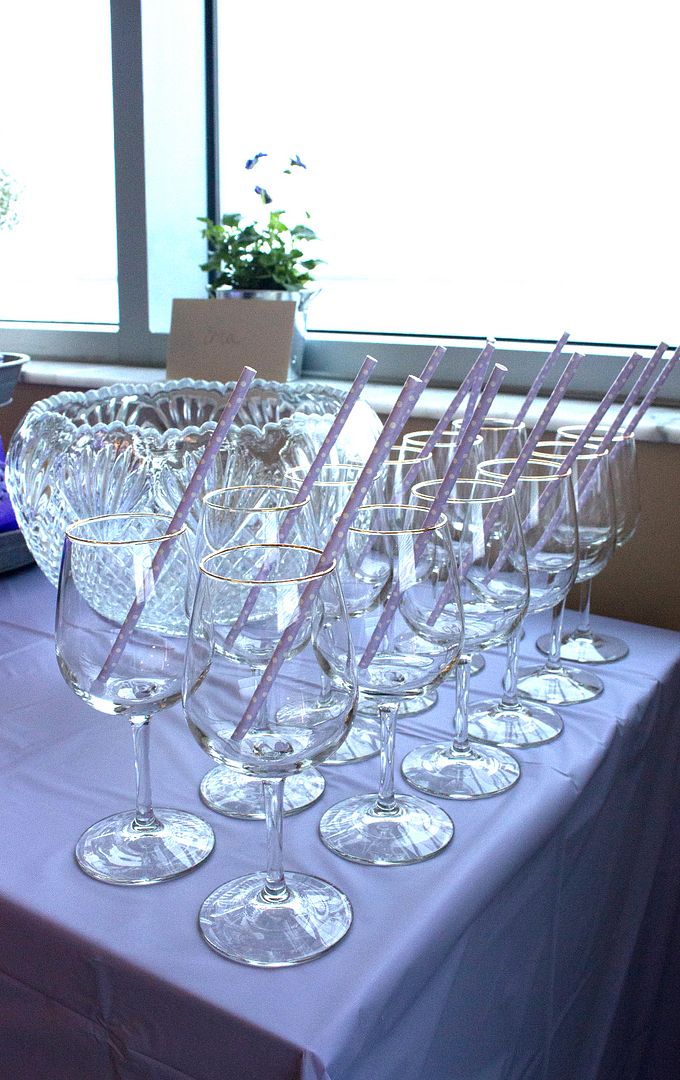 3. Use What You Have
Instead of rushing out to buy something new, take a look at what you already have at home or the office. For example, we already had the prettiest string lights at the office from a former event, so we hung them along one of the walls. The silver mason jars, crystal punch bowl and candles were also from other events. The gold rimmed wine glasses were from a party I hosted years ago and my boss brought her cake stand from home. I designed the invitation and created
Celebrity Couple Match Up
and
Romantic Move Quote
shower game printables (and found a
Disney Love Song printable
via Pinterest). I know not everyone is a designer, so I found some free invitation templates at
Greetings Island
and some shower games on
Pinterest
.
4. Wait for a Sale (or use a coupon)
Almost everything I purchased for the shower was on clearance or sale, in the $1-$3 section at Michael's, or I used a coupon. If you haven't already, I highly recommend downloading the Michael's and Hobby Lobby apps, or you can find store coupons online as well.
5. Don't be Afraid of the Clearance Aisles and Dollar Bins
This goes with "Wait for a Sale" - try not to pay full price! I completely lucked out with the paper plates, paper straws and plastic tablecloth, they were all 70% off and the tall glass jars were 50% off at Target. I also found a lot of great decor in the $1-3 area of Michael's including the small jars with chalkboard labels and "E", "&" and "M" letters/symbols.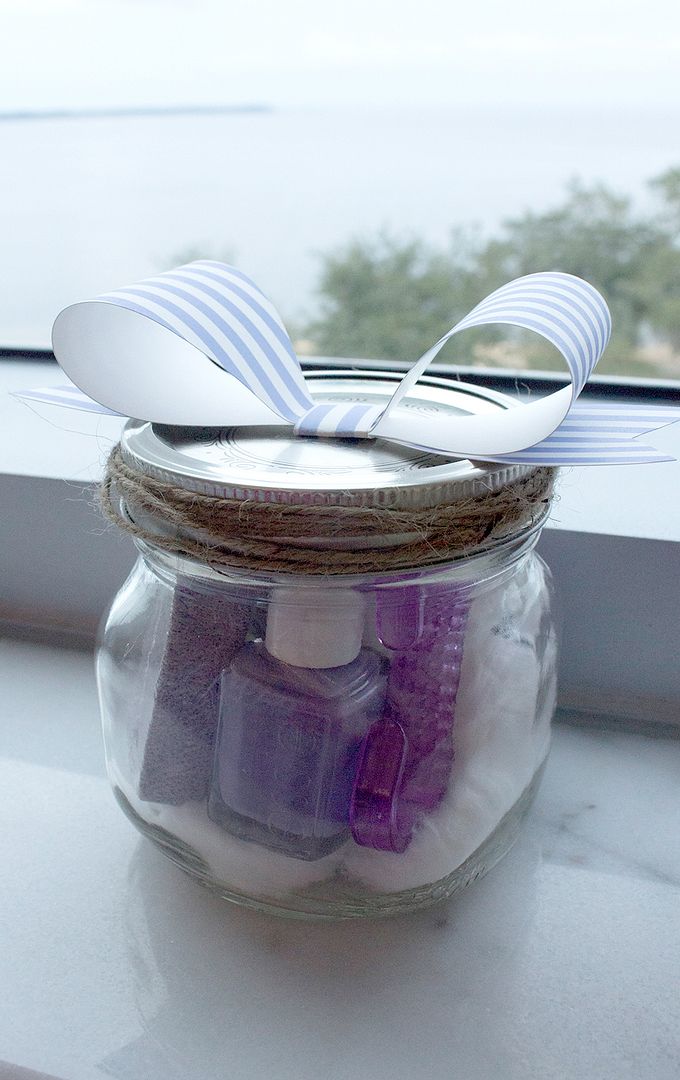 6. You Really Can Find Great Stuff at the Dollar Store (or General or Tree)
I picked up 12-ct silver plastic silverware sets for a dollar a piece as well as the jars, pedicure kits and cotton balls to make the shower game prizes from The Dollar Tree. I discovered the awesomeness of dollar store shopping while planning my
daughter's first birthday
party. I bought the paper streamers, silver plastic silverware, paper dollies and a pink plastic tablecloth for her party all from the Dollar Tree.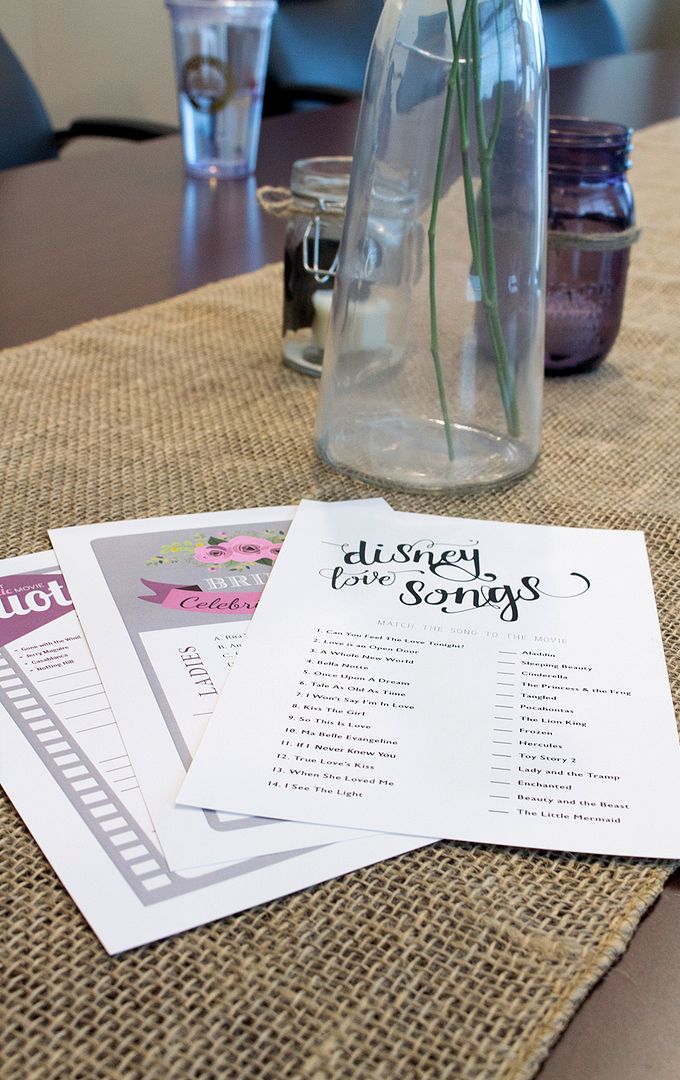 7. Pinterest Can Be Your Friend (or your enemy)
It's important to think about what's worth DIYing and what to buy pre-made. For example, my co-host and I had grand visions of
crafting tissue poofs
, then realized Hobby Lobby had really cute
purple
and
gray
pre-made ones that were that were cheaper than buying tissue paper, wire and string. The inspiration for the
pedicure in a jar
shower prizes came from Pinterest, and I also found the cutest
paper bow template
for the top of the jars and this bridal shower game
printable
. I know it's a cliche, but really time is money. Think about how much time you really want to spend on a DIY project vs. cost of buying it.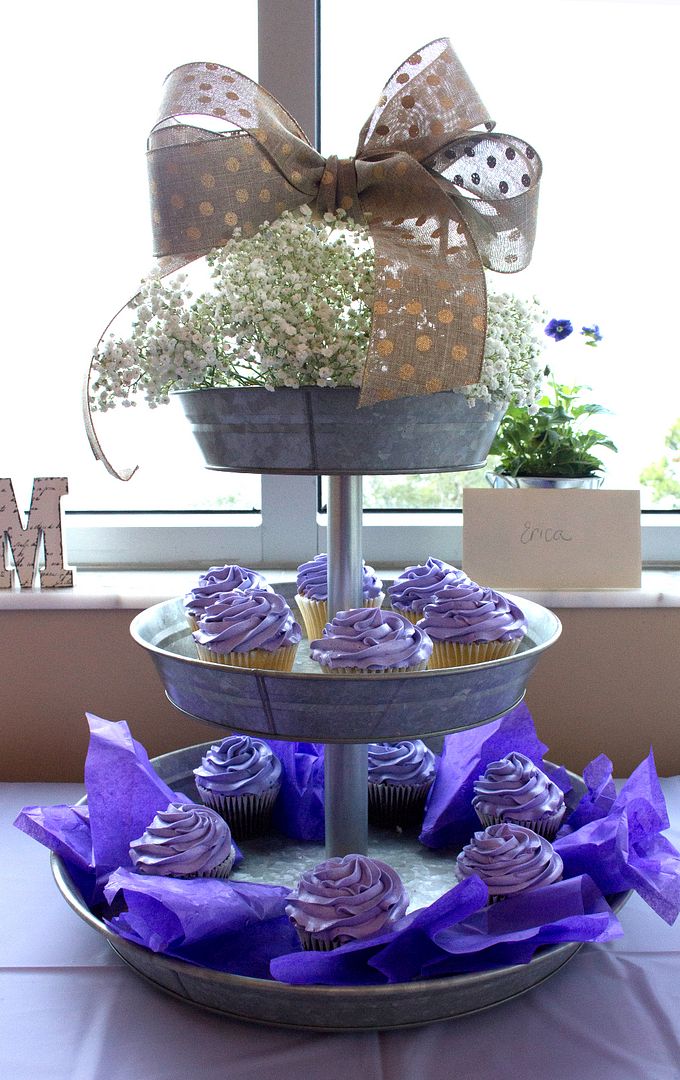 8. It's Okay to Potluck
Potluck is the perfect way to ensure the expense of the food doesn't fall all on one person. We decided to start an email list of who was bring what and made sure to include a mix of sweet and savory. For example, I brought fruit salad, my boss bought the cupcakes, one co-worker brought queso and cheese and another brought a veggie tray.
9.
Co-Host
If you're on a budget like I am, I highly recommend co-hosting to help alleviate financial burden, or depending on the situation, you could ask you co-workers to pitch-in. For example, since we were throwing the shower collectively, I could taken the $100 budget for the party and divided it between my co-workers and it would have been less than $15 a person for the party. Instead, my boss and I spent about $50 a person, then asked our office mates to provide the food.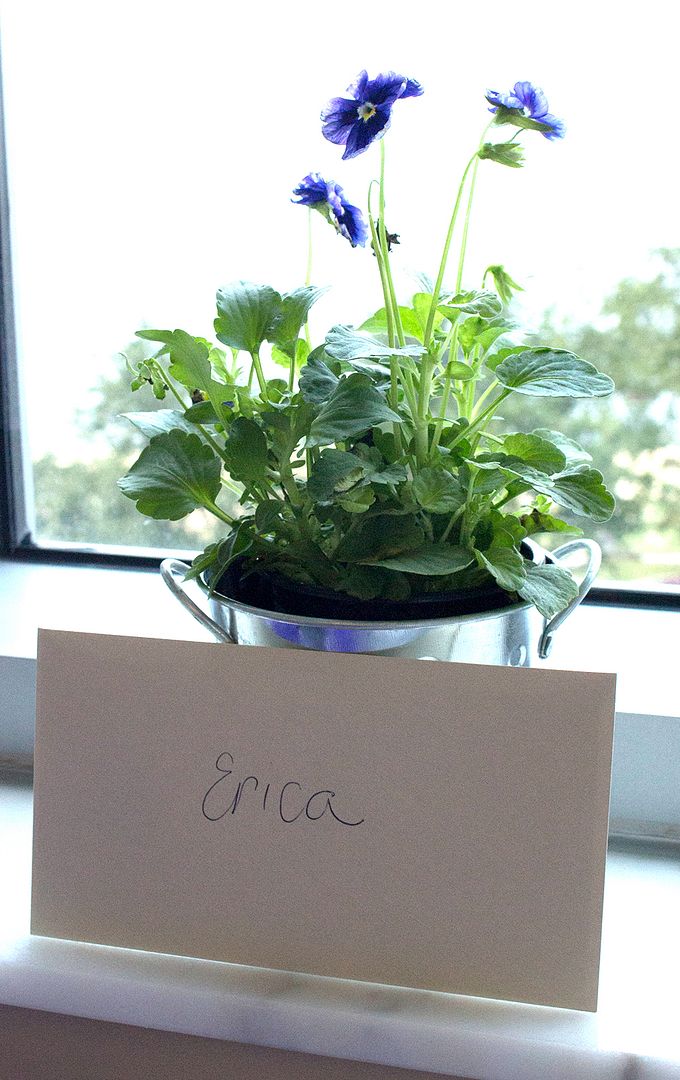 10. Pool Your Money Together for a Gift
Not everyone will like this idea, but we realized that if we all put our money together, we could get a much nicer gift than if we bought things individually. Since we held the shower close to the bride's actual wedding date, most of items on her registry were already purchased, so we opted to get a gift card. Since my boss and I bought the decor, plates, etc., we contributed slightly less than everyone else to the gift to sort of equal things out a bit.
Below are a few more pictures of the party setup as well as the invitation (sans names).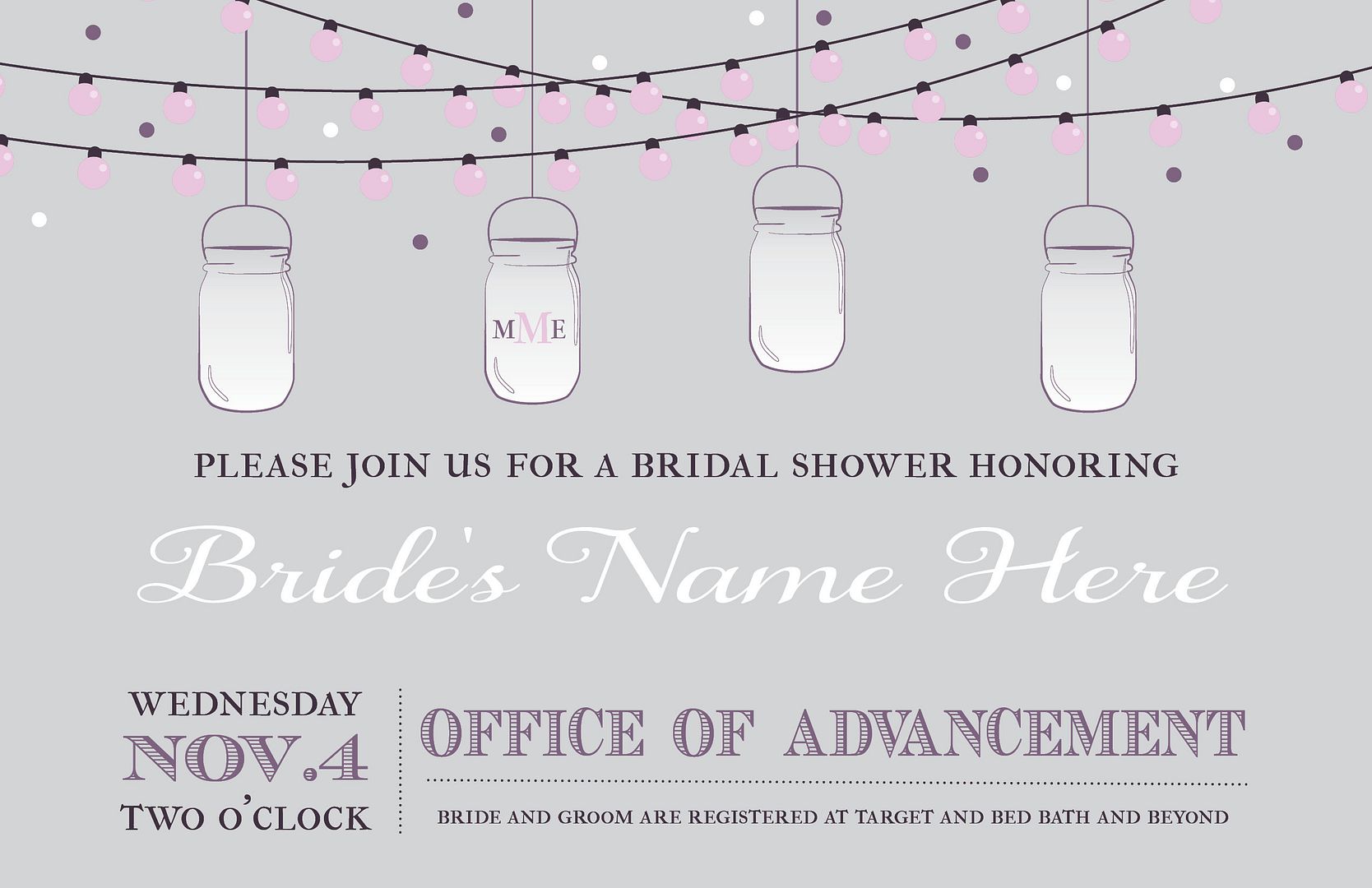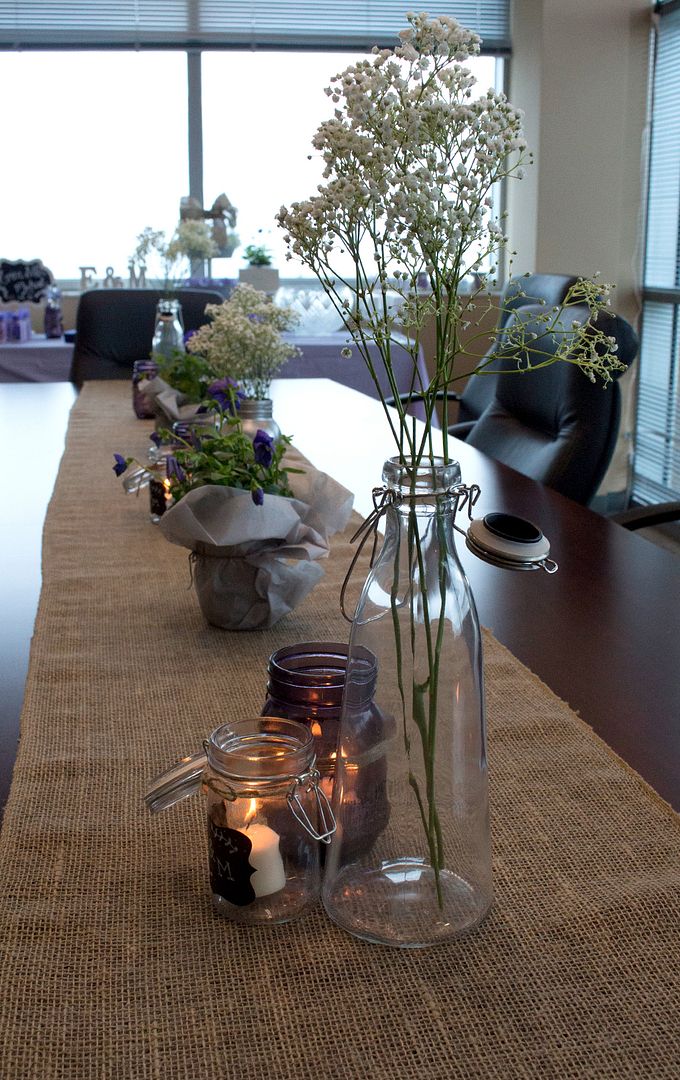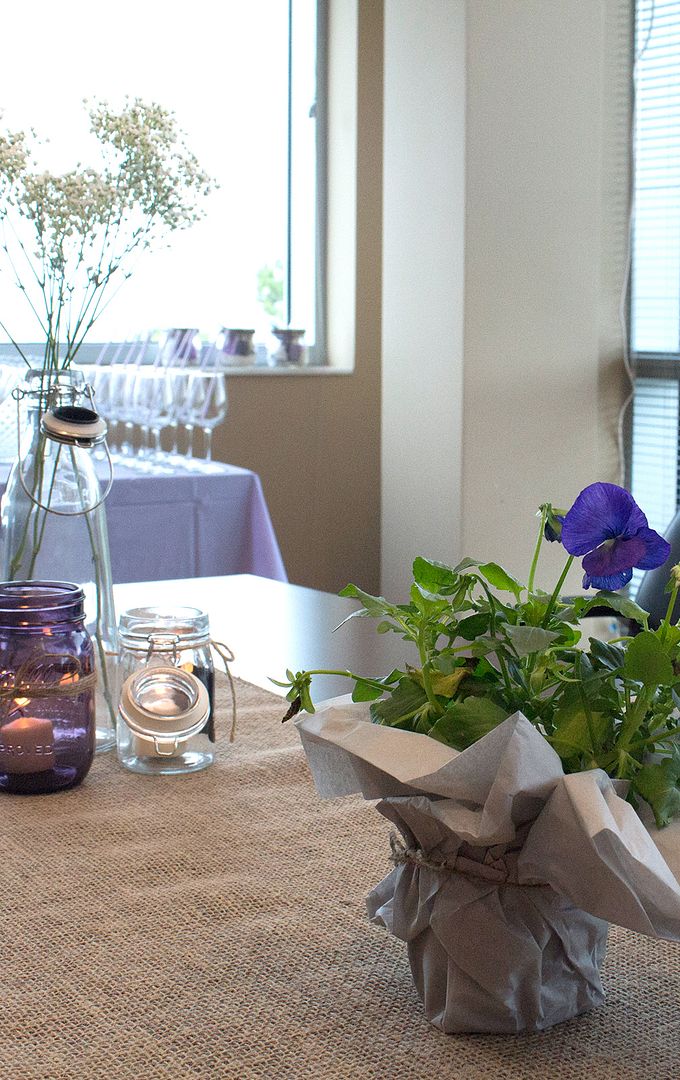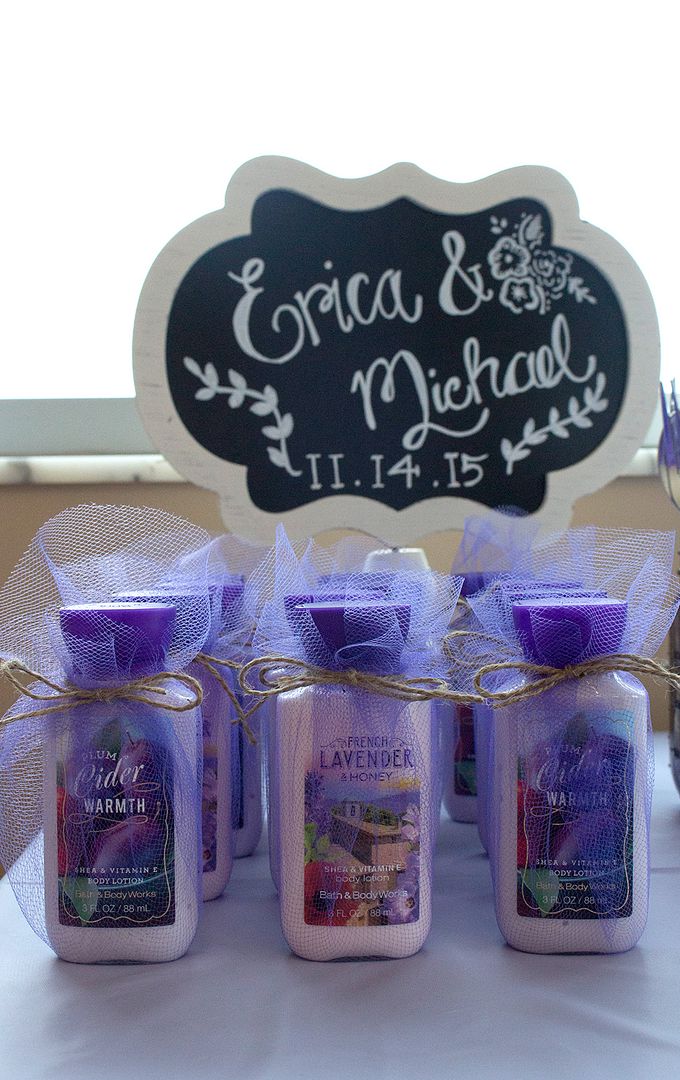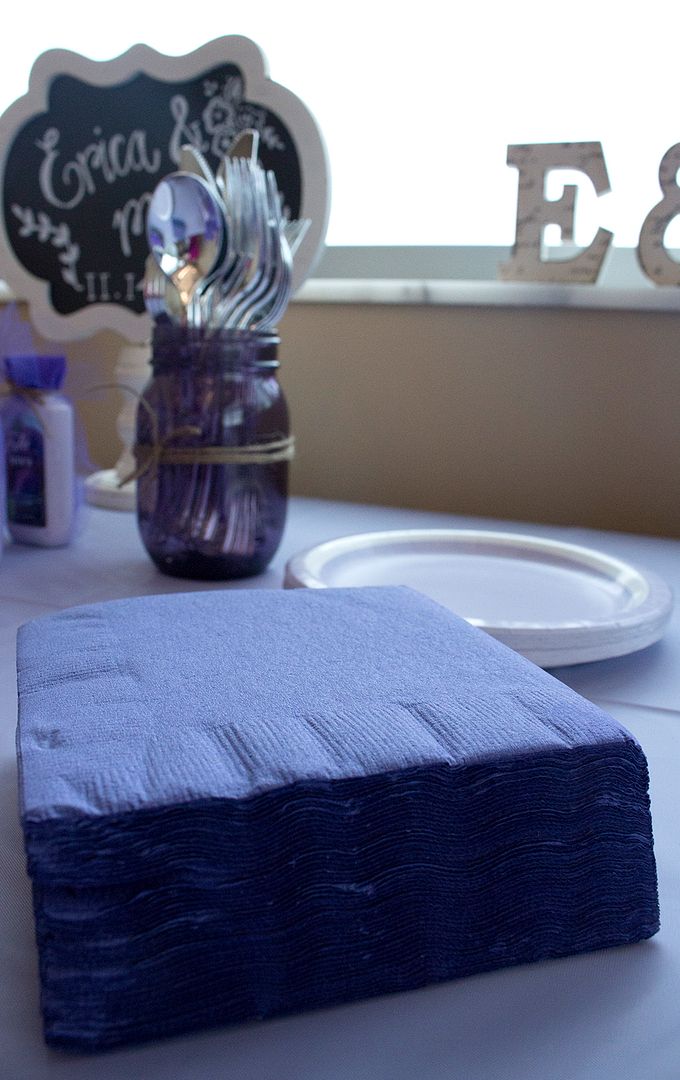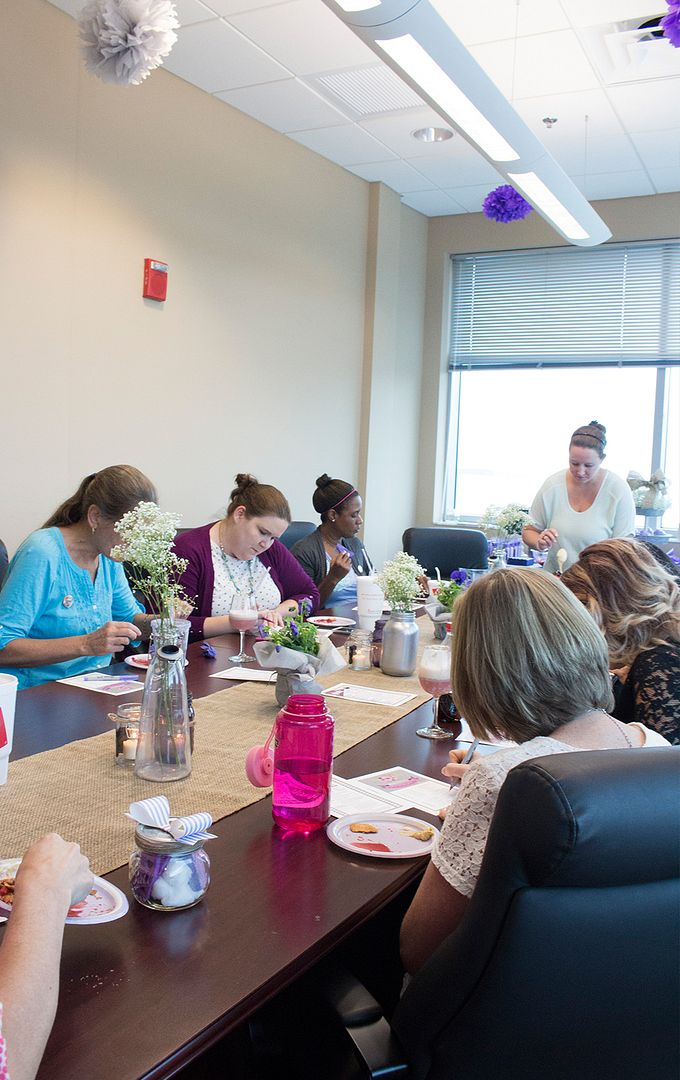 Trying to stick to the purple theme, I really wanted to make a purple punch for the party. However, the bride does not like grape flavoring, so that made things a little tricky. I ended up coming up with a decent punch that came out a lovely shade of purple, so I thought I'd share!
Blueberry Lemonade Party Punch Ingredients:
1 large bottle of Simply Lemonade Blueberry (chilled) 59 oz.
1 bottle of ginger ale (chilled)
1 quart vanilla ice cream
Directions:
Just before you are ready to serve, pour the blueberry lemonade into a punch bowl. Spoon in scoops of ice cream. Pour 1/2 bottle of ginger ale over ice cream and stir until frothy. Makes approximately 12 servings.
That's it, seriously the easiest punch ever. You could easily switch out the juice for regular lemonade, or one of the other Simply Lemonade flavors like mango or raspberry. If ice cream isn't your cup of tea, I bet raspberry sherbet would taste great as well!
-----
I hope you enjoyed this office bridal shower budgeting post as much as I did putting it together. If you have any questions, please be sure to ask in the comments below!