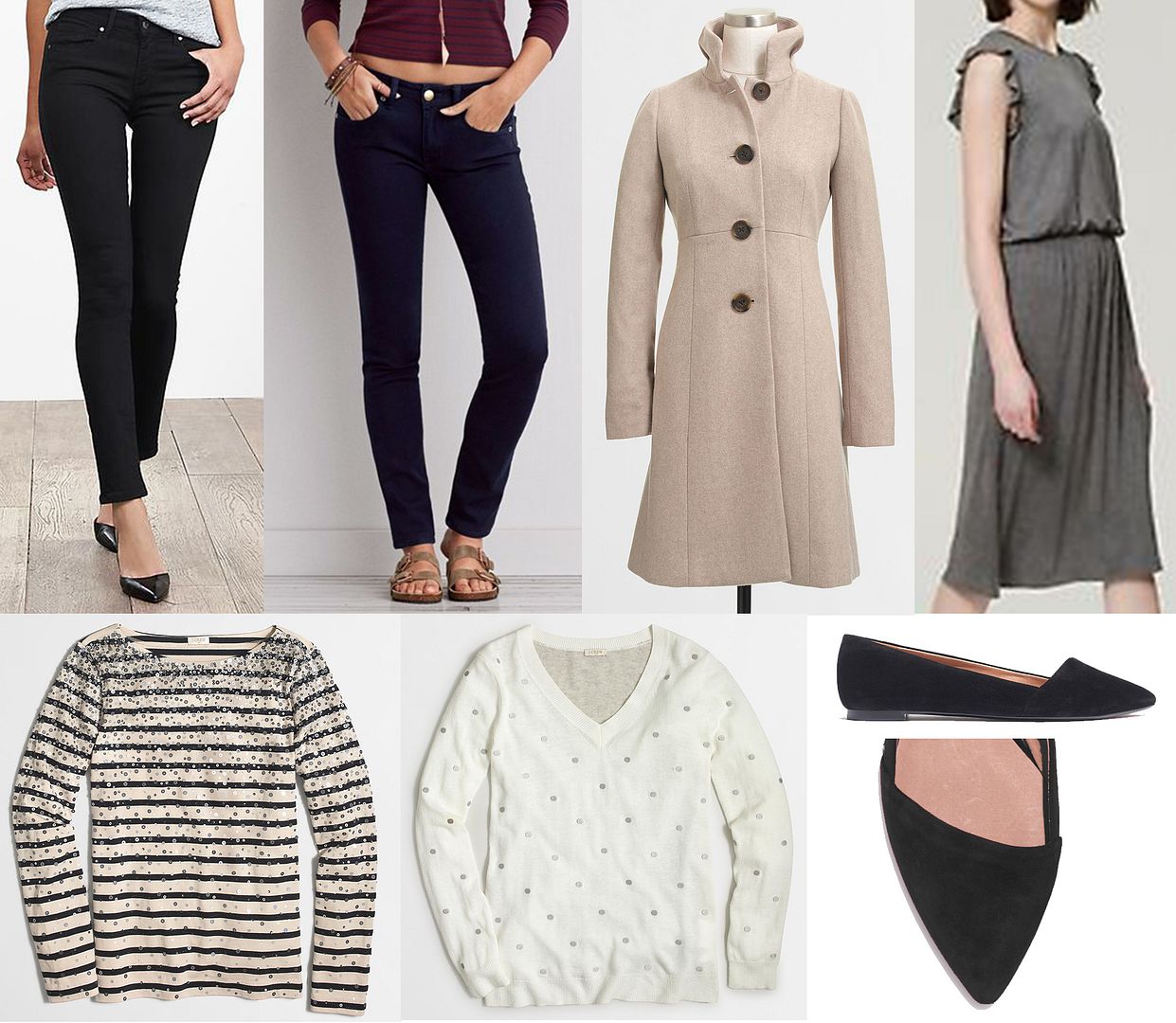 Budget for first quarter: $600
Spent in January: $232.44
Budget remaining: $367.56
A new year, a new budget! After almost a year of clothing budgeting, I've decided to switch from a monthly to a quarterly budget to give myself a little more spending flexibility. I also decided to stop including my blogging income because it was making it too easy to overspend. However, I do plan to continue to include clothing sales in my budget, if I can get my act together to sell something...
I smugly thought by mid-month that I was only going to have two purchases to share, but...silly me...the lure of J. Crew Factory's 50% off clearance was too strong. Even though I spent more this month than originally intended, I'm really happy with my purchases! Everything feels so cohesive.
Banana Republic black skinny jeans
(see how I wore them
here
)
I purchased these jeans as a replacement for the black straight leg jeans I unsuccessfully tried to turn into skinny jeans. Whoops. I got them in a size 16, and find them to be true to size. They have good stretch and are a nice, saturated black. I wore them to work and no one noticed I was wearing jeans...works for me.
American Eagle Denim X skinny jeans
(see how I wore them
here
)
I've been wanting a pair of non-distressed, dark wash jeans that are Friday workday appropriate. I decided to give these jeans a try when they went on sale for $19.99, and ordered them in an 16L since the regular was sold out. They are a little long, but I prefer to cuff my skinny jeans, so it isn't a deal breaker. They are seriously the comfiest jeans I've ever owned, they feel more like super soft, stretchy leggings. Word of caution...the blue dye bleeds so WASH BEFORE WEARING.
J. Crew Factory Uptown Dress Coat
While there isn't much of a need for a wool coat in Florida, I know I am going to need an extra layer in Nashville next month. I took a chance since this coat was a final sale item, but it's really gorgeous in real-life. The color is great and it's very well-made. The reviews said it runs small, so I ordered an 18, but I probably could have gone down a size. It's still relatively tailored and not overwhelming large, and it'll be perfect with lots of layers underneath. I may take it to a tailor to have the sides slimmed. We'll see...
Loft Gray Knit Midi Dress
(see how I wore it
here
)
I'm sad this dress isn't still available to buy, because it's soooo comfortable! I found it on the final sale rack at my local Loft and a size L fits just fine...thank goodness for elastic waistbands! It's one of the those super easy, throw on and go items and so soft it feels like pjs...perfection.
J. Crew Factory confetti sequin tee
(see how I wore it
here
)
I've been lusting after this shirt since before Christmas, but it was sold out. I had all but given up on it until the 50% off clearance sale and found it back in stock in my size! I got an XL and it runs true to size. My only gripe is that the way the sequins are sown on makes the shirt a little itchy, so wearing a tank underneath is a must. It's also hand-wash only, can't say I'm excited about that.
Factory embroidered dot sweater
(see a sneak peek of it
here
)
I got the red version of this sweater as a gift and liked it so much I snagged the white version during the 50% of clearance sale. I ordered an XL and found that it runs a little large - it's a longer length than most J. Crew Factory sweaters and has extra room in the arms and waist, but I really like the more generous fit and it doesn't look frumpy.
Madewell Mira flats
(see how I wore them
here
)
Tired of all my cheap, uncomfortable flats, I decided to find a quality pair that fit just right and didn't give me blisters. I'm really happy with these flats from Madewell. The leather lining helps reduce chaffing and the size 9 is true to size. The black is available in very limited sizes, but the plum wine is still available in almost all sizes. So pretty...my closet needs those too, right?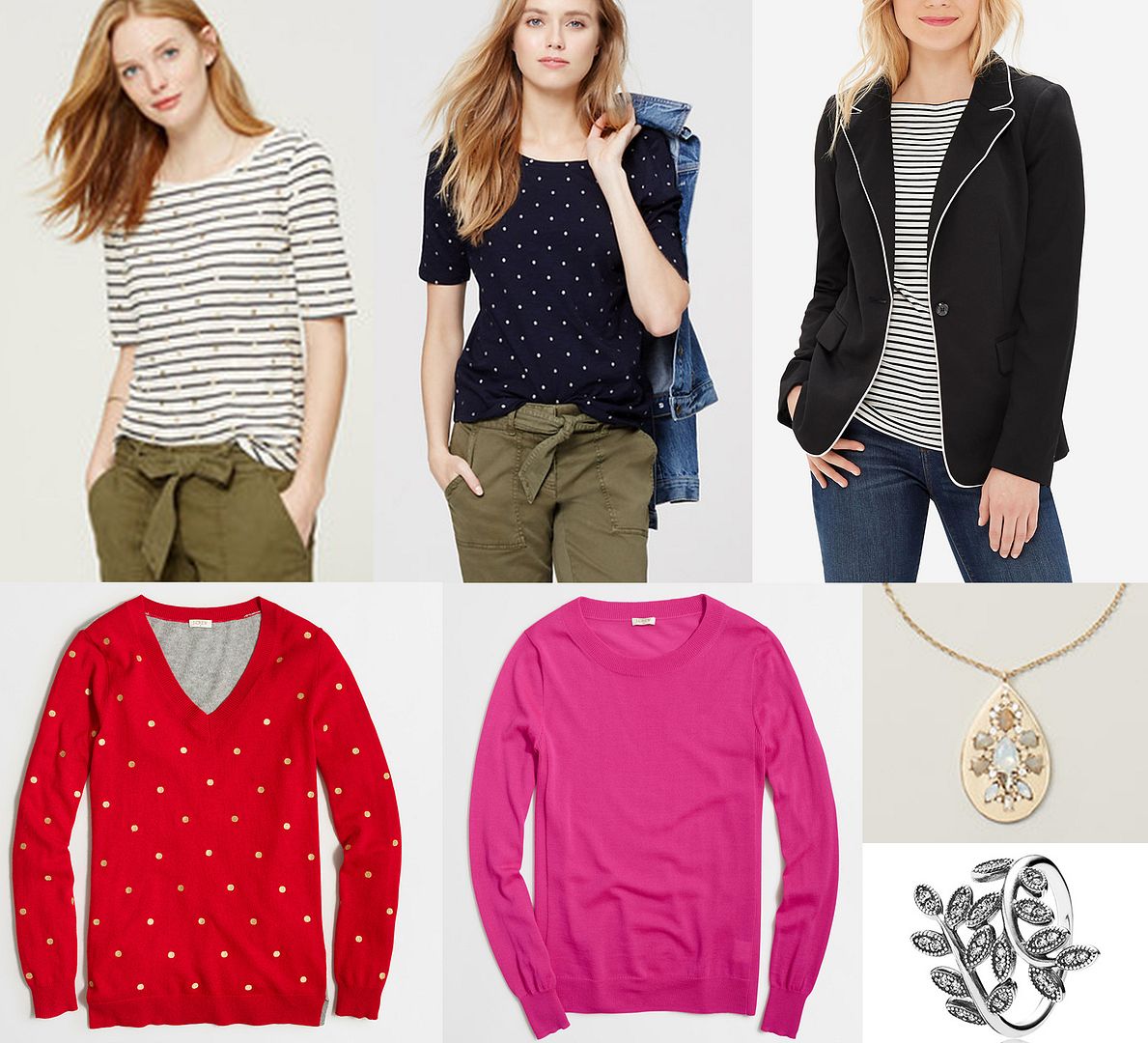 What I received as a gift:
Since I was sick leading up to Christmas, I didn't get several of my Christmas presents until after I posted my December budget. I love all the goodies I got this year. :)
My step-momma took me post-Christmas shopping at Loft where I picked up the stripe foil dot tee (see how I wore it
here
),
navy foil dot tee
and
Loft pendant
(see a sneak peek of it
here
). I got both shirts in an XL and found them to be a little long, but the L was way too small. I love the built-in pattern mixing of the dot and stripe tee, and the simplicity of the navy tee.
The Limited Piped Blazer
(see a sneak peek of it
here
) is an XL and has a more boxy, long fit, but I love how the pipping gives it a little something special. I got this
Factory embroidered dot sweater
in an XL, and as I mentioned above, it has a looser, longer fit than most factory sweaters. I love the cheery color and gold dots, and have a feeling I'll be wearing it non-stop next holiday season. This
J. Crew Factory pink sweater
is also an XL and fits true to size. It's a thinner knit that's perfect for Florida winters. Won't it be perfect for Valentine's Day? My husband got me this
Pandora Leaf Ring
(see how I wore it
here
) as a belated present and I love it. My favorite gift by far, I've been wearing it non-stop. It's the perfect statement piece without going over the top, and it coordinates well with my wedding rings. I usually wear a 7, but this ring is an 8 so I can wear it on my middle finger.
Looking forward:
In February, I want to concentrate on the holes in my closet created by my closet clean out. For example, I donated my too large Target mustard pencil skirt, so I just ordered the
J. Crew No. 2 pencil skirt in double-serge wool
in tangy olive while it was on sale. I'm really hoping it lives up to the rave reviews. I'd also like to add a few more dresses with sleeves to my closet, so I'll be on the lookout for those as well.
Whew, that's a wrap to a very long budget post. Do you keep a clothing budget? Let me know how you did this month in the comments below.