I love outfits that look fancy but are really so freaking comfy, it's like you're fooling everyone into thinking you're polished, but in real-life you're wearing secret pajamas. That's what this soft jersey knit dress feels like - the comfiest pjs ever with an elastic waistband perfect for a food baby (or in my case a food baby + post-baby flabby belly). I've accepted that no amount of dieting is going to give me a sleek tummy, and I could probably do crunches or something, but that just makes too much sense, so for now I'll stick to camouflaging dresses. :)
I found this dress for on final sale for $19 at my local Loft and had to scoop it up. You can't see it in these photos, but it has the
prettiest flutter sleeves
(that will be great come spring/summer) and I love the high neckline. Sadly, my dress is no longer available, but I've listed some cute options below.
For me, the trick to wearing a midi dress or skirt is to pair it with heels, otherwise my legs look short and stumpy. I can't do anything about the ghostly whiteness of my legs, but I did Photoshop out all the bruises. One of my kiddo's favorite activities is to jump on my legs and I tripped over, and broke, the baby gate - leaving me with a particularly nasty bruise below my knee, which I forgot all about until I saw them in all their glory in these photos. Whoops.
I decided to pair this dress it with a plum cardigan I rediscovered during by closet clean out and kept my jewelry simple with statement earrings and a floral brooch. After seeing Lisa's
flatlay with a dressy sweatshirt and brooch trio
, I was inspired to dust off my own brooch that hasn't seen the light of day in years. Isn't it sweet? I love how it gives the whole outfit a retro feel.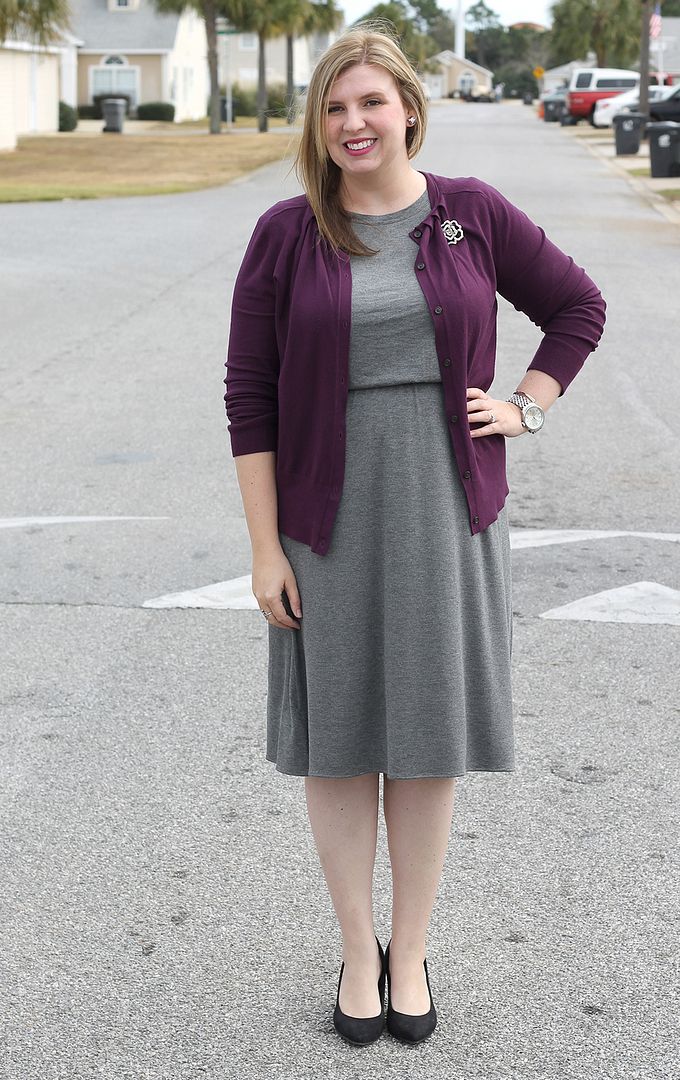 Tyler candles
, an amazing boss who showed me the joys and struggles of owning your own business - she inspired me to want a gift shop of my own, and while it is still a particular dream of mine, it'll be something I do later on in life as a second career. My husband wants to retire to St. Augustine, Florida (I'm holding out for a return to my beloved Tennessee), so maybe one day you'll see me with my own little unique shop by the beach or mountains, who knows what the future will bring!
Forgive the squints and cluttered car-and-trashcan-filled background. I took these pictures in a pinch, but was so happy with outfit, I had to share!