February Budget: $248.81
Quarter budget $600
-
$232.44 in J

anuary
- $248.81 in February = $118.75 left for March
I made the mistake of not keeping track of my spending this month, thinking it wasn't that bad, but when I tallied it all up, I definitely spent more than I had intended. However, I'm really happy with my purchases this month, and thankfully had some gift cards to offset the cost. So, without further ado, here's a quick breakdown of what I got this month:
Loft vintage broken-in tee
(see how I wore it
here
)
Loft really does make a nice, figure-flattering tee. I got this in an XL and find it runs true to size. It's soft, and I like that it looks nice paired with a cardigan now and will look good with a pair of shorts this summer.
Loft abstract infinity scarf
(see how I wore it
here
)
This was definitely an impulse purchase. I popped into Loft while running baby-free errands and this scarf matched my outfit so well, I just had to have it. I love the polka dot and stripe print and the thicker knit will be nice this fall. It's already spring in Florida, so sadly this scarf is going to be sitting in the closet collecting dust for awhile, but it was fun to wear the few cool days we had this month.
J. Crew Factory chambray
I've been wanting a replacement for my Loft chambray that just doesn't fit quite right. I like the slightly darker wash of this this shirt and that it buttons without gapping. The fabric's a little stiff, but I'm hoping it will soften with a few washes. For reference, I got this in an XL.
J. Crew Factory emery flats
(see how I wore them
here
)
I love these shoes! They're a great neutral and the bow adds a little something special. I've worn them a ton since getting them, though they haven't made it on the blog yet, but I'm sure you'll be seeing them a lot in the future! I got these in a 9 and they run a little big, so I put heel pads to tighten them up a bit.
J. Crew Factory amelia flats
(see how I wore them
here
)
J. Crew Factory has been killing it in the shoe department lately! These mint suede flats are so fun and I love that they add a little something different to my wardrobe. I got these in an 8.5 and am still in the process of stretching them out. I'm hoping the hairdryer trick will work on the toe box area, does anyone else have a problem with pointed-toe flats pinching your toes? The 9s were HUGE, so I'm really hoping I can make the 8.5s work.
Baublebar north star brooches
(see how I wore them
here
)
After watching Age of Adaline and seeing how prettily
Lisa's styles her brooches
, I decided to order this set to add to my collection. They're really pretty in real-life and have a nice weight to them and a ton of sparkle.
Ann Taylor blanket scarf
(see how I wore it
here
and styled it
here
)
I got this scarf after seeing how
Fran used it to tie an oversized scarf
. It more than lives up to her review, it's a lovely scarf, ties up nicely, is super soft and isn't too bulky. It was PERFECT in Nashville and I'm kind of sad I'm not going to get to wear it again until fall/winter. If it's still cold where you're at, I highly recommend it!
Ann Taylor silky striped blouse
Since I've lost a little weight, I've needed a few shirt replacements, so I ordered this shirt to try along with the blanket scarf. I got it in a L and found it to be true to size. It's slightly sheer, so a tank is a must, but I think it'll work well this spring/summer with a pencil skirt or dress pants for work and will cute on the weekends with jeans or shorts.
Banana Republic sloan dot pants
(see how I wore them
here
)
I've been on a quest for decent work pants and ordered these while they were on sale for $35. Overall, I'm really pleased with them. They're a nice, thick weave and the polka dot print is fun. For reference, I got these in a 16R and found them to be a little long, but the material is thick enough to do an inverted cuff, though I suppose one of these days I could get them hemmed.
Boden cotton darby scarf
(see a preview of it
here
)
I love scarves, but it doesn't stay cool enough in Florida to wear them for long. I really like that this scarf is a thin knit and will hopefully transition well into the spring. Any excuse to wear my beloved scarves!
Loft Outlet mint popover
(see a preview of it
here
)
I love the pretty mint color of this shirt, it's nice and lightweight and super comfortable on. I got it in a L.
Loft Outlet garnet floral pencil skirt
(see how I wore it
here
)
$10 for a cute skirt seemed like too good of a deal to pass up, so I snagged it. I got it in a 16 and it fits true to size.
What I got as a gift: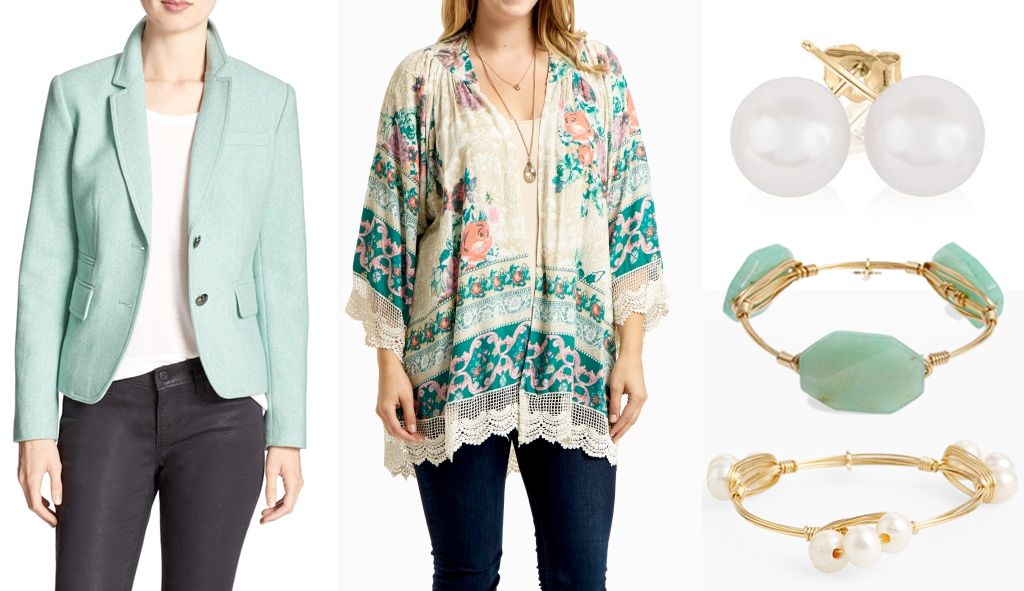 I was fortunate to get a few lovely items this month. My husband got me the prettiest aqua blazer from Banana Republic Oulet while we were window shopping after a pre-Valentine's Day lunch, as well as surprised me with lovely
freshwater pearl studs
. PinkBlush reached out to me and let me chose an item to review, and I love the
floral kimono I
got from them. You can see how I wore it with jeans and booties
here
. The
pearl
and
aqua wire bracelets
were a gift to myself, so I decided not to include them in my regular budget.