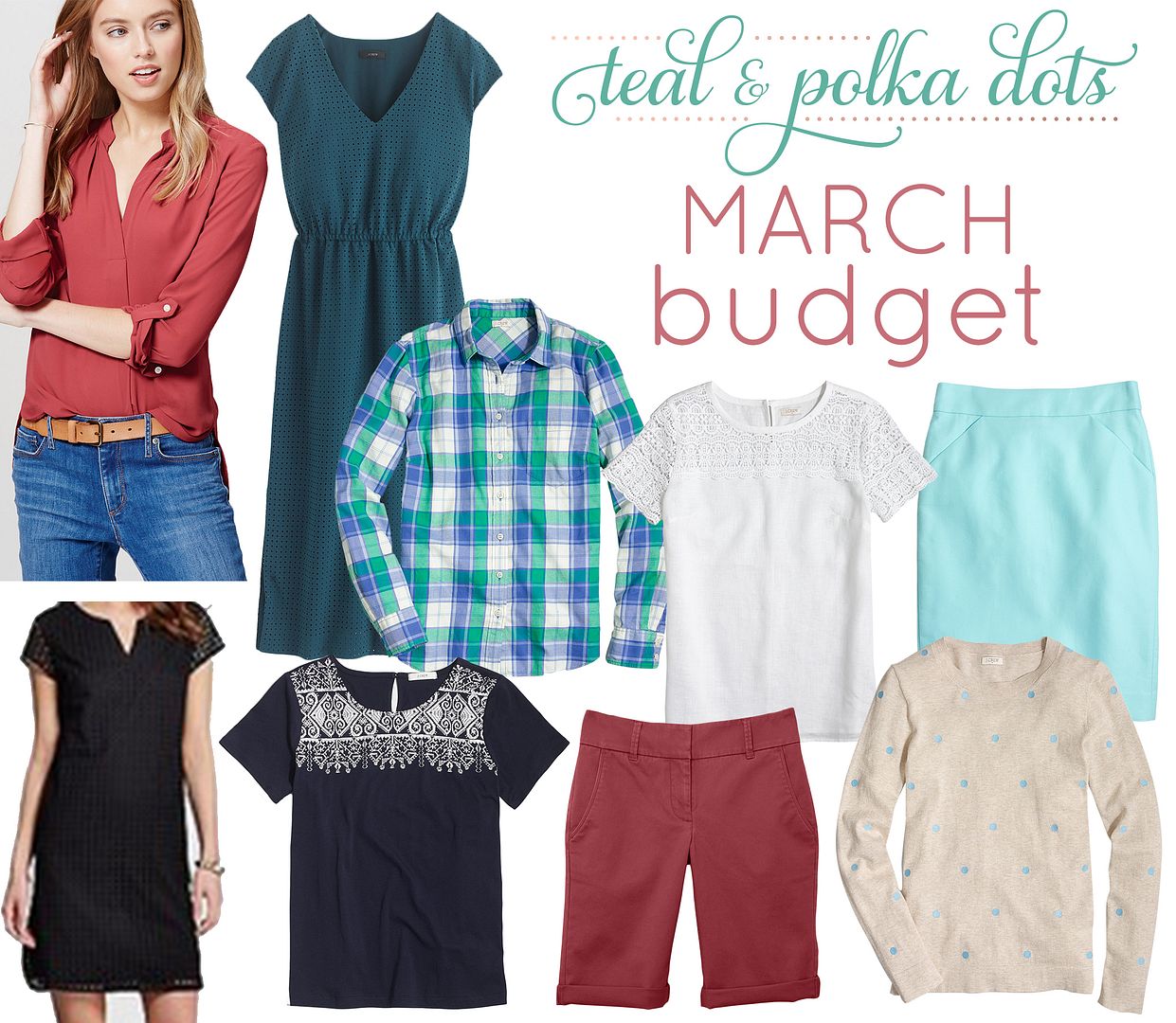 $78.72 over :(
Not exactly the best start to the first quarter budget of the year. I realized about halfway through the month that I was going to blow it. I didn't intend to, but it got so stinking hot in Florida and I realized none of my shorts or tees fit anymore, so I bought a few things (like these
shorts
and this
tee
and this
one
) that I originally thought I could hold off another month on purchasing. That's what you get when you buy all the fun stuff before the practical - blown budgets. :) I'm still really happy with my purchases, so I'm not too upset about being spendy.
Here's a breakdown of what I bought:
I saw this in the store and fell in love with the deep rose color and flattering neckline. I got this in a L and it probably runs a little big. I'm in between shirt sizes at the Loft, so I'm finding it harder to judge sizing. Some larges from Loft fit, some don't. This one does. :)
I got this pretty
black eyelet dress
to wear to a work function after realizing last year's black dress was too big. The front of the dress hits right above the knee and the back is maybe an inch longer. I love the full short-sleeves (as opposed to the dreaded cap-sleeves) and the eyelet actually makes the black feel springy. For reference, I got it in an XL. The
J. Crew midi dress
was such a ridiculously good deal (over 75% off the original price!), I felt like I couldn't pass it up. I took a risk with it being final sale, but I think it's my favorite purchase this month! The deep green is color I don't have a lot of in my closet, it's super comfortable with the elastic waistband - but still looks dressy - and the knee-high side slits, v-neck and perforated pattern keep it from looking dowdy. It's still available in sizes 00 and 16, so if you're one of those sizes, I highly recommend it!
I picked up both the
white linen tee
and navy
embroidered tee
once the warm weather hit. J. Crew Factory is killing it right now with their dressy tees! (I have a serious case of the wants for quite a few of their shirts right now.) I think the two I purchased are perfect for work and can easily be dressed down with shorts or jeans. I got both in an XL and think they fit true-to-size. The navy embroidered tee is so soft and I love the contrasting embroidery on the yoke. The white linen tee is light and breathable and the lace detailing elevates it from being a plain, boring white tee. As for the Loft shorts - I tried on all two pairs of shorts I own, and neither one fit anymore - so even though I'm not a fan of shorts, I knew I needed a replacement. As far as shorts go, these
pink Bermuda shorts
really aren't that bad! They hit right a few inches above the knee, are a fantastic color, and they flatter different body types. My step-mom bought these shorts and she's a completely different shape than me - tall with slender legs - and they look fabulous on her! Mine are a 14 and I think they run a little large, since they stretch a little as you wear them.
J. Crew Factory pencil skirt in double-serge cotton
(see how I wore it
here
)
After falling in love with this skirt on
Jean
, I included it in my latest J. Crew Factory order. The bright aqua color is absolutely gorgeous in real-life! I wasn't sold on the fit at first and worried I looked too "hippy," since the skirt flares out a bit, and the pockets emphasize the hips. But after letting it sit around for a few weeks, I finally decided to give it a try. I'm so glad I did! It's definitely something different in my closet, one of my favorite colors, and skirts with pockets are quickly becoming my new fav. And while I still think it makes me look a bit wide in the hips, the little bit of flare does gives a little more definition to my waist. Bigger hips = smaller waist? The cotton is nice and light, but unfortunately it does wrinkle during the day. I love the color enough to forgive the wrinkles, but it is worth noting. I got this in a 16 and probably could have gone down a size, it runs a little big. I also love the coral color in comes in, so maybe I'll have to try it in a 14. :)
Well, that's my haul for the month. Next month starts a new quarterly budget, and hopefully this time around I can stay on track and on budget!
// I'm linking up with
Franish
and the Budgeting Bloggers! //