This is the skirt that almost didn't happen. After falling in love with it on
Jean
, I included it in a embarrassingly large J. Crew Factory order I placed earlier this month. The color is absolutely gorgeous in real-life, but I wasn't sold on the fit. I thought it made me look too "hippy" and that the pockets put too much emphasis on my hips and stomach. Do you have one of those days where everything you try on is a no? I was definitely having one of those days when I first tried this skirt. After a few weeks procrastination, I finally got around to packing up returns when the happy, aqua color sucked me in again ... so, so pretty ... so I tried it on again and I swear it looked completely different. Hippy, sure, but it also made my waist look smaller, and the pockets seemed fun instead of obnoxious. It was a "yes" day instead of a "no" day. So to make sure it wasn't a fluke, I went on Pinterest to find some fun ways to style it and decided to wear it on a trial run to work (in full disclosure I left the tag tucked into my skirt, just in case. Am I the only one who does that? How are you supposed to know if you like something unless you actually wear it?).
I'm so glad I decided to give it a try! I originally wore this outfit last week and got compliment after compliment. Everyone loved the color, the fit, and wanted one for themselves...so there might be a lot of people running around my workplace in the same happy, aqua skirt. Works for me. :) I made sure to take outfit photos that day, but it was super windy and sadly they didn't turn out, but you can see selfie snap of it on
Instagram
. So I recreated the outfit exactly how I wore it for today's photos (excuse the over-grown grass and rose trees, I mean bushes).
Pinspiration:
I'm so happy with my new skirt, I ripped off the tags, and am wearing it again today in a look similar to the
third outfit pinspiration
. Pink + tan + aqua = new favorite color combo. I also snagged
Jean
's
green and blue plaid button-down
, so I'll probably be shamelessly copying her in the very near future.
It's worth noting that this skirt does tend to wrinkle, especially after sitting in it all day. A quick iron would fix it, but I'm super lazy, so I threw it in the dryer for a few minutes with a damp washcloth. As you can see in these photos, most of the wrinkles came out and it didn't shrink.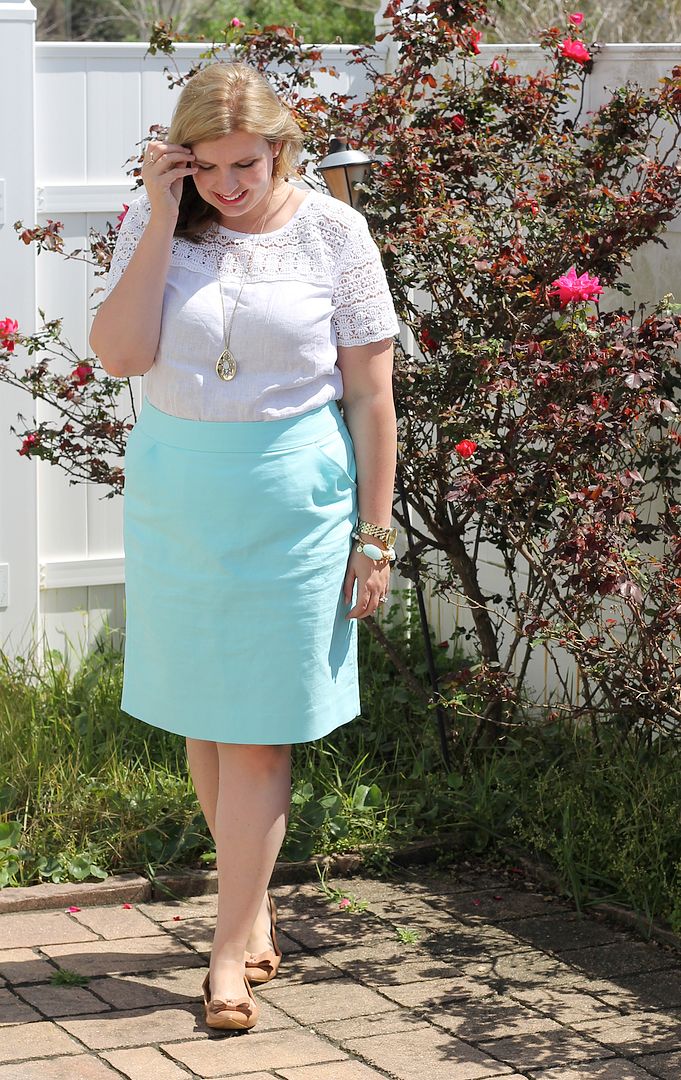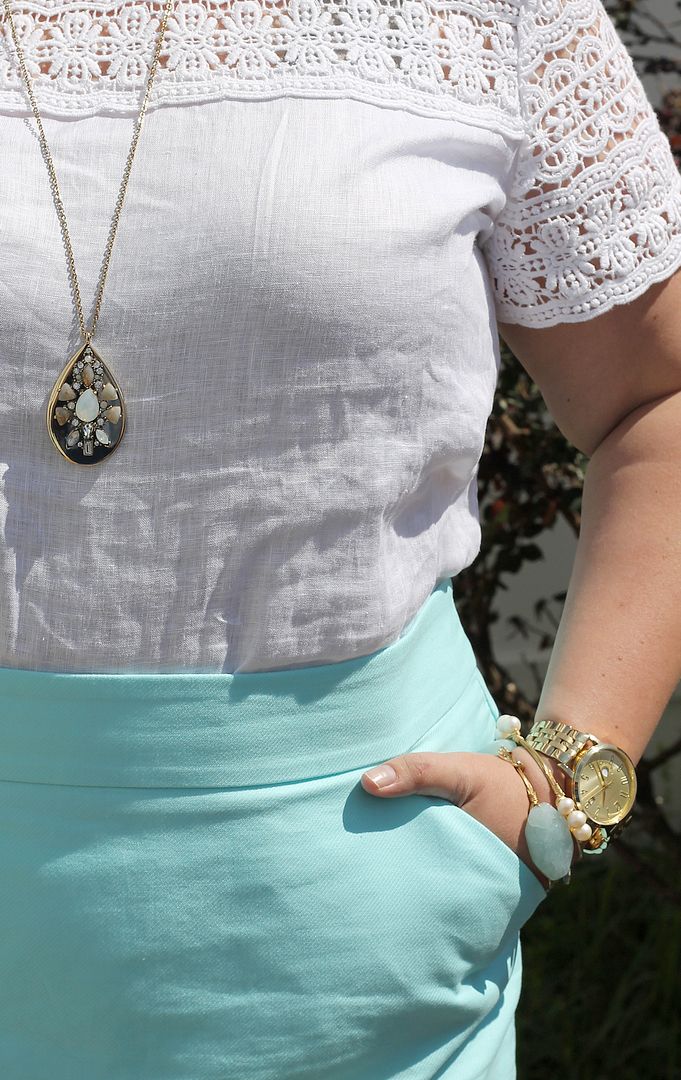 Shop the Look:
Join me for Make It Work Monday! The rules are simple
Link up an outfit that is inspired by a Pinterest pin, a fellow blogger, magazine or other muse,
link to your specific blog post, not your blog's main page,
pretty please link back to me and
visit/comment on some other posts for inspiration and encouragement.
I can't wait to see what everyone comes up with! And go...!!
An InLinkz Link-up