Skirts: pink pleated midi, navy stripe midi, polka dot midi, teal pleated midi, aqua pencil skirt (have and love!) | Dresses: gray tee, floral tee, dot chambray, teal dotted, aqua lace, stripe tunic | Shirts: blue popover, white lace yoke (have and love), navy lace tee (have and love), aqua crew-neck tee, pink v-neck tee, navy stripe tee (have and love), octopus graphic tee, chambray (have and love) | Shorts: jean, pink Bermuda (just bought - so, so cute!), navy lace) | Light layers: kimono cardigan, gray cardigan, cream cardigan (have and love), pink cardigan | Accessories: sunglasses, navy print tote, cognac strappy sandals (have very similar), saddle bag, canvas clutch, rose gold flip flops, neutral wedges
With the exception of the past few days, it has been so.stinking.hot in here in Florida. Forget spring, we jumped right into summer with 80 degree temps and lots of humidity. Which has gotten me in a bit of a panic, since my closet leans heavily toward fall/winter and most of my summer clothes no longer fit. So, I decided to do a little outfit planning to figure out how in the world I'm going to survive spring summer. Because if it's this hot already in March, I cringe to think what July and August are going to be like.
My game plan - lots of breezy skirts and dresses, light tops, sandals for days, and light-weight layers for the AC. I have some of these items, pretty much WANT everything I don't have, and know a few of them will eventually make their way to me (hello - gorgeous pink and polka dot midis!) And as always, my love for J. Crew, J. Crew Factory and Loft runs deep...
SKIRTS
Skirts
- Can I just say I pretty much WANT everyone.single.one. of these skirts. I love midis for the summer because they're nice and airy and breathe. They're perfect for work with a cute wedge sandal, or can be dressed down for the weekend with a pair of cute strappy sandals. I did throw in the
aqua pencil skirt because
it isn't quite as fitted as some of my other pencil skirts and the cotton feels comfortable and light.
DRESSES
Dresses - I'm all about dresses in the summer. You don't really have to think about it - just throw one on, grab some sandals and a necklace - and done. I tend to stick to dresses with sleeves since I don't like to show my upper arms and don't want to have to wear a cardigan when it's 100+ degrees outside. I thr

e

w two longer-sleeve options into the mix, which are nice in the blisteringly cold air conditioning and you can just roll the sleeves up when outside. I'm especially enamored with that fun dotted chambray dress!
SHIRTS & TEES
Shirts
- My rule about sleeves with dresses also applies here, so I stuck to short-sleeve options or sleeves that can easily be rolled up. I love tees that have a little extra details - like lace or a pretty pattern - which makes them look more dressed up than a plain tee. Though those can be great too, which is why I included bright pink and aqua options. Plus you can't go wrong with a
chambray shirt
- I swear they go with everything - and that
blue popove
r is everything. Want so bad.
SHORTS
Hey shortie
:
Loft denim Bermuda roll shorts
|
Loft Bermuda roll shorts
|
Loft floral scallop lace shorts
Shorts
- I hate shorts, I hate, hate, hate them, but they are a necessary evil. It's just to darn hot here in the summer for pants, and as much as I love skirts and dresses, sometimes it's nice to be a little more casual (and not have to worry about your skirt blowing up in the wind). I just picked up the
pink Bermuda rolls shorts
and they are so cute in real-life - super comfy and hit above the knee, so they don't look matronly. I love a good
jean short
- the thicker material doesn't ride and they pretty much go with everything.
Lace shorts
are out of my comfort-zone, but I tried these on in the store and they were super cute. Short, but not excessively so, and the navy helped tone down the whole - hey I'm wearing lace shorts - look at me thing.
LIGHT LAYERS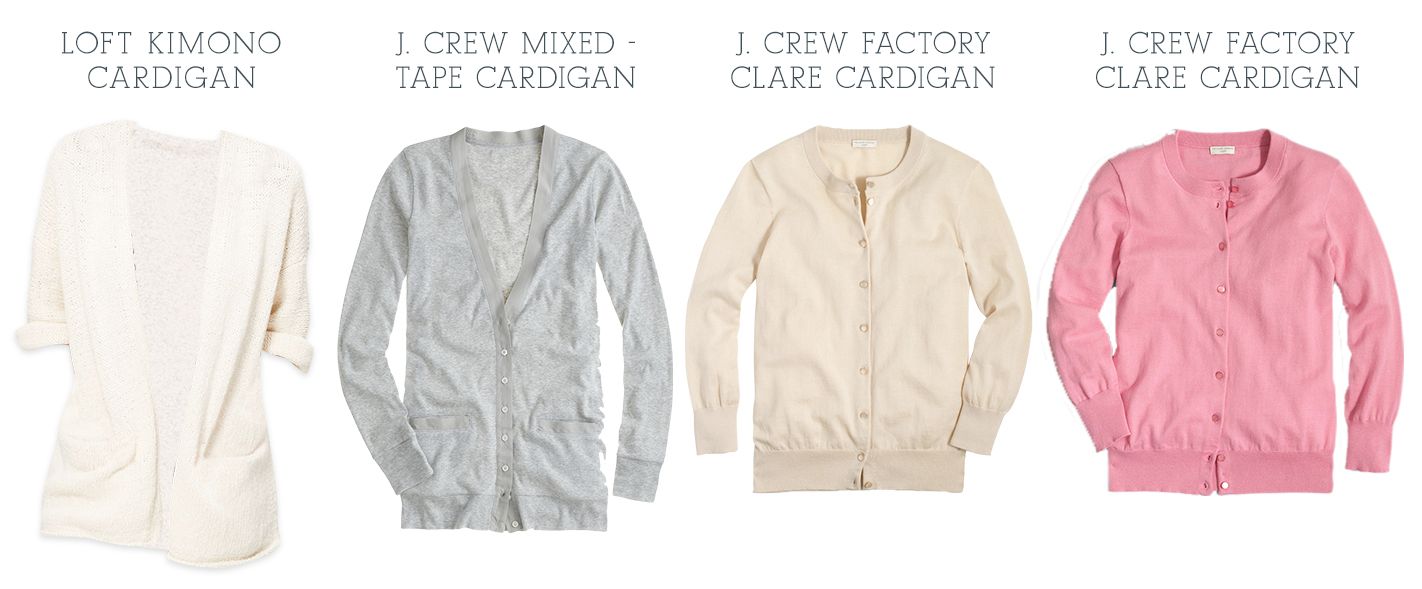 Light Layers
- Seems like when it's miserable hot outside, it's FREEZING inside. Hello, AC over-compensation. I always keep a light cardigan around to throw on inside and immediate strip off as soon as I hit the outdoors. I have - and love - the cream
Clare cardigan
and would love to add a fun color (like pink) into the mix. The
long gray cardigan
would go with everything from shorts to dresses and the
kimono cardigan
looks so perfectly casual. Definitely want to check that one out in real-life.
ACCESSORIES
Accessories
: A much as a hate shorts, I LOVE sandals. If I could, I wear them forever and always, even in the winter. I like the idea of a more
dressed up wedge
to wear with skirts and dresses,
strappy sandals
that go with everything, and lovely
rose gold sandals
for a more casual look. A
tote bag
is a must for beach day or just for everyday errands, and I like that the
canvas clutch
can be dressed up or down. I'm so excited this
crossbody bag
is back in stock, it's the perfect day-to-day bag. I just picked up the
tortoise shell sunglasse
s to replace my recently broken aviators, and I love them! They're a bit different with a slight cat's eye, slightly retro and fun!
Whew, that's it. Now, who wants to buy me all these lovelies for my closet? :) I'm thinking that lovely
blue popover
,
pink midi skirt
,
polka dot midi skirt
,
kimono cardigan
and
fun wedges
might just have to make their way to me in the coming months...ooo...and maybe those
rose gold sandals
and
patterned tote
as well. I have a shopping problem for sure...
And a good outfit planning post wouldn't be complete without some outfit planning, so for funsies, I put a few look together to show how great all these pieces would mix and match. Enjoy!