April Budget: $359.26
Second quarter budget
: $600 - $359.26 + $100 in side work = $340.74 remaining
I'd find my April budget total shocking, but I knew I was going to be spendy this month. I
mentioned a few weeks back
that the majority of my summer clothes no longer fit. Originally I planned to space my purchases out a bit more, but since it's already warm in Florida, I just went for it. Though I did luck out by scoring some amazing deals, so the damage could have been a lot worse! Pretty clothes at a good price always makes me happy.
Sperry canvas sneakers
(see how I wore them
here
)
Confession: I bought these shoes for a style challenge. But, I ended up loving them. I really like that they are tennis shoes without looking athletic and are super comfortable with a great cushy insole. They run true to size, and I got them in my typical size 9.
Loft kimono cardigan
(see how I wore it
here
)
Soft, chunky and a bit different silhouette, this cardigan was a fun purchase at a ridiculously cheap price. Things to note: it's cotton but heavier than you'd expect and runs really large. Mine is a medium and since it's stretched out a bit - probably because I've been wearing it non-stop - I almost could have gone with a small.
J. Crew polka dot midi skirt
(see how I wore it
here
)
Polka dots, elastic waistband and pockets - what's not to love? This skirt is lightweight, comfortable and perfect for summer work days. After reading reviews, I sized down one size and got it in a 14.
J. Crew micro pleated midi skirt
(see how I wore it
here
)
This skirt is one of my favorite purchases this month. It's gorgeous in real-life, a lovely shade of pinkish orchid and is a nice, heavy-weight that keeps the pleats from flaring out too much (an issue for us curvy-hipped ladies). I got this in a size 16 and find it runs true to size.
J. Crew Factory pleated midi skirt
(see how I wore it
here
)
I know, I know, yet another midi skirt this month. What can I say, I'm addicted. :) Especially when it comes in a pretty teal color and a good price. There's definitely a bit of a quality difference in the factory version vs. the J. Crew pleated midi, but still a nice skirt. Also a size 16.
J. Crew Factory octopus tee
(see how I wore it
here
)
I played around with this shirt while making last month's
summer outfit "survival guide
" and ended up liking it so much at I thew it in with my midi skirt order. Besides, a girl living on the Florida coast needs a nautical octopus tee, right? Never mind the fact that I've never actually seen one in the wild while living here...Anyway, I got it in an XL and think it runs a little large. It's super soft in real-life and the gold stripes are a nice, bright metallic.
J. Crew Factory cardigan
(see how I wore it
here
)
Another
summer outfit "survival guide
" item that I decided that I needed in my closet. I like the
Clare cardigans
because they are soft, light-weight and the 3/4 sleeves are a nice option for the over air-conditioned summer months. It's an XL and just a touch small in the chest, but just right in the sleeves.
J. Crew Factory demi-wedge sandal
(see how I wore them
here
)
I really like how these sandals give the look and feel of heels without the discomfort of wearing an actual heel. Pros: there was no break-in period, they're comfortable to stand and walk around in all day, and the knot at the top is super cute. Cons: they run a little long and narrow. For reference, these are size 9.
J. Crew Factory chambray blazer
(see how I wore it
here
)
I've mentioned before I hate buying replacement pieces, so when my Loft chambray blazer from last year became too big, I decided to try the J. Crew Factory version instead. It sits right below the hip, and fits well in the arms and waist. It does have a bit of padding in the shoulders and I wish it was just a touch more tailored, but that's something I could get fixed if I decide it bothers me enough. I got this jacket in a size 16.
AEO Denim X crops
(see how I wore them
here
)
I like the idea of colored denim, but wasn't comfortable with going with a bight hue, so a soft pink seemed like a nice option. For me they ran small in the leg, so I sized up to an 18. The waist is now a bit big, but easily solved with a belt. If you have skinny legs, I'd stick to your normal size.
Tax Return Goodies (not included in budget):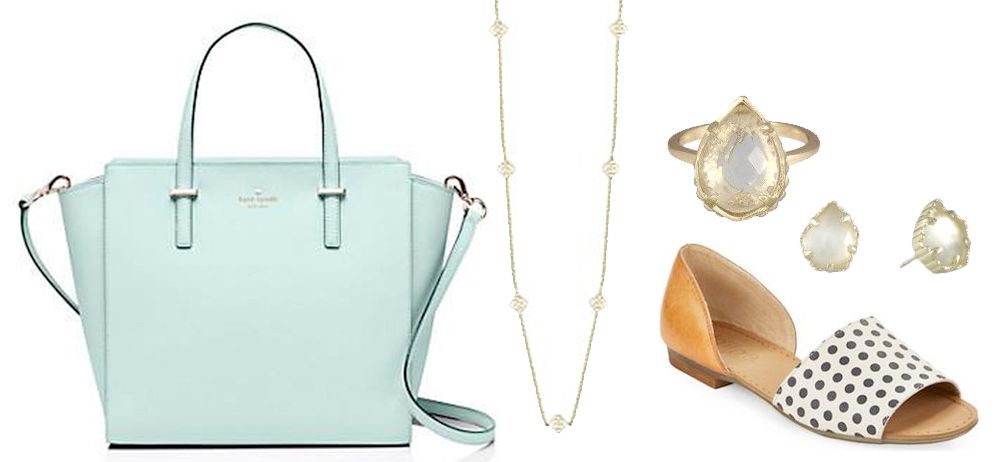 Kendra Scott daisy station ring
Come tax refund time, I like to buy a few (or one really expensive) item I normally wouldn't purchase for myself. Last year, I got my
Clare V. leopard print clutch
and this year, thanks for some really get sales was able to pick up several goodies. I started out wanting to try the
Kendra Scott Color Bar
, so I picked out the crystal clear stones for the daisy station ring and
tessa studs
. I signed up for emails from KateSpade.com and got 15% off my purchase, and since I had the discount going for me, also picked up the
devlayn necklace
that's been on my wish list for forever.
I fell in love with these
polka dot d'orsay flats
after seeing a very similar pair on
McKenna Bleu
. Not willing to spend $90 + shipping on them, I ended up finding an almost identical pair from Lord and Taylor for $10 cheaper plus an additional 25% off. Word of warning though, there's a bit of a break-in period with these shoes. The first day I got blisters on both of my big-toes and both heels. Armed with a ton of band aids, I wore them again yesterday and I can tell the leather's softening up a bit, but I'll probably have to wear them a few more times before they're truly comfortable.
I've been on the lookout for a new leather bag for awhile, but wasn't ready to commit to anything. Last weekend I found this
Cedar Hayden
in grace blue on clearance at Kate Spade with an additional 25% off. This bag is normally out of my price range - even as a refund splurge - but on clearance with an additional sale was right at my comfort-spending level. Let me tell you, it's even
better in real-life
than online. I love everything about it - the gorgeous color, the structure - even the removable, adjustable strap perfect to wear as a crossbody or on the shoulder. If the pink pleated midi skirt was a my favorite purchase from my monthly budget, this bag is by far my favorite tax refund splurge. Worth every discounted penny.
// Sharing with
Franish
and the budgeting bloggers. //