I was so excited when it cooled off again for a few days and I got one last chance to wear my
Ann Taylor blush scarf
! I love all the pastels layered together. Blush and aqua are two of my favorite colors right now, so why not wear them together, right?
When searching for aqua pencil skirt inspiration for last month's
Make it Work Monday
, I came across
Marion's gorgeous nude lace, aqua skirt and pink accessories outfit
and was inspired to use her color palette and make it my own. But, dang, now I REALLY want a nude lace top...so pretty!
I'm already looking forward to styling
this skirt
again, if I can get the Mexican food grease stain out of this skirt. Opps. And of course this was BEFORE I took photos, so I had to Photoshop out the stain. :) You're supposed to dry clean it, but I took a risk and treated the stain with OxiClean, threw it in the washer and hung it up to dry. I'm pretty sure the stain came out, but it's such a wrinkled mess it's hard to tell! I should iron it, but knowing me, I'll just throw it in the dryer on low and hope for the best. Fingers crossed a didn't ruin my new favorite skirt...
Sweater: Gap (similar)
Skirt
: J. Crew Factory (
exact
)
Scarf
: Ann Taylor (
exact
for less than $9!)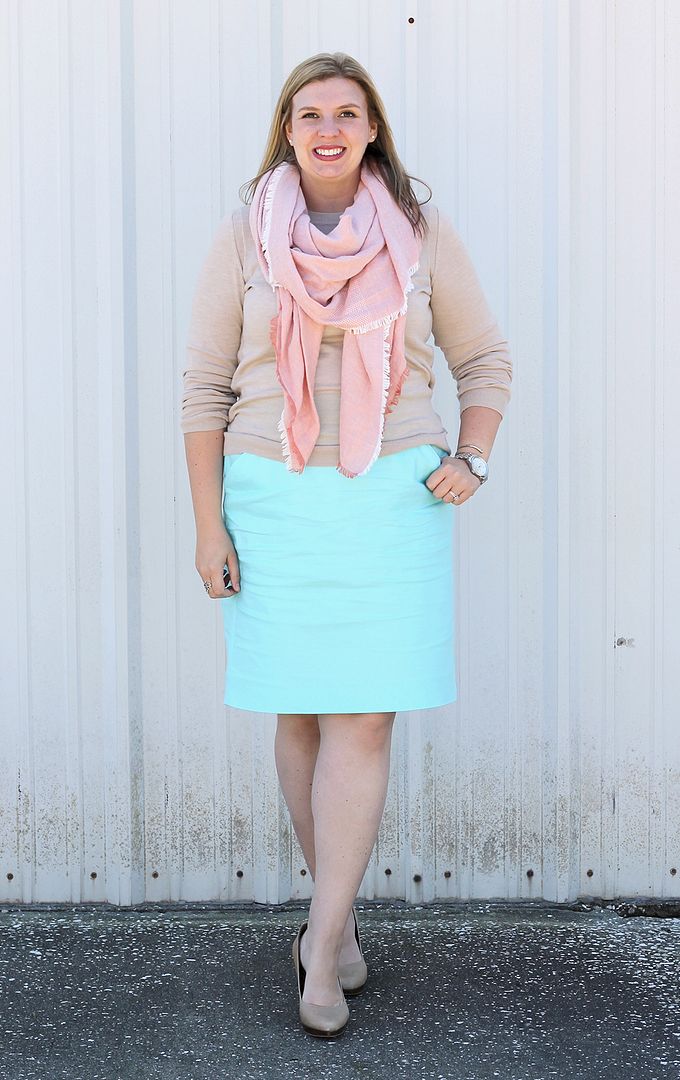 Random grumpy side note: Remember when Facebook used to be about seeing your friends' vacations, baby pictures and everyday life? When did it become the place to push your side businesses? In the past month I've been hit up by multiple friends on Facebook to buy makeup, skin care, weight loss drinks, clothing, jewelry and hair bows. Last night's feed was one continuous list of how said product changed your life and can change mine too AND that night alone, got three personal requests, hence the rant. Now, don't get me wrong, I see nothing wrong with selling these things and I think it's great these people are doing it, but I'm so tired of being hit up ALL.THE.TIME.
Worse yet, are the folks who post on their personal pages 10+ a day about the product they're selling. Make a business page darn it and I'll chose to like it or not (though chances are I won't). That's one of the main reasons I have a separate
Facebook page for Teal and Polka Dots
and don't blast everyone from my personal account. Most of my family and friends aren't interested in seeing me awkwardly pose in cute outfits. The absolute worst? Tagging me in your status about what your selling. Drives me up a wall. I always detag and delete it right off my wall. I've had to hide a few friends because I'm tired of seeing all that stuff clogging up my feed. I want to see you...your life, your family, your pets, your thoughts.
I know several people who have a side business and occasionally post on their personal page about it, which I'm totally cool with. It's not constant, I still see your real-life, and I can contact you to buy something if I choose. And chances are the next time I need something, I'm going to you first. I don't want your pink weight loss drink, your lip plumpers, your miracle acne cure or your trendy baby hair bows. So, we can still be friends, but I choose not to see your statuses anymore. :)
Shop the post: