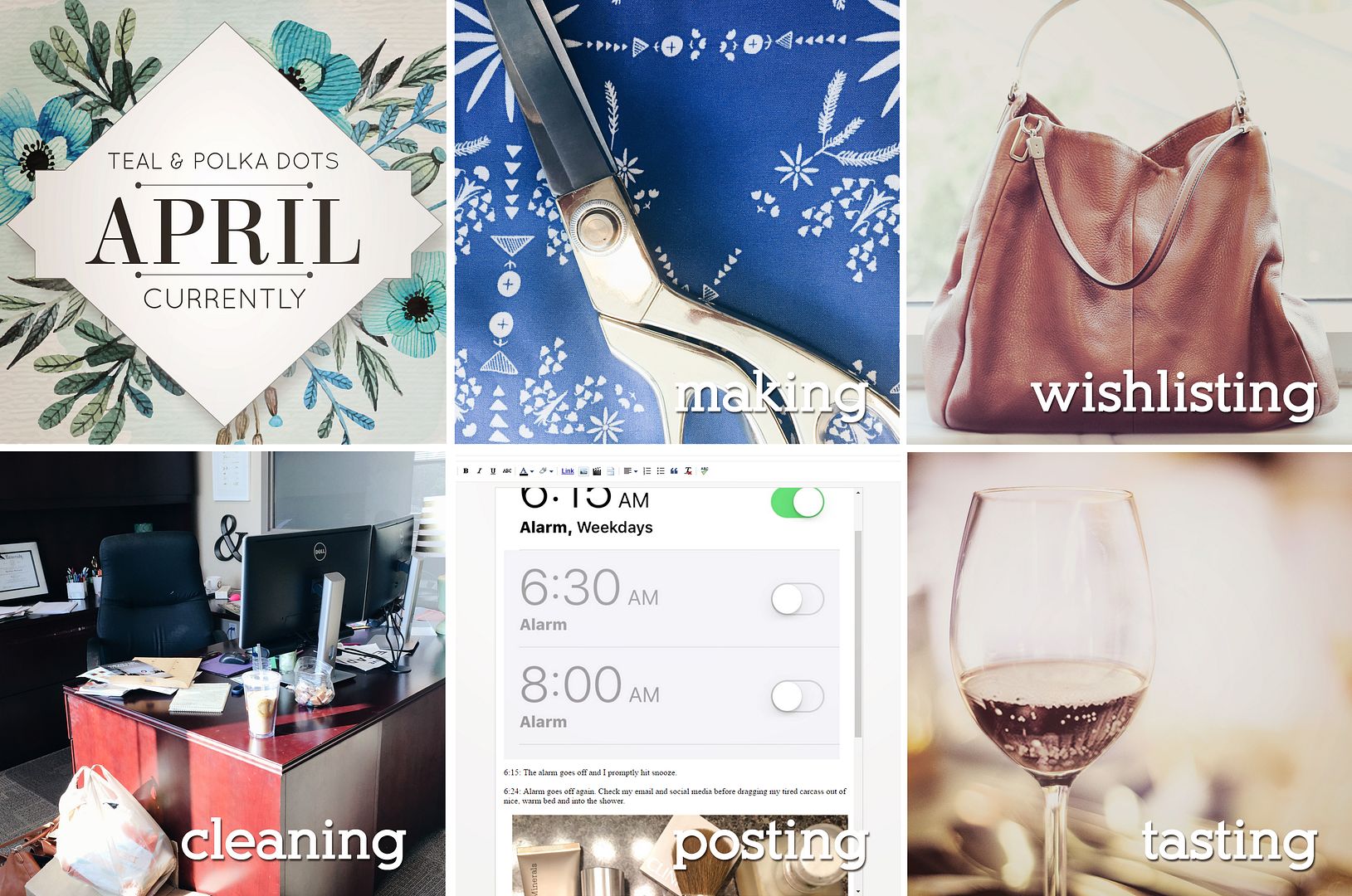 Currently I am...
making
: a maxi dress. Or planning to anyway. While online shopping for the perfect dress with sleeves, I stumbled on this awesome
side slit maxi dress tutorial
from Leanne Barlow. Since I can't buy what I want, why not just make it? Her tutorial doesn't look too complicated and I found the prettiest
rayon challis fabric
. I love the idea of sewing, but I don't do a lot of it. I've made a skirt, crib bumpers, pillow covers...simple stuff. So I'm a little intimated by this project. But it's good to challenge yourself, right?
wishlisting
: a new handbag. As much as a I love my Coach, I haven't been kind to it over the years, and the leather has rubbed off in the bottom corners of the bag. It also might have had been in a hit-and-run with some magenta paint. I still love it and plan to carry it until it literally falls apart, but I like the idea of adding another bag into the rotation, something structured in a lighter leather. I really like this pretty
blush Kate Spade
or this
mustard yellow Coach satchel
... and how unbelievably gorgeous is this
Michael Kors satchel
, but I die at the price tag!
cleaning
: my desk at work! It's a train wreck complete with papers strewn everywhere, water bottles with just a sip or two left and travel mugs growing laboratory experiments. Can I use the excuse that it's a product of a creative mind?
posting
: my first every day in the life of post! I don't think my life is that exciting, but I LOVE reading these types of posts from other bloggers, so hopefully it'll be fun. Come back tomorrow to read it. :)
tasting
: Moscato wine for the first time. I don't know how I managed to go 33 years on this earth and not taste its deliciousness, but now I'm hooked! I few weeks ago a friend ordered it for me when the bar was out of blush. I'm definitely not a wine snob. I like my wine cheap, fruity and sweet and if you add bubbles...ahhh perfection.
I'm linking up with
Anne
and
Jenna
for April Currently. Each month features a series of prompts that can be interpreting any way you wish. What are you up to currently? Let me know in the comments below!