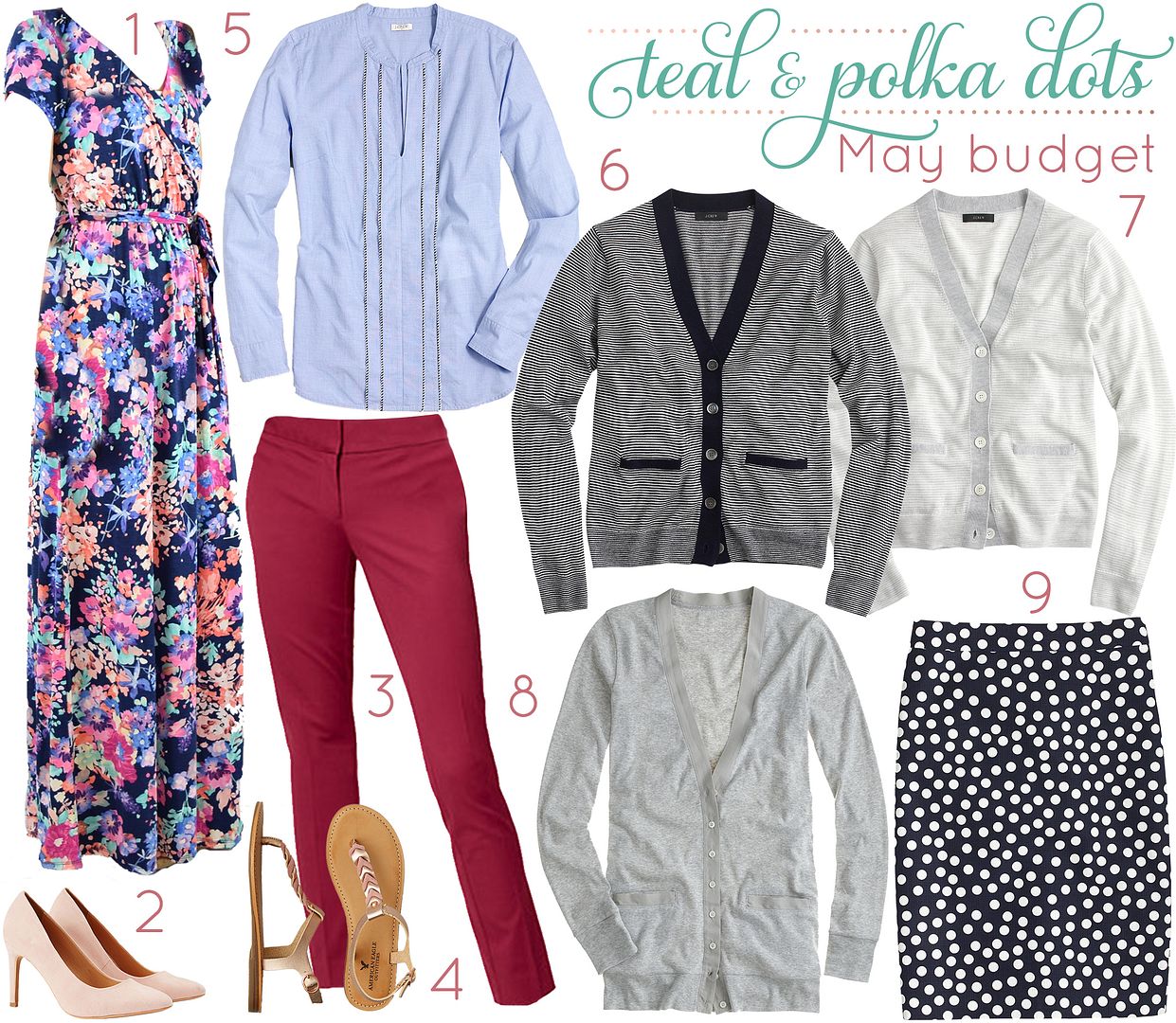 Eloges maxi dress via Groopdealz: $25.99
Loft rounded-toe pumps: $79.50 + 60% off = $31.80
Loft skinny ankle pants: $69.50, on sale for $49.88 + 60% off = $19.95
AEO mixed buckle sandal: $29.99, on sale for $14.97
J. Crew Factory corded popover:$75.00, on sale for $39.99 + 25% off = $29.99
J. Crew fine striped cardigan in navy: $89.50, on sale for $59.99 + 50% off = $29.99
J. Crew fine striped cardigan in ash: $89.50, on sale for $59.99 + 50% off = $29.99
J. Crew Factory dotted pencil skirt: $39.99 + 40% off = $23.99
J. Crew mixed tape cardigan: $49.50, on sale for $45 + 30% off = $31.99
May Budget: $238.66
Second quarter budge
t: $600 -
$259.56 in April
- $238.66 in May = $101.78 remaining
Stripes, cardigans and polka dots, oh my! This month was all about patterns and quite possibly a ridiculous amount of cardigans, but I'm really happy with my purchases. So without further ado, here's what I picked up this month:
1. Eloges maxi dress via Groopdealz
(see how I wore it
here
)
I've wanted a maxi dress with sleeves for a while, so I was so happy to find this one on Groopdealz! It's a really comfortable and the floral pattern is even prettier in real-life. It's true to size; mine's an XL.
2. Loft rounded-toe pumps
I'm a sucker for blush, and love that these shoes are a neutral without being a standard tan/beige/nude. I've worn them several times (but haven't managed to photograph them). The round-toe makes them pretty comfortable for a heel. Mine are an 8.5.
3. Loft skinny ankle pants
(see how I wore them
here
)
During my ongoing quest for work pants, I decided to give these crops a try after they went on major sale. They're a 14 and run true to size for Loft. I love the deep rose color, the fit is nice and the fabric is comfortable. Hooray for decent work pants!
4. AEO buckle sandals
I'll admit, initially picked these up because they matched the blush jeans I wore for the kiddo's second birthday party so well, but they really are the perfect summer sandal! The rose gold is so pretty and they well work well both casually and a bit more dressed up. I got these in a 9.
5. J. Crew Factory corded popover
I became obsessed with this shirt after seeing the J. Crew version on
Fran last year
. When the factory came out with a very, very similar version I had to have it. I've worn it quite a few times but sadly haven't managed to get photos. I sized down to a large for a more fitted look.
6. and 7. J. Crew fine striped cardigan
(see how I wore the ash
here
and the navy
here
)
I liked the ash striped version of this cardigan so much, I ended up getting the navy as well! They're a little shorter in the torso, which makes them perfect to pair with skirts and dresses. Both are an XL.
8. J. Crew Factory dotted pencil skirt
(see a sneak peak of it here)
I tired, and fell in love, with this skirt back in February, but it wasn't available in my size. It's now online in the clearance section, so got an amazing deal on it! It's a 16 and fits true to size.
9. J. Crew mixed tape cardigan
(see how I wore it
here
)
This cardigan is so insanely comfy. It feels like your softest T-shirt and works for both work and the weekend. It's an XL, fitted, but still true to size. I pretty much want it in all the colors now.
What I got as a gift:
For Mother's Day my sweet husband got me this bag from my Amazon wishlist. I think the crossbody strap will make it the perfect carry-on for our upcoming Michigan trip! I also like that it's big without being overwhelming. While no longer available on Amazon, I found the
exact bag at JCPenney
.
// Sharing on Franish for Budgeting Bloggers. //