I was recently asked for suggestions on what to pack for a spring work trip to the South Carolina coast that requires two airplane and two conference outfits. Since my office's annual conference is in February and never more than a day's car ride away, I was intrigued by the idea of coming up with outfits that would pack well, fit in a small suitcase, be cool and comfortable, and still look professional. Such a fun post idea! So here's what I would bring if I was going on this trip - so jealous, I've got a major case of wanderlust and South Carolina sounds absolutely lovely!
striped blazer
|
navy cardigan
|
cream cardigan
| e
mbroidered top
|
polka dot tee
|
blush tee
|
blue linen skirt
|
blush jeans
|
navy knit pants
|
embroidered clutch
and
detachable chain
|
geometric tote
|
pearl wire bracelet
|
pink agate bracelet
|
pearl earrings
|
pink tassel necklace
|
d'Orsay flats
|
blush pumps
|
gold watch
I stuck with a palette of neutrals, blues and blush so that pretty much any item could be paired with another. The colors, fabrics and textures have a bit of a nautical feel without being too in your face. I've recently started incorporating
a color palette in my packing
- it makes things so much easier for mixing and matching - and if I'm not feeling one of the outfits I had planned on wearing, I can easily remix it into something else!
Since this a short trip, I probably could have used a few less items, but I'm not really into capsule wardrobes and like to have plenty of options to choose from. But that's just personal preference. :) I have a few of these pieces in real-life (both the
cream
and
navy cardigans
,
blush jeans,
same
skirt in navy
,
pumps
,
pearl bracelet
,
necklace
in different colors and similar
earrings
) and several items that are now on my wishlist - majorly crushing on the Stella and Dot
tote
and
clutch
,
seersucker blazer
and the
embroidered shirt
is just so pretty!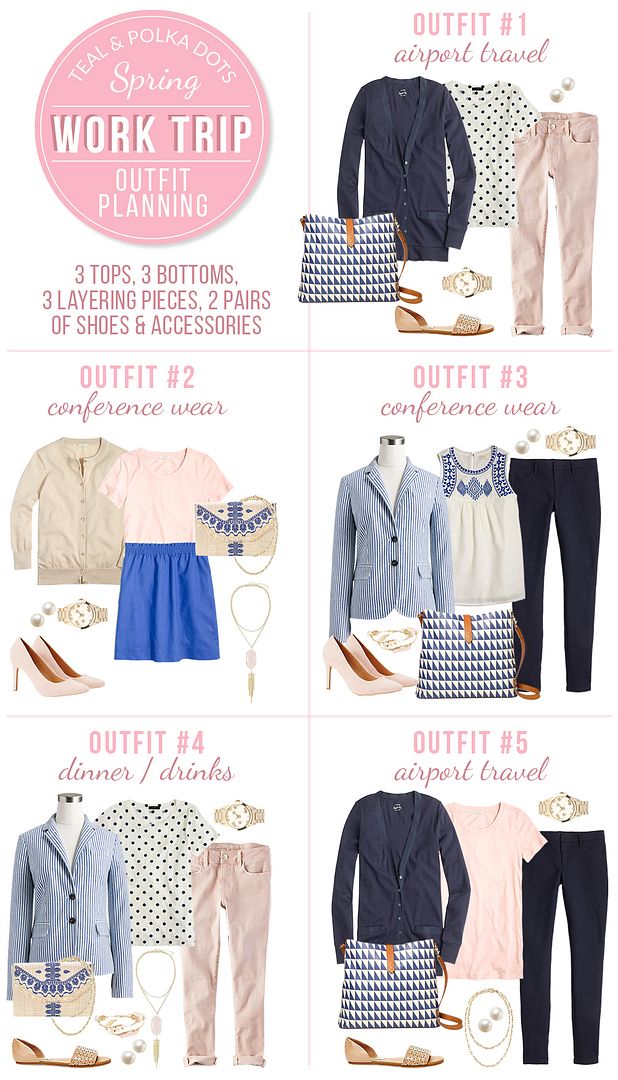 Outfit #1: Airport Travel
Coming up with the airport outfits was definitely the most challenging part of this list. When flying, I want to be as comfortable as possible - stretchy pants, easy shirt and a light layer in case it's chilly on the plane - but being in a work environment probably means leggings, flip flops and an oversized tee aren't going to cut it. So, I would go for a more dressed up option with a
cardigan
so soft it feels like wearing a T-shirt (seriously I have this sweater and it's
unbelievably
comfortable!), cute
patterned tee
,
peep-toe flats
and
blush jeans
. I know denim is kind of pushing it for work-wear, but at least it's not yoga pants, and I think the light color makes them look slightly more like regular pants and not jeans. I like to bring a tote on trips, and I especially like the idea this one from
Stella and Do
t - it has an adjustable crossbody strap and is big enough to hold a book, small laptop, and clutch or wallet while traveling - and the strap can be shortened to shoulder-length and used as a regular bag/purse for the rest of the trip. Plus it has a wipeable exterior, interior pocket and the prettiest lining. The more I talk about this bag, the more I want it, so I'd better move on now...
Outfit #2: Conference Wear
I have this
skirt
in navy and the stretchy waistband and cotton-linen material is super comfortable and lightweight - perfect for all day sitting. It hits slightly above the knee, but isn't too short for work. I know a lot of conferences give out tote bags at registration - usually a polypropylene one sans pockets - so a
small clutch
that will fit your cell phone, cash, credit cards, etc. is perfect for slipping in your conference tote. I put a pair
pumps
with this look since it's traditional work wear and makes the outfit more dressy, but you could easily bring a pair of ballets flats instead - something like these cute
pointed-toe lace ones
. I like the idea that after the end up the day, you could ditch the heels and cardigan, half-tuck the tee and maybe go for a stroll along the beach or out for dinner with your co-workers.
Outfit #3: Conference Wear
Since blazers are a professional work environment staple, I wanted to find one that is lightweight and wouldn't turn into a wrinkled mess in the suitcase. This
seersucker one
is just so darn cute! I thought it would look fun with an
embroidered shirt
- got to love a little pattern-mixing - though you could easy wear it over the
pink
or
polka dot
tees! If your conference is more casual, this look would be cute with a cardigan as well. I've heard good things about
J. Crew Factory's Gigi pants
, and that they have the feel of leggings but with a more structured look with pockets, zipper and belt loops.
So it's kinda like cheating and getting away with leggings, but really wearing pants. To transition from conference to casual - just ditch the blazer and trade the heels out for flats.
Outfit #4: Dinners / Drinks
I didn't have to come up with a casual look, but going off my previous conference experience, at least one night we get to go out and play - a great dinner, maybe a few cocktails, shopping or exploring the town. After being in dress clothes all day, it's nice to switch over to jeans and a tee. I love the idea of wearing this seersucker
blazer
casually, but if it's too warm
this outfit would look just as nice without it. I'm enamored with this
embroidered raffia clutch from Stella and Dot
. It's big enough for all the essentials - and has credit credit slots if you want to ditch the wallet - is gorgeously lined, and your can throw it over your shoulder by adding the
detachable chain
.
Outfit #5: Airport Travel
As I mentioned above, for me comfort is key for airport travel.
These
knit pants
,
soft tee
and l
onger cardigan
would be comfortable without looking sloppy. The
detachable chain
that goes with the Stella Dot
clutch
can also be worn as a necklace, and I think worn as such it would add a little extra polish to this look.
These pieces could easily to mixed into several other outfits - how cute would the blush jeans and embroidered top be together? And the polka dot shirt would go perfectly with the skirt or the navy pants.
Thanks so much to Becca for suggesting this post! I hope you have an amazing time on your trip and get to escape a little bit and enjoy the city and catch some fresh sea air! After all, all work and no play makes for a very boring work trip. :)
If your enjoyed this post, I'm going on a family trip to Michigan at the beginning of June, and am currently working on creating a family outfit planning and packing list for mom, dad and toddler! Be on the lookout for it later this month. You can also check out my
winter conference packing list
and
fall mountain vacation packing list
.
Shop the post: