After braving my white jeans last week for Brianna's
Third Thursday Threads
, I decided to give them another spin - this time with my chambray shirt and strappy cognac sandals. My outfit was inspired by this
pin
- and I have to admit a straw fedora really would have made the outfit. But though it's relaxed summer dress code at work, I'd probably get some strange looks if I attempted to rock a hat. :)
Speaking of hats, several years ago I worked at a local newspaper, and there was a reporter who wore the most fantastical hats to work, like it was the Kentucky Derby every day. Or Easter Sunday. At the time we all thought she was nuts - who wears a three-foot blue sunhat with flowers on a random Tuesday? With a sundress. Or a jaunty scarlet red pillbox with a sheath dress and heels like it's 1959? But now, she probably look pretty normal. I mean, just look at Kendi, she looks fabulous with her
belted flare dress and straw hat
. Not sure what the point of my random story was, other than maybe somehow it ties into wearing things you never would have in the past - which would be the category these jeans would fall into. Though, they're definitely growing on me. I don't think I see any crazy hats in the near future though...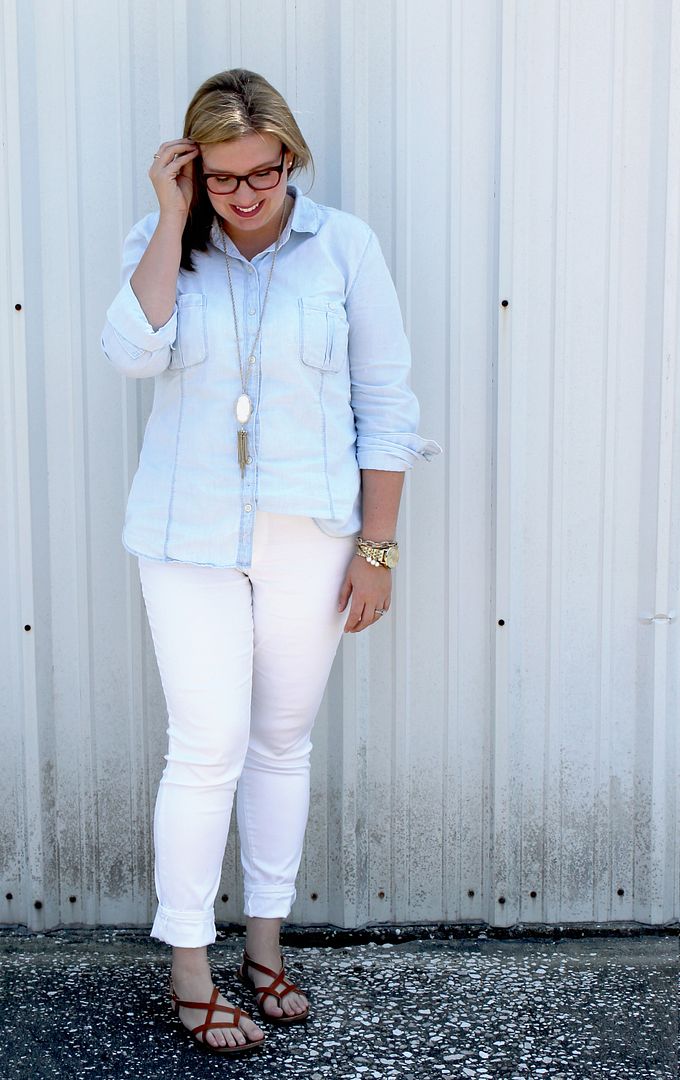 Sandals: Loft (similar)
Necklace: Kendra Scott (exact)
What's your opinion on the half-tuck, or the shame tuck, or whatever you call it? When my husband/photographer was taking these photos he very much wanted me to know that my shirt was - in this words - "jacked up." IDK, tucked-in all the way just doesn't work for me post baby and untucked looked too long and sloppy - hence the half-tuck. Oh, well, I'm going to go with it works.