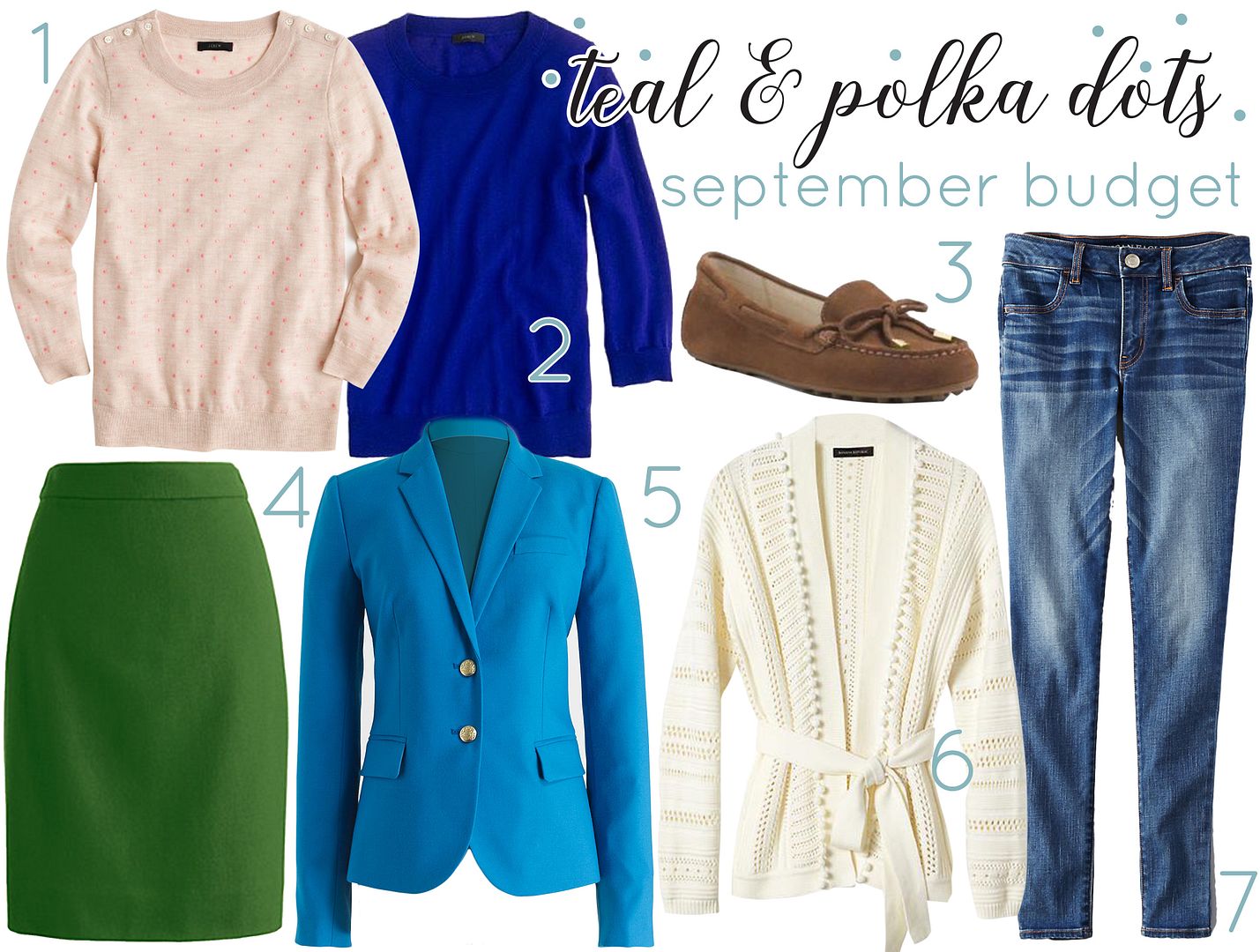 J. Crew polka dot tippi: $98, on sale for $59.99 + 40% off = $35.99
J. Crew cobalt tippi: $79.50, on sale for $32, plus 50% off = $16
Michael Kors Daisy moccasins via T.J. Maxx: $29.99
J. Crew Factory wool pencil skirt: $89.50, on sale for $45.48 + $25 rewards = $23.48
J. Crew Factory schoolboy blazer: $158, one sale for $83.30 + $50 fall rewards = $33.30
Banana Republic belted pom pom cardigan: $128, on sale for $84.97 + 40% off = $50.98
American Eagle jeggings: $39.95 + 30% off = $27.96
September budget: $214.70
$12.96 over
I was obviously jonesing for fall this month with lots of cozy layers and jewel tones. While it's been too warm to wear these pieces all that much, (though I am wearing the
pom pom cardigan
,
moccasins
and
jeans
today! ;) ) I'll get a lot of wear from them in the fall and winter. Despite my best intentions, I'm a bit over for the quarter, but $12.96 isn't
that
bad and I scored some amazing deals this month - especially on the blazer and shoes - so I can't even say I feel all that bad about it...
Thanks to some great sales, I stocked up on sweaters this month with two J. Crew tippis and a fun,
pom pom cardigan
from Banana Republic. For reference, all three are an XL. I originally ordered the cardigan in a L, but it runs small, so I exchanged up a size for a better fit. These super comfy Michael Kors moccasins were from T.J. Maxx for an absolute steal. I'm wearing them right now and so far, they're great. No breaking required. Mine are suede, but you can find the
leather version online
.
While shopping at the brick and mortar J. Crew Factory store, I found this pretty green pencil skirt and knew I had to have it. My size 16 wasn't available in store, but I managed to snag it on the website before it went out of stock. (
see how I wore it here
) Thanks to a sale and rewards, and I picked up the skirt and
this cobalt blazer
for an amazing price. I've worn this
blazer
with jeans (which of course I didn't take a picture) of, and I can't wait until it cool off enough to wear it all then time. It's also an 16.
I've been wanting a pair of lighter wash jeans with no distressing that would be appropriate for casual Friday's at work, so when American Eagle had a 30% off over Labor Day weekend, I picked up
this pair to try
. They're a 16L (I like to cuff the bottoms) and I'm really happy with the fit. Snug without being too tight, they don't snag or bag after wearing them all day. They have just enough stretch to still be comfy. Highly recommend.
September is my birthday month, and I got some great birthday goodies! My husband surprised me with this
lovely blue druzy pendant
, and with birthday cash I picked up the
polka dot puffer vest
and
red, tweed schoolboy blazer
. I've been wanting a red blazer and I like that the red is a little deeper shade and the tweed pattern is super fun. For reference, I got it in a 16. Ya'll know I'm a sucker for polka dots, so this vest was a no-brainer. You better believe it, the moccasins, pom pom cardigan and jeans are coming along on my family's trip to Gatlinburg in late October!
A
few months ago
I won this
Chloe Marcie mini crossbody bag
for the
#hautechristmasinjuly
Instagram style challenge. Since it arrived last week, I decided included it in this month's post. It's an absolutely gorgeous bag, but very small. I think it would look fantastic on a petite person, but I'm a curvy girl and I think it looks a bit ridiculously tiny on me. I'm pretty sure I'm going to sell it, but I promise to take pictures before it goes!