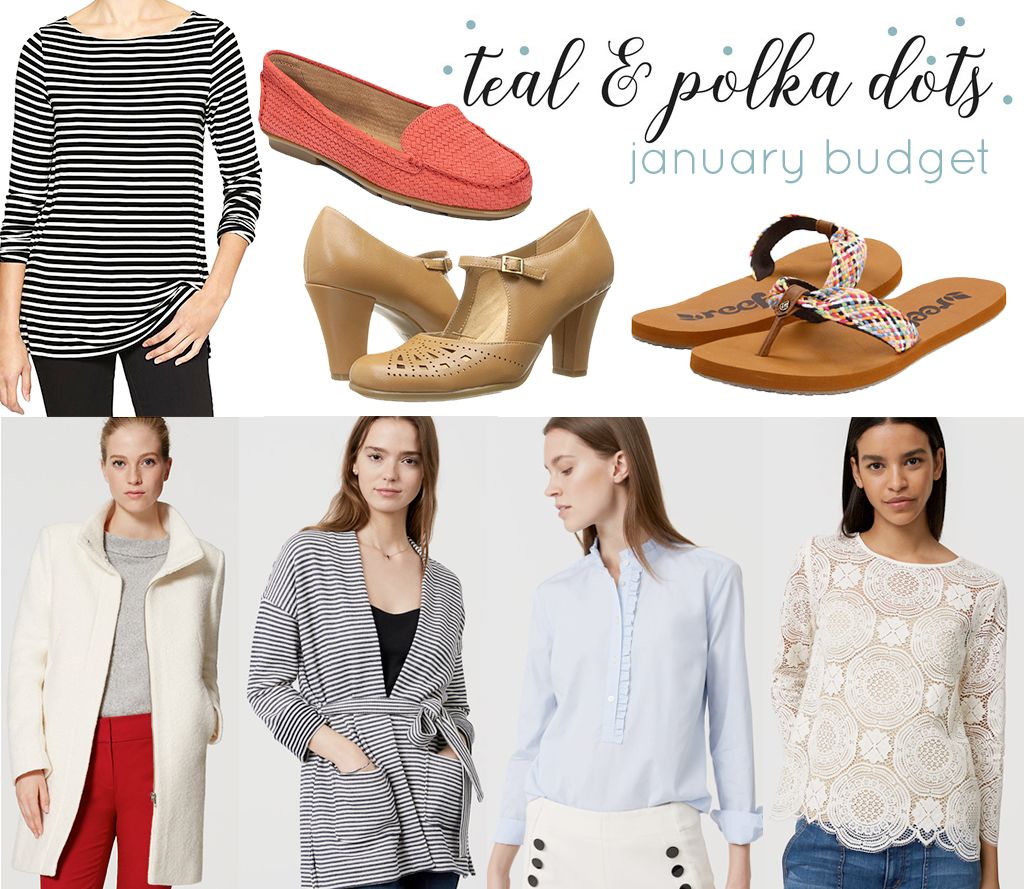 January budget: $234.09
first quarter budget
: $600 - $234.09 in January = $365.91 remaining
A new year, a new quarterly budget! I was a wee bit spendy this month, but I'm happy with all of my purchases so I don't even feel all that guilty about it. I've been wearing this
GAP Factory stripe tee
non-stop (
see how I wore it here
) - it's so soft it feels like pajamas! It's available online in very limited sizes, but if you live near a factory store, it's worth a look to see if you can find it. I got mine in a L, since an XL was no longer available, though I wish it was just a touch bigger for a more oversized look.
I apparently was all about the shoes this month with a pair of
pumps
,
loafers
AND
sandals
. As I'm getting older, finding comfy and cute shoes is a must. I love both of these shoes from Aerosoles, but
pumps
(
see how I wore them here
) have that perfect vintage vibe and the
coral loafers
are just so dang fun. The sandals were an impulse purchase while playing tourist a few weeks back. The husband went into one of the beach shops to find a new pair of swim shorts and I decided to grab
these sandals
as well. Living in Florida, impulse or not, I know they'll get plenty of wear. For reference, the pumps are an 8.5 and the loafers and sandals a size 9.
And then there was Loft. They're pretty clothes and great sales get me every time.
Last January, I purchased a lovely wool dress coat
- which I still love - but it's a little much for Florida winters, so I wanted to find something a little shorter and more casual for our colder days. I'm obsessed with this
Loft funnel neck coat
, it looks so much better in real-life than it does online and for $75 it's a great deal for a really decent coat. I wore it in Michigan last week and it was perfect for the cold weather and still fit in my carry-on bag. During their last 50% off sale, I also snagged this
striped belted cardigan
(that looks way better in real-life), this
light blue ruffled popover
(
see how I wore them both here
) and this gorgeous
cream lace 3/4 sleeve top
(
see how I wore it here
).
All three are an XL and fit true to size.
Looking forward, there's nothing particular I'm in search of for my closet, but I'm sure I'll find a few somethings. :)
// Sharing on Franish for Budgeting Bloggers. //