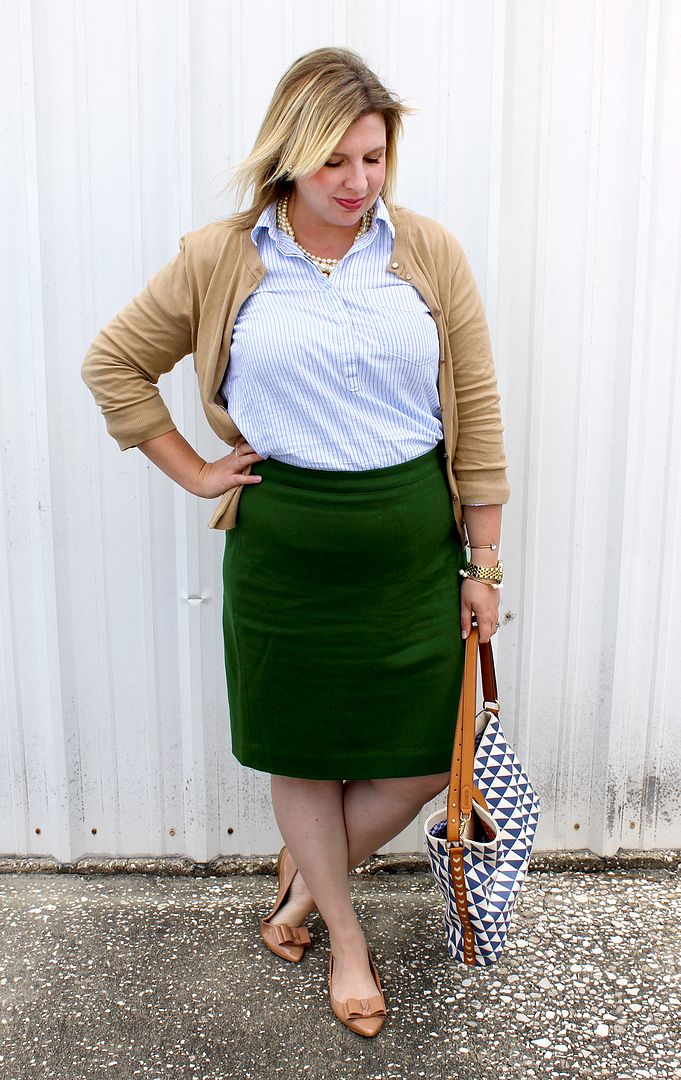 when: early November?!? | where: work | weather: 78 and partly cloudy
Now that Valentine's Day is over, it seems like everything is throwing up Easter. Don't get me wrong, I love me some Easter, but I can't say I'm ready to think about it in February. During my lunch break I walked into Target and saw all the pastel goodness and thought - what happened to St. Patrick's Day? Granted it's forever away as well - at least a month, right? - but it it's like it's been glossed over for the bigger holiday money-maker. I can't decide if I'm just more aware of it, but it seems like retailers are pushing the big holidays earlier and earlier each year. Like Hobby Lobby putting out all their Christmas in July. So, Easter in February, why not I guess?
Oh, well. Today I'm showing my green
J. Crew Factory skirt
, not in honor of St. Patrick's Day since these photos are actually from early November (originally used as part of a
Mom Style Remix post
). But between working full-time, all the running around trying to prepare the house to sell, the kiddo's rounds of the winter crud, and a bad case of the outfit blahs, I haven't really had the time or inclination to take outfit photos lately. But I've promised myself the camera is coming out tomorrow, so I'll do my best to whip up a decent, blog-worthy outfit!