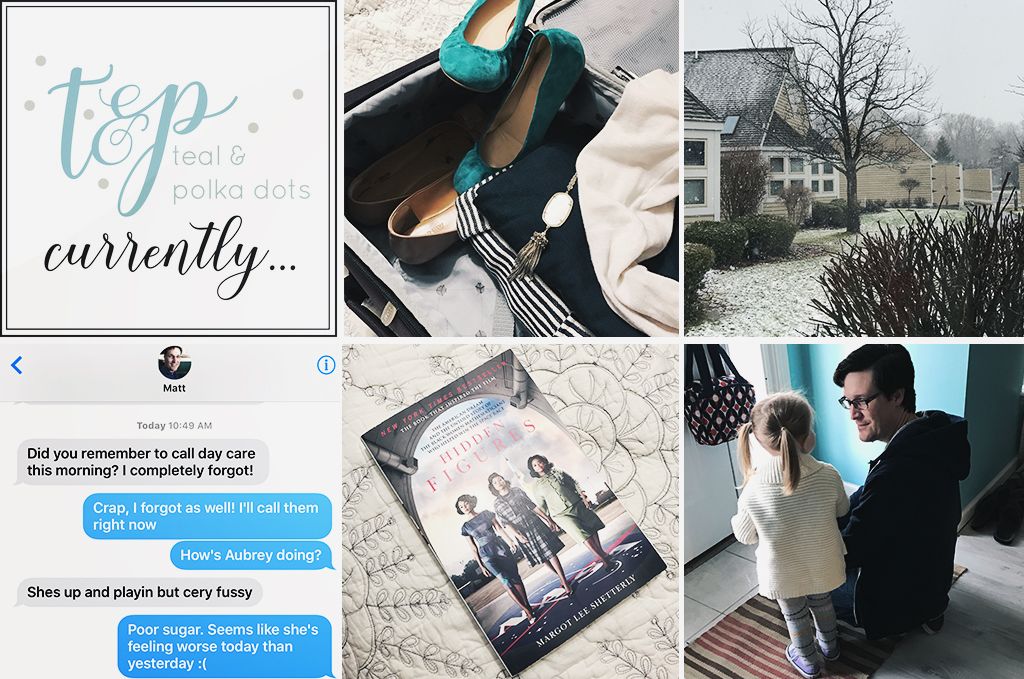 packing
: for an upcoming work conference to Nashville. It's looking temps are going to be all over the map with highs in 50s/60s (and 70 on Tuesday!) with lows in the 40s + lots of rain, so I'm thinking layers? Packing post going up in the near future...
jonesing
: for a little bit more snow! I saw the white, fluffy stuff for the first time in 10+ years last week, and it was beautiful. I spent the morning just staring out the windows as it came down. Most of the time I love living in Florida, but I do miss seasons...
texting
: with my husband about our mutual inability to remember to tell daycare our kiddo was sick and wouldn't be in. She usually goes to daycare at 7:45 a.m., I forgot let them know until almost 11. Whoops. #mommybrain
reading: I forgot to grab a book for last week's last minute trip trip to Michigan, so I

snagged "Hidden Figures"

by Margot Lee Shetterly to pass the time during airport layovers. I haven't gotten too far into it, but I've really enjoyed the first 100 pages.
hearting
: My sweet family. Definitely my two favorite Valentines!
I'm so excited to co-host Currently this month with Anne of
Anne in Residence
. Can't wait to read what you are currently up to!