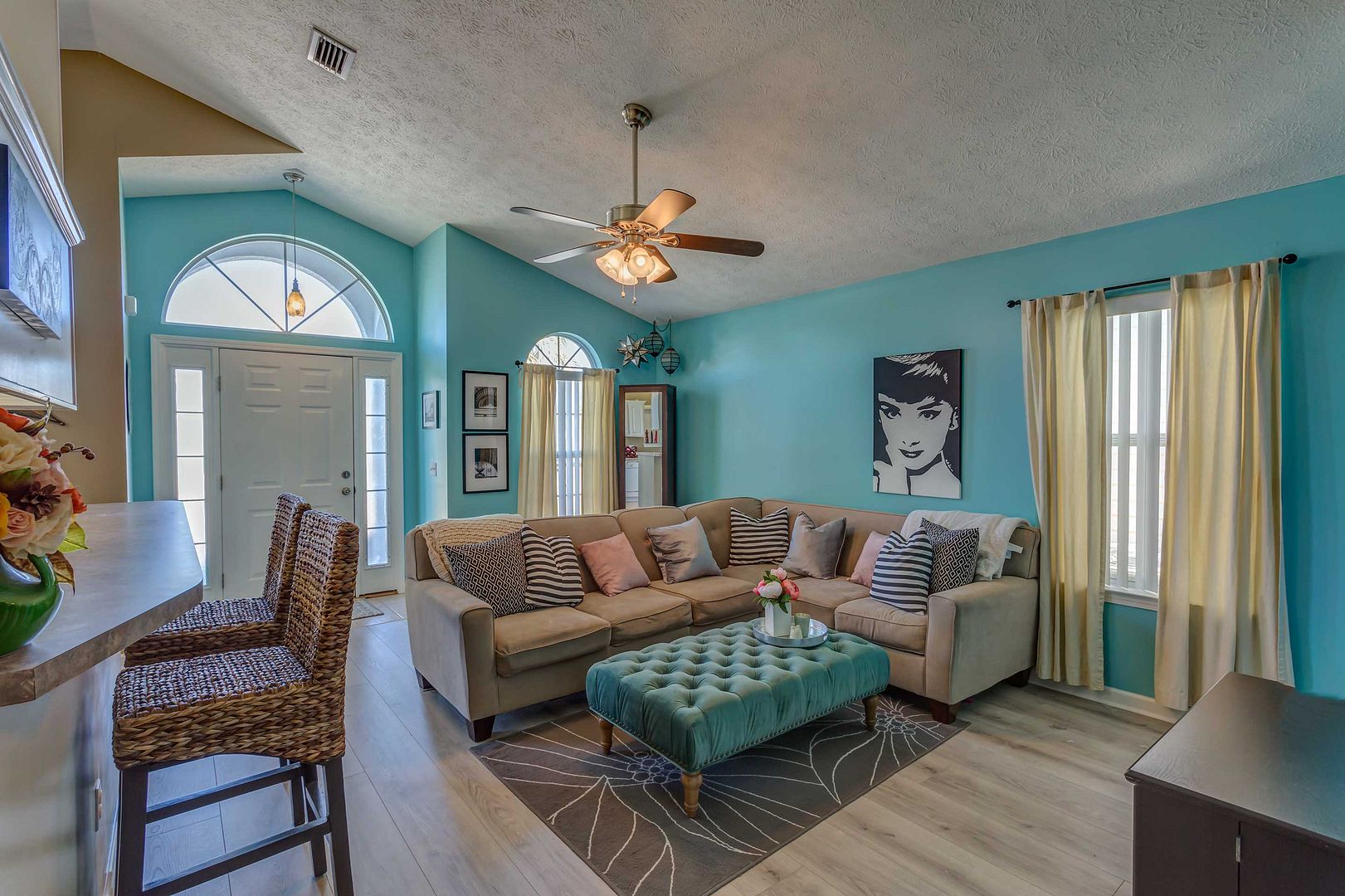 I'm excited to show off my favorite room in our home - the living room. It's evolved a lot in the last eight years. Picture builder's grade white walls, beige carpet and a gold velour sofa and you have a pretty good idea of what this space looked like.
The living room circa March 2008.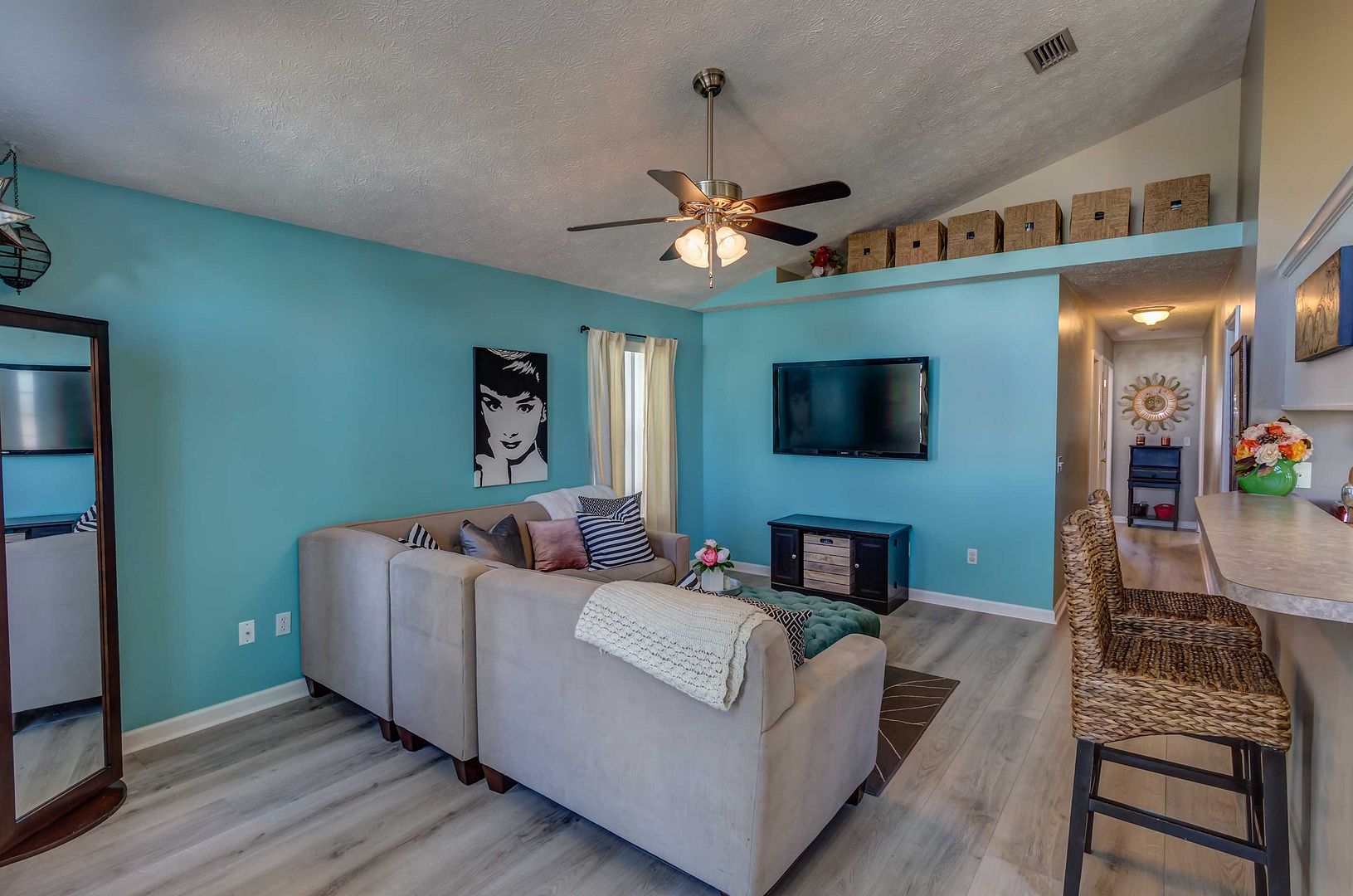 photo by:
Christina Shults Photography
floors
: Dynamic X |
sofa
: Laura Ashley (very similar) |
bar stools
: Target (exact) |
mirrored bookcase
: World Market (similar) |
Audrey painting
: painted by my husband (similar) |
rattan cubes
: Ikea (exact) |
ceiling
fan
: Lowes (exact) |
wooden storage bin
: Target (exact) | curtains: Walmart (similar) | rug: Ikea (similar) | ottoman: World Market (exact) | peony arrangement: Target (exact)
The floors are probably my favorite thing about this room (followed by the amazing aqua walls). Replacing the floor was more of an accident, than a desire to upgrade. The day before the kiddo's first birthday party, my husband knocked over a lit candle directly in the middle of the floor creating a huge singed black hole in the carpet. Not attractive. Thankfully, we found this gorgeous laminate flooring, which was originally intended for a retail space but the buyer decided it was too light, at cost. I think it turned out perfectly in our beachy home. My husband installed it all himself - a definite benefit to being married to a handyman. :) And I love the how it really upgraded the space.
My husband painted me this lovely Audrey Hepburn painting as a present for our first Christmas together.
Random side story: I originally wanted the living room to be green and went through at least 10 different green paint samples before throwing in the towel and painting the walls
Bher Embellished Blue
. I didn't even get a sample, just bought two gallons of aqua and went it with. I think it was a good decision, since I can't even imagine the space green now.
Audrey painting
: painted by my husband (
similar
) |
silver velvet pillow
: Pier 1 (
exact
) |
striped pillow
: H&M (
exact
) |
diamond pattern pillow
: H&M (
exact
) |
throw
: JoAnn's (
similar
) |
peony arrangement
: Target (
exact
)
I took these black and white architectural photos in St. Augustine during my honeymoon. The top print is of the staircase inside the
St. Augustine Lighthouse
and the I believe the second is of a stained glass window inside
Flagler College
. The matted frames are from
Walmart
, so it was a cheap and easy DIY!
This cute little chair lives next to the TV/entertainment center. It's perfect for when we have company a need an extra seat.
The most recent home living room editions are the plethora of pillows, gorgeous
teal ottoman
and
peony centerpiece
. The little frog is an
Avon antique perfume bottle
from the 1970s and I like the way he looks next to the pretty flowers and an
aqua candle
. The silver tray is old - I actually forgot I had it until we put a bunch of stuff in storage - but it works perfectly to hold a few knickknacks or drinks.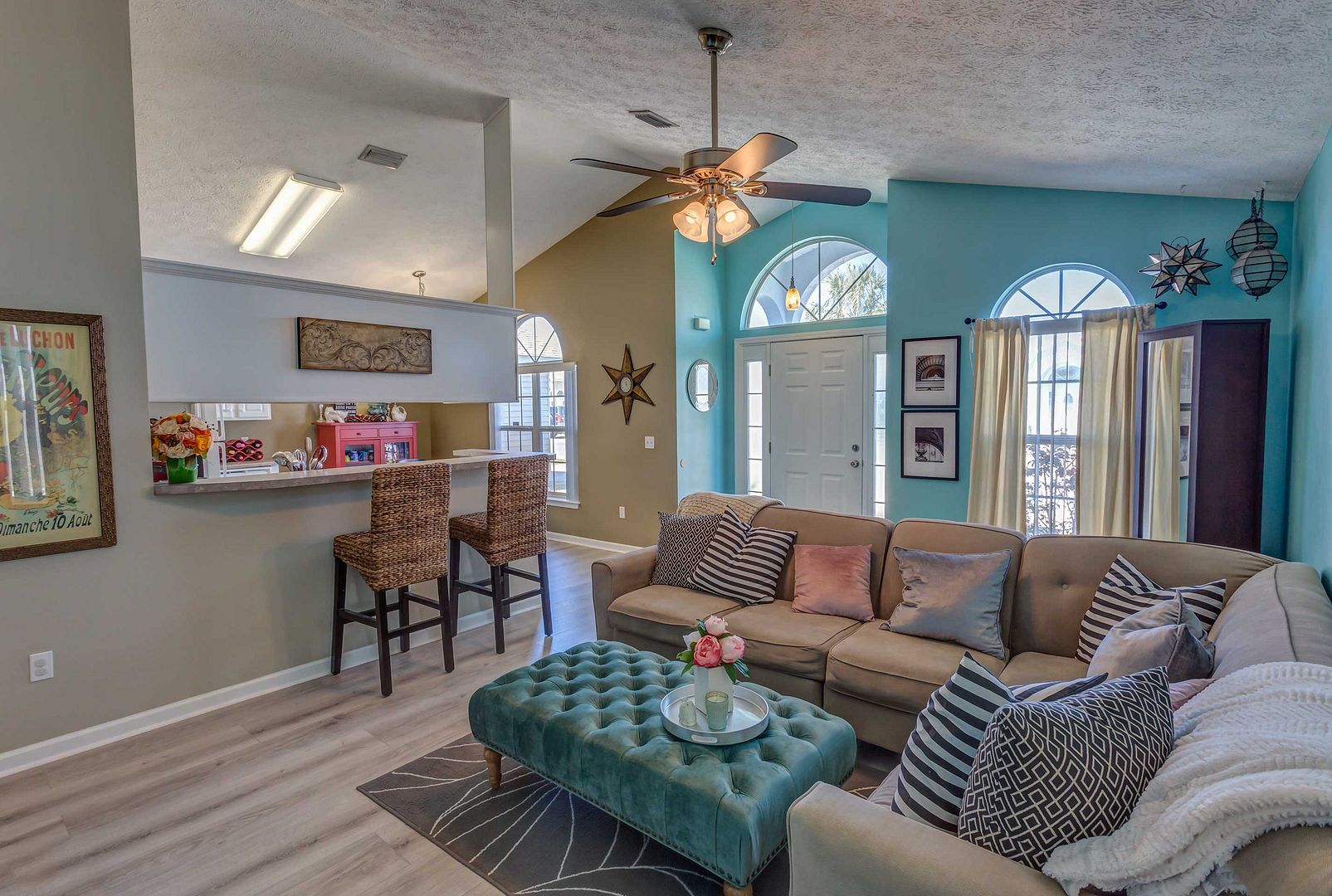 photo by:
Christina Shults Photography
via
Instagram