when: last Friday | where: work | weather: 60 and sunny
I want to say a great big thank you to everyone who commented and sent words of encouragement related to my
Pinterest woes
. Your support really means the world to me. After taking a day to think about things, I've decided I don't want to stop blogging, but I do want to take some precautions in the future about what kind of information I share on here. I did speak to a local police officer who handles cyber crime and he suggested I no longer show my face in my photos, but I hesitate to do that because I think I'd lose an importance sense of connection. From my experience, I feel like I know people in the blogs that I read. I celebrate their triumphs and mourn their setbacks. Even though I don't really
know
them, I feel like I do because I read about their daily lives. I see them, I see pictures of their lives and their families. I see their face. I feel like hiding myself like that and filtering too much will ruin that. I've been blogging for more than two years, my face is everywhere if you look for it. Is there really a point to hiding it now?
But, on to the outfit.
Most of the time I'm a pretty conservative/borderline preppy dresser - think blazers, lots of cardigans and fancy flats, but sometimes the lure of the bohemian calls to me, like with this gorgeous
lace trim navy kimono from Pink Blush
. I love the soft flow and drape and the lace really adds a fun - and pretty element - to the piece. I think it's going to be a good transition piece from spring to summer. If navy's not your color, it also comes in several lovely shades - including a soft peach that I'm drooling over and my favorite signature teal color. This is actually a maternity top, but I don't get a maternity vibe from it at all, it fits just like a normal kimono. For reference, mine's a 1X.
To finish off the look, I added a white tee (though a cream/wheat color top would also look great), skinny jeans and booties. As I mentioned last week, we've been having a few gloriously cool days, but I've been trying to take every opportunity to wear my boots before it's full-on sandal weather.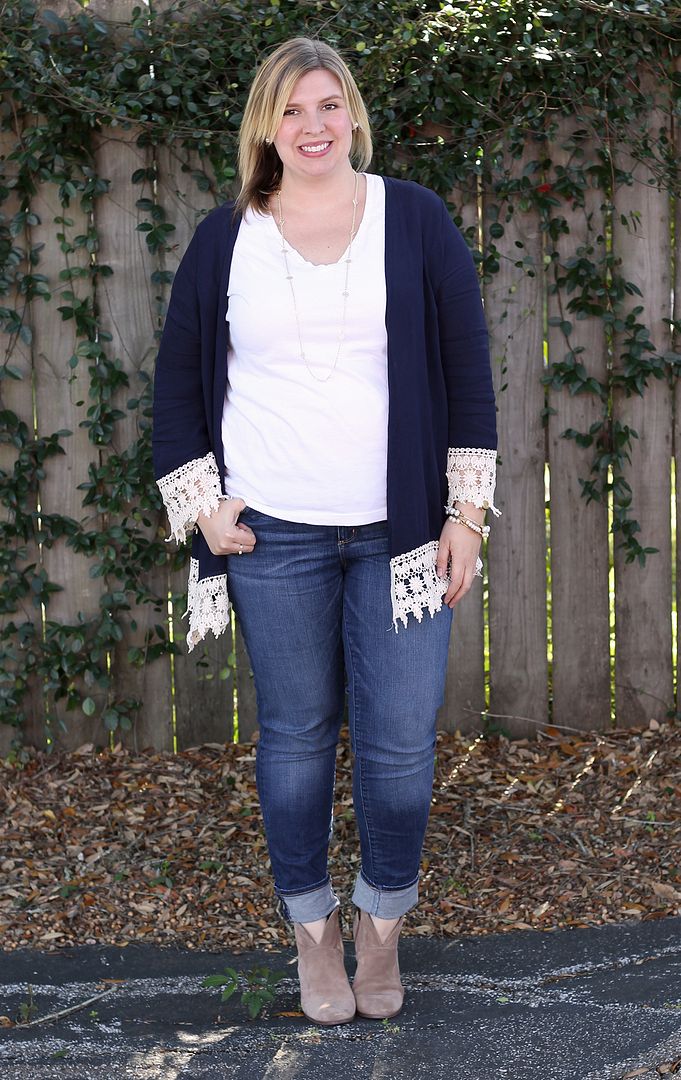 kimono
: PinkBlush (
exact
,
exact plus
) |
shirt
: Target (
similar
)
last worn here
|
jeans
: Loft (
similar
) |
boots
: Vince Camuto (
exact
)
last worn here
|
necklace
: Kendra Scott (
exact
) |
watch
: Fossil (
similar
) |
bracelets
: Bourbon and Boweties (
exact three pearl
,
exact six pearl
) |
earrings
: Stella and Dot (
similar
)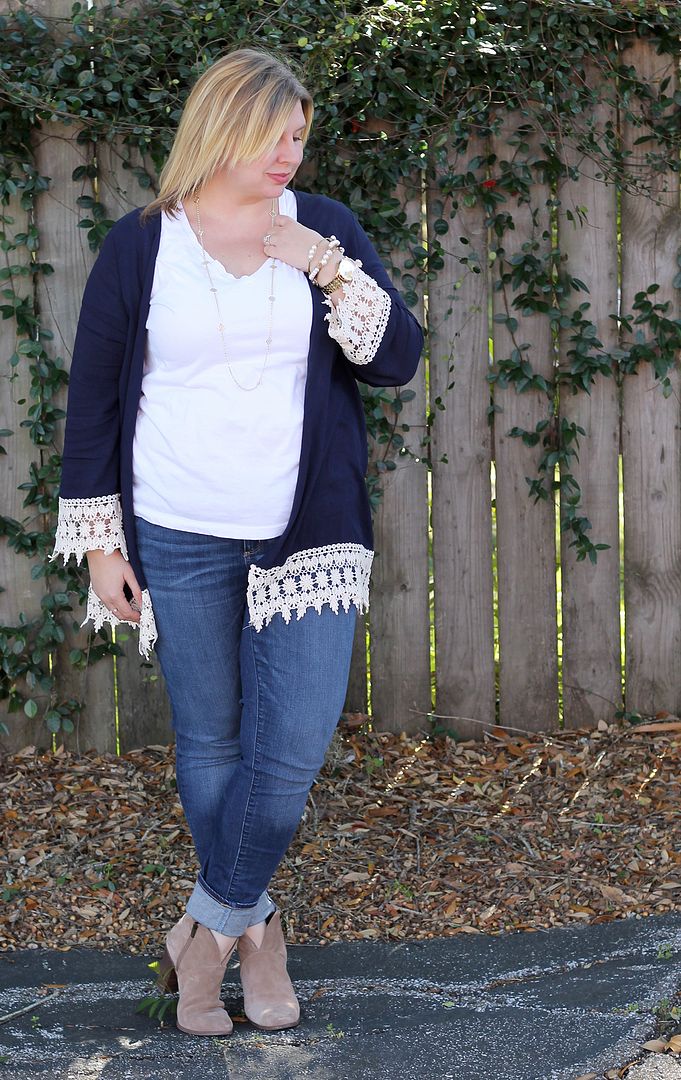 As a side note, as you may have noticed something it going on with my photos links through Photobucket as they are currently not showing up on my blog. Are any of you bloggers using blogger running into this issue? I've been so frustrated with Photobucket lately, I'm seriously considering switching to a different photo hosting site. I know some folks use Flickr, any other suggestions?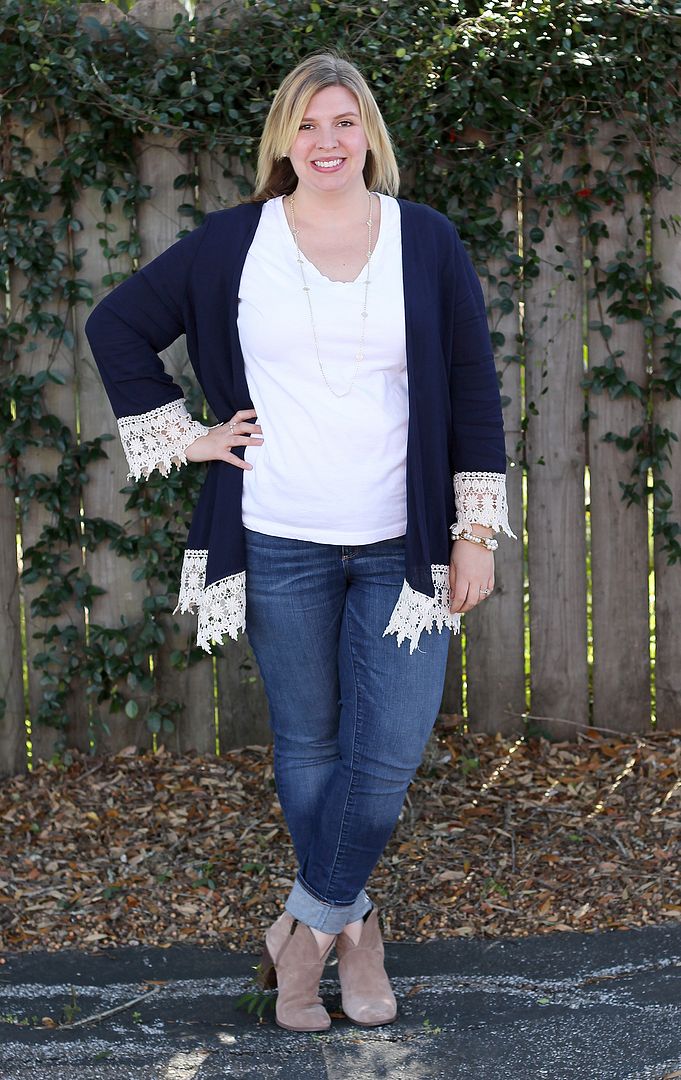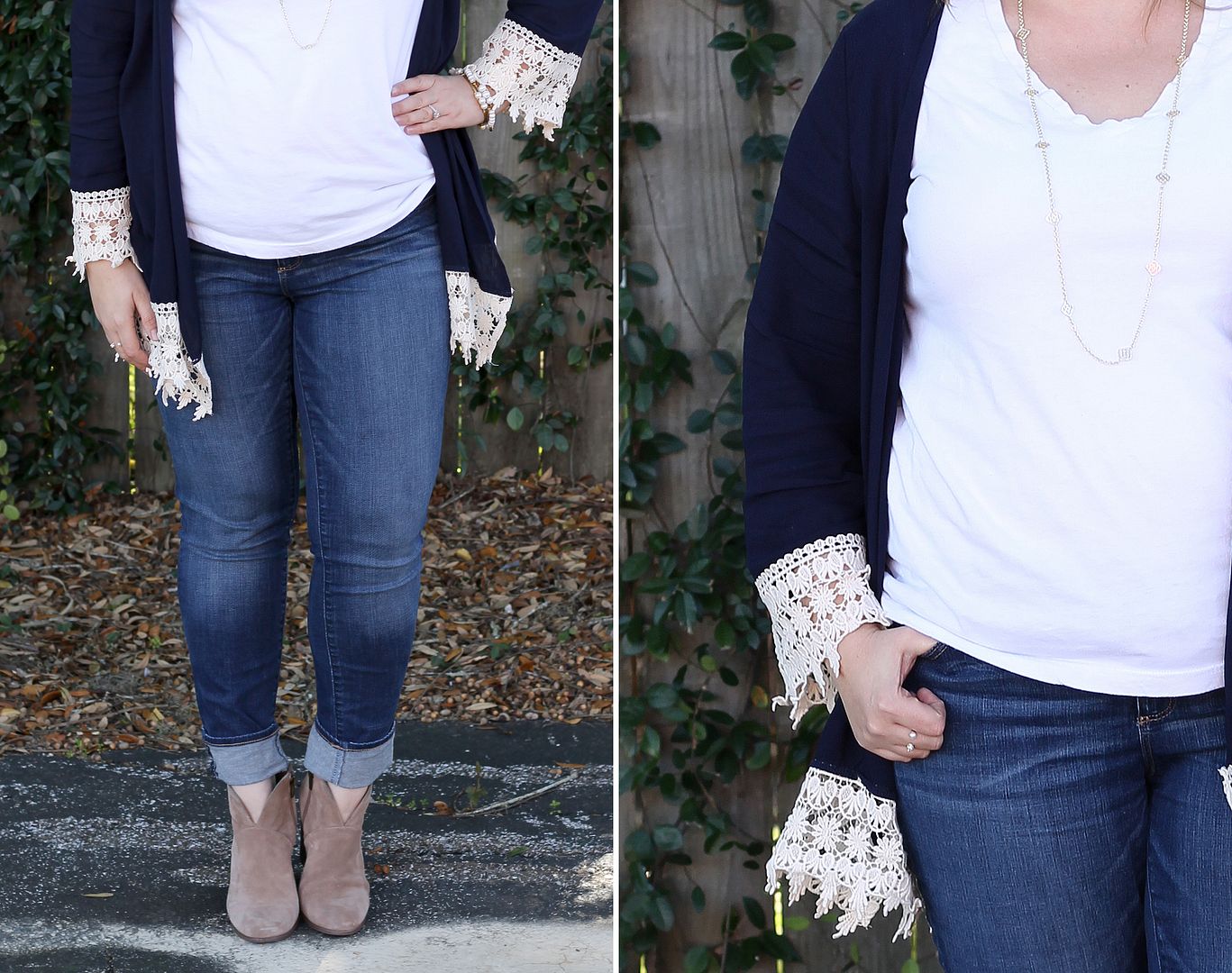 // Sharing on What I Wore. //