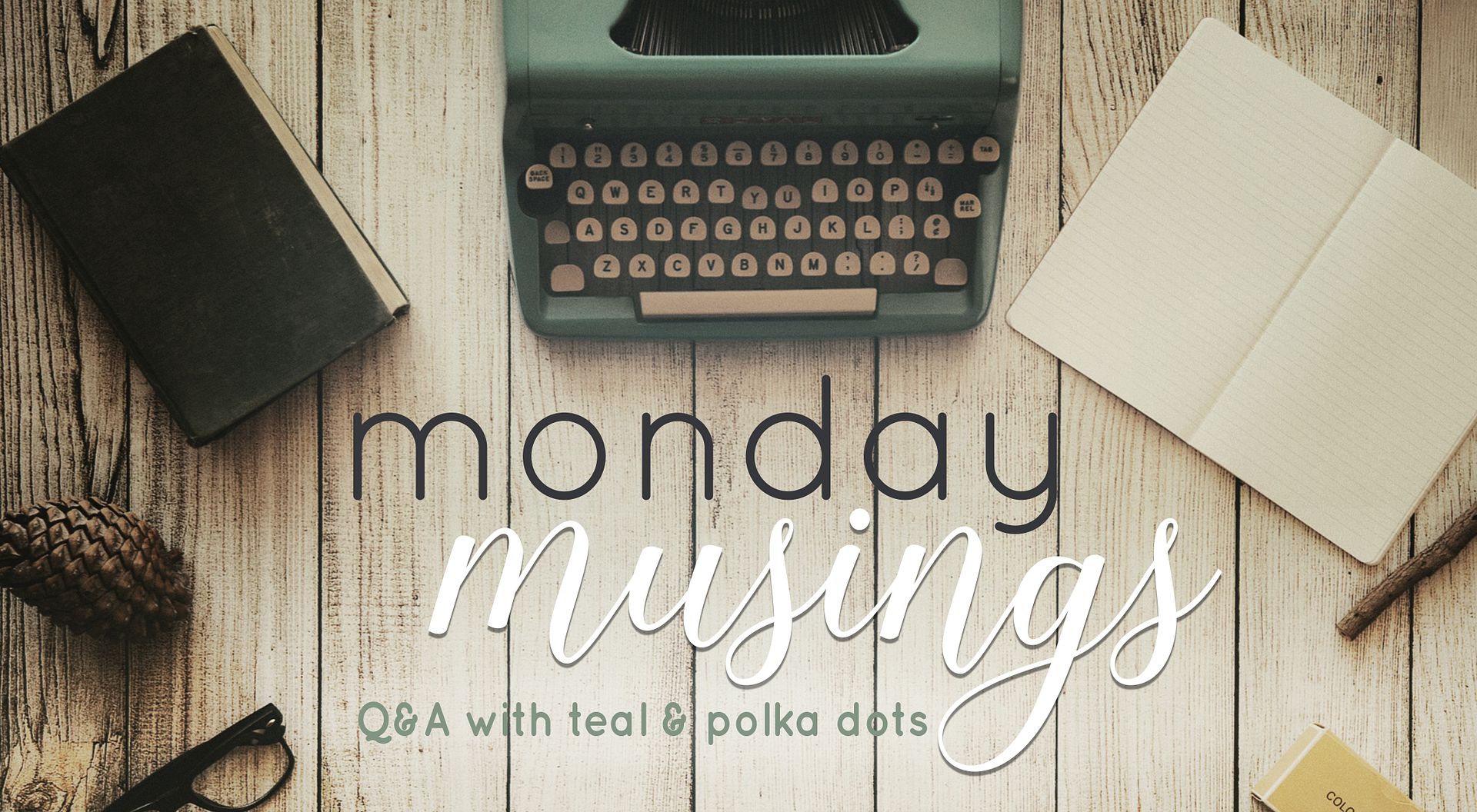 Oh, my goodness ya'll, I can't believe it's already May. This year has been flying by so far, with no indication that it's going to slow down any time soon. Remember as a kid how time seemed to drag forever while you waited for something important...summer break, a birthday, Christmas...but now the older I get, the quicker it goes. Dang, and now I officially feel old. :)
Anyway, welcome to
Monday Musings
. Throughout 2017, each Monday I share a different "get to know me" style Q&A. I invite you to join in the comments so I can get to know you as well!
Q: What's the meaning behind your blog name "Teal & Polka Dots"?

A: I know a lot of folks put a lot of thought, time and effort into their blog names, but honestly, I didn't. I mulled over starting this space a good year before I actually did it, but kind of always had this name in mind - mainly because aqua/teal/mint are my favorite colors and polka dots my favorite pattern. Aqua and Polka Dots and Mint and Polka Dots just didn't roll off the tongue like Teal and Polka Dots did, so that's what stuck.
All the polka dotted and teal/aqua outfits please! Original posts: one | two | three
A little back history: In 2013, I briefly tried out the blog on
weebly
, but quickly abandoned it. A few months after my daughter was born in 2014, I started this space on blogger - but just didn't have the drive to keep up with it once I returned to work. I wasn't ready to put the time and commitment into the space. Fast forward six months later to the spring of 2015 and I decided to give it one last try, and this time it stuck. In March I hit two years of consistent blogging - though the technical the three year anniversary of the Teal & Polka Dots is this August.
evolution of the blog from weebly, to the original launch on blogger, to last June's redesign
So to answer the question, Teal & Polka Dot's doesn't have a deep meaning, it was just a fun name I liked that no one else had, and incorporated two of my favorite things. :)
Do you have questions for me that you would like to see answered on Monday Musings? Let me know in the comments below. If you have questions, I'd love to answer them!